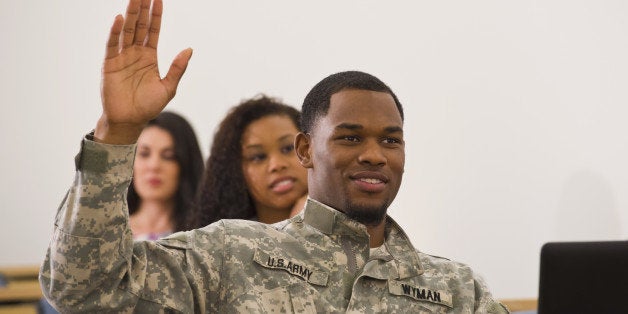 My father was always reluctant to talk about his experiences in World War II, but he did speak often about one result of that service: Without the GI Bill, he'd never have been able to go to college.
This is a timely moment, with the 70th anniversary of the bill's signing on June 22, to think back on the millions it has helped and the way it has built our nation. These are difficult days for the Department of Veterans Affairs, tangled in scandal about unconscionably long waiting lists for care at VA medical centers. But the VA also administers today's program that ably helps veterans get an education -- an idea that first became law seven decades ago.
The Servicemen's Readjustment Act of 1944 was landmark legislation with a title so clunky that it needed a more familiar nickname: the GI Bill. One early beneficiary was my dad, Samuel L. Stanley Sr. Unhappy as a student, he had dropped out of high school and joined the army, before he was even old enough. In the artillery, he made a pivotal discovery: He was smarter than some of the college-educated officers around him.
Once his two-year enlistment was over, my father left the army and finished high school. Any further study was interrupted when he was drafted and became an infantryman, caught up in the bloody island-by-island warfare in the Pacific Theater of World War II. His service included rooting out Japanese soldiers from caves on Iwo Jima. After his discharge, he used the GI Bill to finance his undergraduate studies at the University of Washington. Later, he earned a doctorate in anthropology from the University of Chicago, created the Center for the Study of Man at the Smithsonian Institution, and helped compile a multivolume Handbook of North American Indians. My father died in 2011, but my memories of him remain vivid, including his consistent praise for the GI Bill.
His story was typical, but just one of many. The GI Bill created eight million success stories, equipping veterans for professions they might never have contemplated without it -- doctors, lawyers, business executives, to name a few. It transformed the nation by helping to create the powerful American middle class. In 2008, the Post-9/11 Veterans Educational Assistance Act, now known simply as the Post-9/11 GI Bill, updated educational assistance for a new generation of veterans, those who served in Iraq and Afghanistan. It provides 36 months of full tuition and fees for veterans who choose to study at a state university campus -- always a good idea -- and more than $19,000 a year to those attending private schools.
That is a huge help for veterans. Unfortunately, given today's tuitions, too many students are finishing school these days with a crushing student loan debt burden. The average debt load for students after graduation from a private institution is estimated at $28,000 to $29,000 nationally. At Stony Brook University, happily, it's lower: $21,000. But that's still not an easy burden. Total student loan debt is across the country is north of $1 trillion.
There's nothing wrong with taking out student loans. In fact, I believe that borrowing to pay for higher education is an excellent investment. Leaving aside the intellectual benefits, many studies show that those who have a college degree will earn significantly more money over a lifetime than those who don't. But that doesn't mean we can afford to do nothing about this debt crisis.
Another startling debt figure is $175 billion. That's the amount of profit that the federal government is expected to make from student loans over the next 10 years. There's something deeply wrong with that picture, and we have to address it. A bill in the Senate would allow borrowers to refinance their loans at lower interest rates. Though it recently fell four votes short of the 60 needed to overcome a filibuster, it makes sense. So does an executive order that President Barack Obama signed on June 9, expanding the scope of a law capping repayments at 10 percent of the borrower's income.
The debt problem is real, but the government demonstrated 70 years ago that it can face the education needs of young veterans. That act made a profound difference in the life of my family -- and many others. Now it's time for us to muster the can-do spirit of the original GI Bill and take meaningful action to alleviate the burden of student debt, not only for veterans, but for all our college graduates.
Dr. Samuel L. Stanley, Jr., M.D. is president of Stony Brook University, a flagship of the State University of New York system, the largest public university system in the United States.

Related
Popular in the Community