Typhoon season normally empties tourists from Baguio, Philippines, and yet the Cooyeesan Hotel is at maximum capacity.
As his door shuts and he walks to the elevator, cell phone towers explode with an inundation of texts to say where he is, where he's going, and when he'll arrive. None of them will be accurate.
His car is full, as are countless others headed down the mountainside. He owns them all.
Once installed on the 25th floor of Manila's New World Hotel, he'll head to the Elorde Boxing Gym in Quezon City for his final sparring session before departing for America. "Closed to the public" translates here to an attendance just under 100. His trainer could not be less pleased.
Take-off from Manila is contingent on his arrival for Philippine Airlines Flight 102, which 13 hours later will thud onto the tarmac of LAX, pregnant with overstuffed suitcases bearing the logo "MP" and filled with t-shirts bearing the image of his face.
When he fights on November 13 in Cowboys Stadium against Antonio Margarito, his countrymen will colonize Arlington, TX, forming a populace replete with advisors, cooks, priests, security, political chiefs of staff, a five-piece band, mentors, apprentices, past exiles for crimes now forgiven, future ones for crimes yet committed, and, of course, his mother.
Where he goes, his people will follow. They have nowhere else to be but living on his largesse. Manny Pacquiao has become the 7,108th island of the Philippines.
When Pacquiao enters the ring with a smile on his face, it is said his nation's insurgents call informal ceasefires with the military, the crime rate drops to zero, typhoons dissipate and the Pacific Ocean stands still in anticipation. A priest taken hostage was once released so his captors could watch Pacquiao fight. During Pacquiao's demolition of Miguel Cotto in November 2009, a minimum of seven Filipinos died of cardiac arrest from their excitement.
For five years, Pacquiao has gone without defeat. For five years, his skill as a fighter has improved. Despite 6-1 odds in his favor against Margarito (who is training in Oxnard, CA), many wonder whether the ongoing distractions from his training will make this fight the first to unveil Pacquiao in decline. His trainer Freddie Roach recently declared to the press, "Baguio was the worst training camp we've ever had."
Later at his home, Roach clarified, "It's the worst because it was bad. We've never had a bad camp."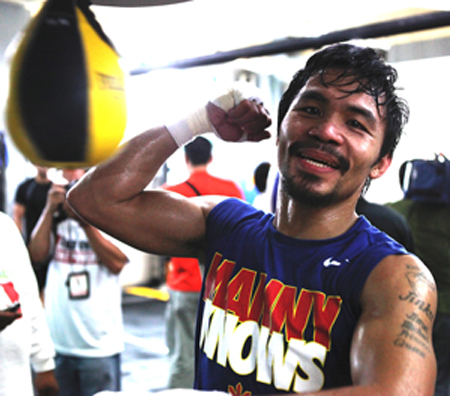 Manny Pacquiao, photo by Peter Owen Nelson
Among the distractions were political trips to Manila, a foot injury supposedly exacerbated by dress shoes worn in congress, a brief typhoon, and singing at the impromptu marriage of his advisor Michael Koncz. Commentator Larry Merchant quipped of the fighter's camp: "We'll see if the distractions that Pacquiao has always fed on will finally feed on him."
Roach's quotation before the congregated journalists of Pacquiao's media day was largely blown out of proportion in the interest of a story. On the day before (Tuesday, October 28th), Pacquiao humiliated three sparring partners over the course of eleven rounds. One of the fighters, David Rodela, whiffed a right hand with such force, he spun himself 360 degrees. Afterwards, Pacquaio said in the locker room, "The speed. Now it coming." Later at Nat's Thai restaurant, Pacquiao ate barbequed beef and rice while watching television programs about himself and arguing with Alex Ariza over the hazards of swimming, claiming it to be the reason why his stablemate (and sometimes sparring partner) WBA junior welterweight champion Amir Khan had recently come down with a cold to Ariza's endless frustration. After finishing his mind games on Ariza and drinking his protein shake, Pacquiao smiled at his strength coach and gave him a final taunt, "Come on, bro! Hug, hug, kiss, kiss?"
Though Philippine Congress is now in recess, during his training, Pacquiao ventured twice on the six-hour journey from Baguio to Manila to serve his recently elected position. On the second journey, Khan joined to continue his own training for his December 11 title fight against Marcos Maidana, as well as have Pacquiao formally introduce him in the congressional chamber.
On the fourth floor of the congressional office building, behind two security guards, a crinkled computer print-out glued to the wall beside Pacquiao's door much like a high-school vice principal's reads, "403 HON. EMMANUEL DAPIDRAN PACQUIAO, Lone District, Sarangani."
In mid-October, inside the entry room sat a corps of congressional aides, little kids, and a back-up singer in Pacquiao's band, all silently marinating in the false hope of getting to ask a favor of "Cong. Manny," as his executive secretary refers to him in these quarters. Pacquiao took no notice, lounging in a separate room with his chief of staff, his principal endorsement agent in the Philippines, and the rest of Pacquiao Island. He then breezed across the street to Congress, where he glad-handed long enough to be on the road back to Baguio past midnight.
America is where Pacquiao is said to focus best, but amid 55 rounds of sparring the past 10 days back at Wild Card, he sang a duet with Will Ferrell on Jimmy Kimmel Live, recorded the ballad 'Sometimes When We Touch' for three hours at Capitol Records, did an hour long television interview at his Hancock Park home, and went to San Diego to attend a basketball game. In addition, Pacquiao's promoter Bob Arum arranged for the fighter to assist in support of Senator Harry Reid for re-election in Nevada (home to some 90,000 Filipinos, who may have helped Reid to victory by a 40,659 vote margin), flying Pacquiao after his training to Las Vegas by private jet. When asked what benefit to Manny Pacquiao there would be for attending the rally at Orr Middle School, Arum said, "There isn't any." Roach told Arum upon his insistence to schedule Pacquiao on the trip, "If Manny loses this fight, you'll know exactly why."
Pacquiao appears unconcerned as he'll attempt to win an unprecedented eighth world title in his eighth weight division, getting back into form and old routines like running the hills of Griffith Park and listening to Shakira while finishing his workouts at Wild Card. As for the distractions and the entourage, the congressman might as well indulge them. After all, of the many feats Pacquiao has achieved, leaving the 7,108th island will never be one of them.
REAL LIFE. REAL NEWS. REAL VOICES.
Help us tell more of the stories that matter from voices that too often remain unheard.