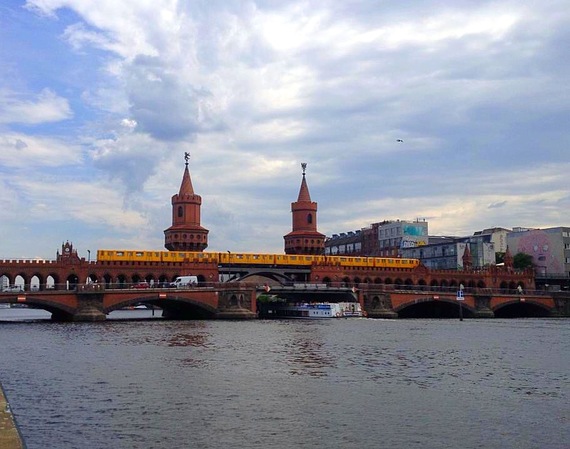 Looking for somewhere exotic yet familiar to travel to this summer? Well look no further than a city whose name you've probably heard of a dozen or so times before. The charm, vibrance, and uniqueness of Berlin will leave you feeling swept of your feet, with something to appeal to just about anyone.
It all happened by accident that I myself discovered Berlin. In my final summer of college a few years back I decided to backpack the continent of Europe; solo. I was growing near the end of my holiday and I had decided that I wanted to add Germany to my list of countries that I visited however I was unsure of just exactly which city I wanted to visit.
After researching which city I should visit immensely for days, I finally narrower it dine between Munich and Berlin. Still not one-hundred percent sure of which one to choose, I decided I would leave my selection in the hands of God. The next day I headed to the train station in Paris and asked the attendant for a ticket to either Berlin or Munich; whichever was cheaper. She responded with saying that they were just about the same price, with a euro or two being the difference. She then proceeded with looking at me and saying, pick Berlin, you are going to love it there.
And wow was this woman incredibly right. Berlin to this day remains a city that I still think of as magical, unique, vibrant, and beautiful. A city that was once divided between East and West, and yet is so well-connected and united. A city where you can really run free and be yourself. And do not get me started about the party scene, which is unparalleled to anywhere else in the world.
A lot of people often ask me if a day or two is enough to see everything in Berlin, and in my honest opinion it is really not. Berlin is one of those cities that has an extraordinary amount to see, and such a different rich culture you will want to explore. I would recommend a minimum of at least three days here, depending on what you want to see, and perhaps one of those being a weekend if you want to check out the nightlife culture. Below I have listed the things that you must see and do in Berlin, even if your trip is short.
East Side Gallery (Berlin Wall)
Located on the river in Friedrichshsin near the Oberbaum Bridge, the East Side Gallery is known as a memorial for freedom. Many artists have designed murals which are painted on the wall to represent unity, surviving oppression, and freedom. The wall itself is a bit over a kilometer long, and makes for a great stroll down the river and observing on a sunny day.
An island located in the Spree River, Museum Island houses a few museums that display Berlin's art collection. The island itself is registered as a UNESCO World Heritage site. Each museum houses artwork from era specific periods.
Travel Tip: I would recommend buying the one day Museum Pass which will allow you access into all of the museums on the islands.
Travel Tip #2: Must see pieces of art include The Ishtar Gate & The Altar of Zeus (Pergamon Museum).
Located in the city center of Berlin. Alexanderplatz is home to a giant shopping mall with a variety of stores and restaurants. Alexanderplatz can be used as a great landmark to meet up with some one, and would make a great day for shopping, if that's what you're into.
Perhaps the most famous landmark in Berlin, the Brandenburg Gate is a must see in Berlin. Marvel at the ancient neoclassical architecture and obtain your must-have selfie in front of it.
This memorial is dedicated to the victims that were persecuted during the Nazi regime for being homosexual. The memorial opened quite recently in 2008, and is located in the park near the Brandenburg Gate. The memorial features a concrete cube with a window in which visitors can look in and see a short film. The memorial serves as an important reminder that not only Jews were persecuted in the Second World War, as many other minority groups were targeted as well.
Jewish Holocaust Memorial
A 19,000 meter memorial, filled with concrete slabs that are arranged in a grid-like pattern on a sloping landscape. The feeling of the memorial is quite maze-like and eerie. Definitely leaving you with a sense of uneasiness. Here all the names of the Jewish victims of Second World War are listed.
The most famous crossing point between the divided East and West Berlin, Checkpoint Charlie houses an actual station with a guard, a museum, and old signage that let's you know that you are leaving the free part of Berlin and entering the communist side, and vice versa.
Think Williamsburg, New York. Hipsters. Bicycles. Shops. Outdoor cafés. Friedrichstraße is the Main Street located in the heart of Friedrichshain. This street is the Berlin version of hipster chic, and many nightclubs and bars are located in this neighborhood. The street always seems to be lively, and you can do anything from rent bicycles, to shop, to eat in this area. I would also recommend staying in this area as you are central to just about everything, and you can pretty much stumble home from the bars and clubs without having to worry about hailing a taxi.
Travel Tip: Look for the food shop What A Wurst located right outsie the S Bahn Station at Warschauer Straße Station and try a currywurst. Berlin is one of the only places in the world where you can find one of these.
Oberbaum Bridge (Oberbaumbrücke)
Located between the neighborhoods of Friedrichshain and Kreuzberg in Berlin, the Oberbaum Bridge connects the once divided city which was known as East and West Berlin over the river Spree. The U-Bahn line U1 runs over this bridge, and the bridge itself can be walked across. It is considered an important symbol of the unity of Berlin.
Located near Alexanderplatz in Berlin, the television tower is a famous landmark in Berlin and can be seen from various points throughout the city. The tower itself is 368 Meyers tall, and houses a restaurant near the top. Lines can get quite long so advanced ticket purchase is a smart idea, and the views from the top of Berlin are simply stunning. This is a great idea if you have some extra time on your hands, as the whole experience can be quite time-consuming.
Sachsenhausen Concentration Camp (Str. der Nationen 22, 16515 Oranienburg)
Located outside of the city of Berlin in Oranienburg, Sachsenhausen is easily reached by the S Bahn. This particular camp was used during the Second World War under the Nazi regime to house political prisoners of war. If you have about half a day of time and have never visited a concentration camp before, I would strongly recommend visiting Sachsenhausen.Walking through the camp can be a bit eerie and sad, but it is important to be reminded of the events that occurred there not so long ago.
Berghain (Am Wriezener Bahnhof, 10243)
Often regarded as one of the best nightclubs in the world, Berghain is located between the border of Kreuzberg and Friedrichshain, which is how its name was developed. Berghain us definitely an experience to new and returning visitors alike, and the music is some of the bes you'll find in Germany. However the doormen controls who gets to enter or not, and there is no rhyme or reason to why you may be allowed or denied access into this nightclub. Popular tricks include wearing all black, tight black skinny jeans, having a backpack with you (to show you are there to seriously party for a while), not speaking while waiting on-line, and not using your cellphone either. Photography is strictly prohibited inside the club. For more information on what you should do to get into Berghain try researching past visitors reviews online.
Tip: Check online to see the DJ schedule because the doorman just might ask you who is playing that night that you are here to see.
Tip #2: just pay the cover once and you are all set for the weekend. You may come in and out as you please, provided you don't wash that stamp off of your wrist.
Tip #3: Sunday morning around 4AM is when things really heat up. Perhaps the best time to go, even surpassing Friday & Saturday nights.
Tip #4: Feeling tired from parting for so long? Order some snacks or a Club Mate at the bar.
Watergate (Falckensteinstraße 49, 10997)
Located riverside near the Oberbaum Bridge, this club features beautiful views of the river Spree with floor-to-ceiling windows, and an outdoor terrace. Catch some of the best DJ's spinning here, especially from local BPitch Control records. Dress code is classical like most Berlin clubs, however do keep in mind the doorman here is quite selective of whom he lets in as well. You may hear that Watergate is "closed for a private party," or "there are too many boys inside." You can simply leave and try a different nightclub, or leave and try coming back later.
KitKat Club (Köpenicker Str. 76, 10179)
Perhaps one of the most interesting nights out you'll ever have, KitKat Club mixes prominent Techno and Trance music with kinky, fetish fashion. As usual in Berlin, the nightclubs dress code is recommended as casual fetish, with many portraying looks that include anything from leather to jock straps to full-on nudity. Sexual intercourse is accepted throughout the venues various rooms, and toys such as slings and poles are located inside. It's best that you come with an open mind, and you'll truly have an experience like no other.
Share your photos and stories with me on Instagram @thenycwanderer. Until Next time kittens, XoXo.
https://thenycwanderer.com/2016/06/15/72-hours-in-berlin/