A friend once told me that Istanbul is such a vast, vibrant and multilayered city that it would take years to truly know it, and he was right. Once at the heart of the Roman, Byzantine and Ottoman Empires, it's one of the world's most historically rich destinations. With Asia and Europe straddling either side of its glittering Bosphorus Strait, it's also replete with paradoxes: East and West, old and new. It's virtually impossible to truly experience Istanbul in just 72 hours, but you can get a taste of the city's magic -- if you're well prepared.
If throngs of DSLR-wielding tourists don't ruffle you, I'd recommend staying in the Old City, the nucleus of Istanbul's most famous historical sites. Sitting in arguably its most coveted slot is the buttercup-yellow Four Seasons Sultanahmet: nestled conveniently between The Blue Mosque and Aya Sofya, with Topkapi Palace just minutes away on foot and the Grand Bazaar a longer but not unpleasant fifteen-minute jaunt away. Location aside, it's steeped in history: built in 1918, the hotel was originally Istanbul's first prison, home to literary dissidents like poet Nazim Hikmet. They also do a fantastic meze-style Turkish breakfast with bal-kaymak (clotted cream and honey), olives, tomatoes, cucumber and sucuk (Turkish sausage), and you get a plate of assorted baklava squares upon arrival. It's pricey, but the location and ambiance are worth every lira. (For those on a budget, a less-expensive but still lovely boutique hotel in the Sultanahmet area is the Hotel Ibrahim Pasha).
For those who want to explore historical Istanbul by day and soak in modern Istanbul by night, I recommend lodging on the other side of the Galata Bridge, in the Beyoğlu and Şişli districts (also known as the "New City"). I'm partial to the Nişantaşı quarter: formerly a hunting ground during the Ottoman Empire, it now boasts narrow streets studded with trendy cafes, boutiques and clubs. The sleek House Hotel Nişantaşı is arguably the best hotel in the neighborhood. It's located on Nişantaşı's main shopping drag, Nişan Abdipekçi Caddesi, and in contrast to FS Sultanahmet's Neoclassical, old-world aesthetic, the House Hotel pays homage to the ultramodern, cosmopolitan side of Istanbul without being overly Western. The hotel boasts a browsing library filled with Turkish art and history books, and the staff is young, hip and helpful. They also do an exceptional breakfast buffet featuring traditional Turkish menu items. (For those on a budget, Nişantaşı Flats offer clean, spacious apartment rentals near the Osmanbey Metro station. But if, like me, you enjoy the creature comforts, you can nab excellent discounted rates at the House Hotel and nearby upscale accommodations through the luxury hotel booking site The Luxe Nomad).
Day One: Though you might be tempted to speed-visit Istanbul's historic sites in order to get to all of them, I'd strongly recommend picking just three and taking your time to really soak in and appreciate each one. If it's your first time in Istanbul, I'd recommend the Blue Mosque, Aya Sofya and Topkapi Palace. The iconic, 400-year-old Blue Mosque boasts six minarets (most mosques usually have only four) and soaring ceilings lined with thousands of blue İznik tiles. Equally, if not more breathtaking is the Aya Sofya, built in 537 as the greatest Church in Christendom then converted to a mosque in the 14th Century. The opulent Topkapi Palace was the residence of Ottoman Sultans for over 400 years, and today houses holy Muslim relics. (I'd allot at least four hours at Topkapi, and make sure to visit the Harem: a labyrinth of around 300 luxuriously tiled private rooms).
Day Two: Dedicating an entire day to eating and shopping in favor of more sightseeing might seem wasteful, but with food being such an integral part of Turkish culture (and a means of learning about its colorful history), I'd highly recommend it. A dedicated half-day food tour like Istanbul Eats ensures that you experience truly authentic local food (no easy feat in tourist-congested areas like Sultanahmet), while allowing you to explore neighborhoods you wouldn't otherwise go. (After soaking in the mind-numbing opulence and grandeur of Istanbul's mosques and palaces, visiting the humbler, working-class areas right outside Sultanahmet was an eye-opening experience for me). Once the tour's over, I'd recommend backtracking your steps to The Spice Market in Eminönü, where you can snack on delicious dried fruit leathers at Malatya Pazari (shop 44) and goatskin-ripened cheeses at Cankurtaran Gida (shop 33). In the evening, haggle your way through the frenetic The Grand Bazaar: the infamous Byzantine maze of 4,000 shops.
Day Three: On your last day in Istanbul, I'd recommend a relaxing and scenic 90-minute ferry ride up the Bosphorus Strait. (Stay away from private cruise companies ripping off tourists with short, overpriced trips and barely-seaworthy vessels. Instead visit IDO/Şehir Hatları Bosphorus for information on Istanbul's official cruises and their timetables). After your cruise, enjoy a Turkish bath (hamam) at the stunning 1584-built Çemberlitaş Hamamı or the lavish Cağaloğlu Hamamı, arguably the most beautiful Turkish bath in Istanbul.
Just for fun: If you can squeeze it in, I'd recommend a night of dinner and belly dancing at Sultana's 1001 Nights. It's admittedly touristy, but with its bottomless glasses of red wine, plates upon plates of Turkish meze and assorted cheeses, and belly dancing all night (with performances by the "world's best belly dancer" Didem), it made for my most enjoyable night in Istanbul. A lot of fun if you don't take it too seriously.
If you choose not to take the Istanbul Eats tour, at least treat yourself to a meal at the outstanding Mikla, situated atop the 18-story Marmara Pera Hotel. The restaurant boasts Ottoman-fusion cuisine by Chef Mehmet Gurs that's reflective of an increasingly cosompolitan Istanbul. Aside from the sweeping views of spotlit mosques across Istanbul's silvery landscape, you can enjoy flavorful dishes like the trakya kıvırcık (lamb shank with cinammon and tahini hummus).
For something a little more low-key, I'd recommend Hamdi by the Spice Market, which does excellent authentic kebaps, meze and pide. Akdeniz Katay Sofrasi, in the neighborhood of Fatih, does tasty and fresh Syrian-inspired Turkish cuisine, not to mention perfect kunefe (an addictive sweet consisting of cheese sandwiched between wheat and soaked in syrup). And in the Cihangir neighborhood, Antre Gourmet Shop boasts an impressive selection of gourmet foodstuffs (salam, olives, preserved fruit) and cheeses from around Turkey, hunks of which will be generously sliced for you by the kindly Ibrahim, who can be found behind the counter six days a week. (Tip: before your trip, I'd strongly suggest scouring the Istanbul Eats and Delicious Istanbul blogs for more restaurant suggestions by locals).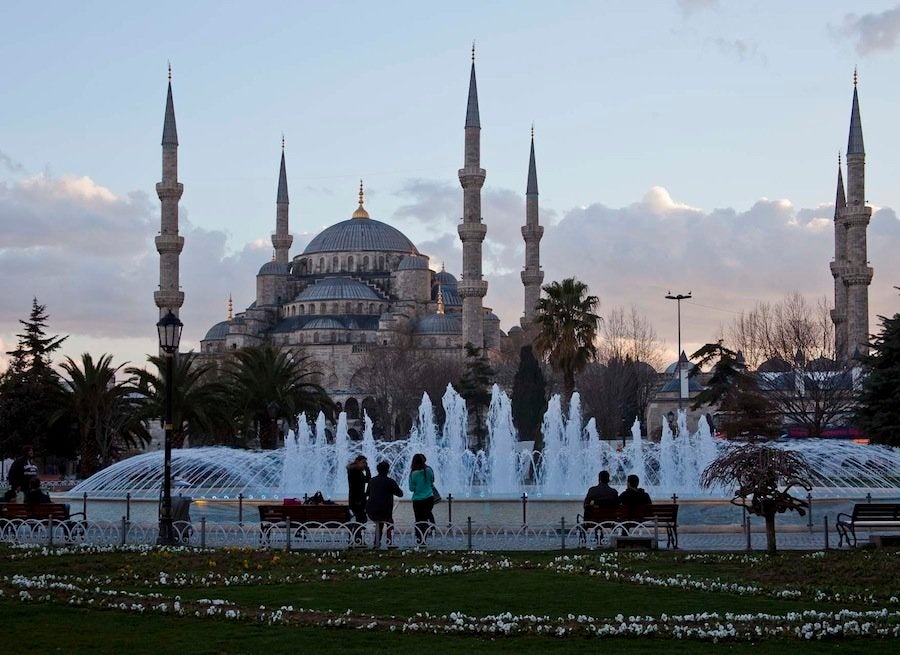 72 Hours In Istanbul
Support HuffPost
A No-B.S. Guide To Life
Related
Popular in the Community