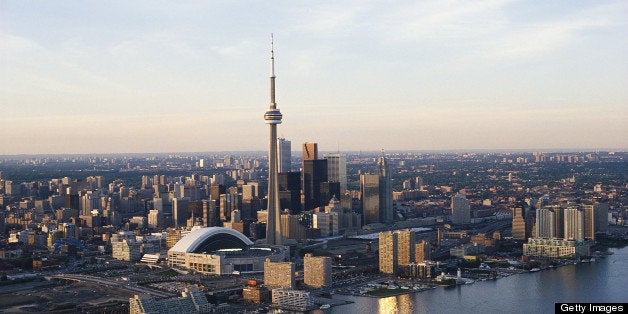 With an expansive lakefront, bustling business district and renowned entertainment scene, Toronto shines in summer. If you are planning a trip to Canada's largest city, use these five tips for hidden secrets from a local and make your trip one to remember.
1. Leslie Street Spit: The Leslie Street Spit is often described as one of Toronto's best kept secrets. From vantage points along the numerous hiking and biking trails in this manmade peninsula/conservation area/bird sanctuary, take in unparalleled views of the city while surrounded by vast meadows of wildflowers, cottonwood forests, coastal marshes, cobble beaches and sand dunes. You'll be shocked that you're still in Toronto.
2. Black Creek Pioneer Village: Fond memories of horses lipping oats from your taut palm; the horror of realizing what an outhouse was; feeling so thankful that you'd never have to churn your own butter, Black Creek Pioneer Village left an indelible impression on just about every Canadian kid who took a field trip there. It's still an awesome place to spend a summer afternoon and now we're all old enough to enjoy the brewery. The museum is home to fascinating and often surprising artifacts that shed light on what the area villages were like in the 1800s, and also showcases temporary exhibits, like this summer's The Working Lives of Chinese Canadian Women 1923-1967.
3. Pingle's Farm Market: Those with wheels looking to escape the city should head an hour east to Pingle's Farm Market. A family-run farm and bakery where daytrippers can pick their own apples, raspberries and strawberries, plus watch a vegetable cannon make pumpkins soar, get lost in a corn maze and sample the homemade goods at the delicious bakery, famous for its strawberry shortcake available from June to September when the fruit is in season and the Strawberry Festival is in full swing.
4. Revue Theatre: Everybody knows that the best place to cool off in the summer is a double feature in a air-conditioned movie theater. Two movies are just enough time to reduce your core temperature and wait out the blistering sun. But these days it's hard to find two movies worth seeing and the price of two tickets a day all summer will set you back a few vital organs. Luckily The Revue Cinema on Roncesvalles still has the right idea, with reasonably priced admission and top-notch movies, both relatively new releases and classics. It also holds regular lectures from local buffs, film critics and writers, and special programs like Silent Movie Sundays and the Book Revue.
5. Wynchwood Barns: Built as a streetcar maintenance facility in 1913, Wynchwood Barns now contains artist housing and studios, a greenhouse, a farmer's market, public green space and a beach volleyball court. On Sundays through summer a brewery market is held, where people can lounge on a patio and sample a multitude of Ontario beers. Concerts, film screenings and creative workshops among other events happen regularly so it's good to keep checking the website through summer.
Ainslie Hogarth is a Travelzoo Deal Expert based in Toronto, Canada. Travelzoo has 250 deal experts from around the world who rigorously research, evaluate and test thousands of deals to find those with true value.