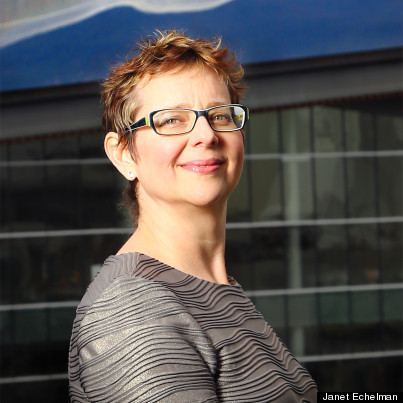 Janet Echelman, an urban airpsace artist is a dream weaver or Spider Woman. Hover over the City of Vancouver, she has suspended a 745-foot sculpture in the sky, half the size of the Brooklyn Bridge, over Vancouver for the 30th Anniversary of the TED Talks. Together with Google Creative Lab digital artist, Aaron Koblin, she has created a one-week transformation of a large airspace in downtown Vancouver between the Fairmont Hotel and the new Vancouver Convention center that passersby will be able to light and color with their mobile devices at night. Echelman is known for her fluid, wind and air dream catchers in the sky, woven like fishermen's nets and using fibers from Saco, Maine, fifteen times the strength of steel.
"It's a metaphor for a way of being in the world in that you need to be able to go in, share what you want to share and leave without a trace. It's like going camping. It's a light footprint."
I sat down with Echelman in her studio in Boston days before her sculpture, titled Skies Painted with Unnumbered Sparks, was hoisted into the sky and asked her about the influences that have made her a darling of the media art world. She has a commission for none other than the Gates Foundation going up this Fall and her piece, Every Beating Second hovers over the SFO airport to name a few. She talks about her early days at Harvard, working for American artist Robert Rauschenberg in Bali and the discovery that the Ancient Colosseum in Rome once had a Valerium suspended in air over the gathering of it's people as her inspiration for Vancouver.
How is this sky sculpture in Vancouver different from your others? It's the first test of my sculpture woven into the city at this scale. I've been working on it for the last three years and it's hard to believe it's finally going to be real. It's the first test of my sculpture woven into the city at this scale. It's 745 feet. It's a huge jump in technical challenge and it turns out that even for a soft net sculpture, when you increase the size, the wind forces grow exponentially. My engineer told me, 'you've doubled the length of your sculpture but your wind forces are ten times larger.'
What materials do you use? I'm using highly engineered fibers. One is called Spectra. It is fifteen times stronger than steel and we weave it into a twelve strand hollow grade being donated by Yale Cordage in Saco, Maine.
How long will it be in Vancouver and where will it go next? It's being unveiled March 15th and it will stay up for a full week and two weekends and there are several cities working on plans to bring it to their city next.
Can you tell us who? No. Major cities you know and love.
How high is the Vancouver sculpture suspended? We're drilling into the roofs of major buildings, putting our steel structure in place, the piece is packed and getting ready to unfold on the ground. We're closing the street all night.
How do you get permission to drill into buildings? As they say with dating... it only takes one. I ask very nicely! Sometimes you have to ask more than one person. Canada aviation had to approve this. We had federal, provincial and municipal hurdles to cross. For the city, we have four different permits. We have a development permit, a building permit, a noise ordinance permit, and two road closure permits. The number of hurdles was daunting.
This work in Vancouver is designed to be agile and to travel as an idea from city to city. Therefore it needs to mobilize smoothly using only what already exists in the city and so it's a different endeavor. It's about being able to adapt and work with what's already on the site. We've attached to the top of a twenty-four-storey Fairmont hotel and to the brand new Vancouver Convention Center with its giant grass roof.
What emotions do you think your soft structures evoke? I think it comes from a memory of being a toddler holding onto my mother's legs, her skirt billowing above. It's this sense of being protected yet being connected to open infinite space and it's preverbal. That's why it's so hard to describe. It's this deep human emotion that is at the core of all my work and its scale is part of that sensation of being small and protected. It's not scale for its own end.
What artist has influenced you? Working for Robert Rauschenberg. When I was 22, I was living in a village in Bali and he was searching for someone in Asia to help coordinate his exhibitions there and I started helping him and was his personal guide because I spoke the languages in Indonesia and Malaysia.
After graduating from Harvard, I lived in Ubud, Bali and he asked to see my pictures of my art and then he asked to curate one of the first solo exhibitions of my work. I was making these batik canvasses and I had shown him pictures of them sort of flopping in the wind but when I brought them in for the exhibition, we framed them on stretchers. He made this comment that has reverberated with me for years. He said that if I returned them to their original state when I was making them, of being loose, that even the air currents in the gallery would interact with them and make them move. He felt I should let them return to the way they were. Years later I thought back to this idea of returning them to the state when I was making them and now that's what I do. It's about completely soft works that are soft enough to be influenced by the changing currents of wind. He was really a big influence conceptually on my work. The Full Interview with Janet Echelman is at TheEditorial.com. This is an exclusive excerpt for Huffingtonpost.com