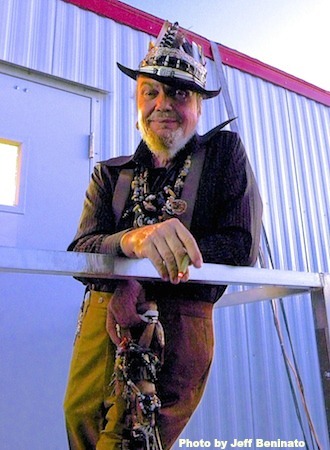 1) Young Malcolm John Rebennack modeled for the Ivory Soap Box.
2) His Aunt Andre taught him to play on the piano on his childhood home.
3) By 13, his New Orleans gigs included strip clubs, grocery stores and brothels.
4) His dad's appliance and record store sparked his early interest in music.
5) At the age of 16 he worked in A&R for Ace Records.
6) One of his first assignments was to spy on other executives.
7) Had a finger shot off protecting a bandmate whose mother told him she would "chop his cojones off if anything happened to her son."
8) So he switched from playing guitar to playing piano.
9) Released his first single "Storm Warning" under his own name in 1959.
10) Moved to California in 1963 after serving time in federal prison for drug possession. Has been clean & sober for over 25 years.
11) While in California recorded with legendary studio musicians The Wrecking Crew.
12) With unused studio time from Sonny & Cher released Dr. John album "Gris-Gris".
13) "Gris-Gris" is #143 on Rolling Stone Magazine's 500 Greatest Albums of All Time.
14) Bandmate Ronnie Barron was originally going to be the character of Dr. John, but his manager talked him out of it.
15) He didn't want to be a front man but a bandmate told him: "If Bob Dylan can be a front man YOU can."
16) During the summer of 1969, played on "Music from Free Creek" with Eric Clapton who appeared as "King Cool" for contractual reasons.
17) Released his album "Sun, Moon and Herbs" in 1971 with musicians including Eric Clapton and Mick Jagger.
18) His 1972 New Orleans-themed album "Gumbo" was ranked by Rolling Stone Magazine as one of the 500 greatest albums of all time.
19) The lead single from "Gumbo," "Iko Iko", made Billboard Hot 100 singles chart.
20) Produced Professor Longhair's "Crawfish Fiesta" which won W.C. Handy Blues Album Award.
21) His 1973 hit "Right Place Wrong Time" was produced by Allen Toussaint.
22) "Right Place, Wrong Time" was in "Fargo" & "American Horror Story: Coven."
23) On the album "In the Right Place" Dr. John covered Allen Toussaint's song "Life." He played it at Allen's memorial concert in New Orleans yesterday.
24) Played piano on Carly Simon and James Taylor's duet of "Mockingbird" in 1974.
25) Was the inspiration for The Muppets' Electric Mayhem Bandleader Dr. Teeth.
26) Co-produced Van Morrison's album "Period of Transition" in 1974.
27) Piano and vocals in The Rolling Stones' "Let it Loose" from their album 'Exile on Main Street."
28) John Lennon told Dick Cavett that Dr. John was one of his favorite musicians.
29) Appeared in SCTV's Polynesiantown skit. "Forget it Jake - It's Polynesiantown!"
30) Performed on the March 19, 1977 episode of NBC's Saturday Night Live.
31) Was featured on the 1978 Beatles-inspired Musical album "Sgt. Pepper's Lonely Hearts Club Band."
32) In 1989, won a Grammy with Rickie Lee Jones for "Makin' Whoopee."
33) Performed the theme song "Like Curious George!" for the PBS TV series.
34) Wrote the theme for the '90s TV show "Blossom," "My Opinionation."
35) Appeared in "Touched by an Angel" as did Al Jarreau, B.B. King and Al Hirt.
36) Won Best Traditional Blues Album Grammy for "Goin' Back to New Orleans".
37) Autobiography: "Under a Hoodoo Moon: The Life of The Night Tripper."
38) Best Rock Instrumental Performance Grammy for "SRV Shuffle" with Clapton, Robert Cray, Buddy Guy, B.B. King, Art Neville, Bonnie Raitt & Jimmy Vaughan
39) With B.B. King, won 2000 Grammy Award for Best Pop Collaboration With Vocals for "Is You Is, Or Is You Ain't My Baby."
40) Extensive discography includes tracks with Aretha Franklin, Ray Charles, Harry Nilsson, John Lennon, Ringo Starr, Neil Diamond, Frank Zappa & many more.
41) Featured in Martin Scorcese documentary about The Band "The Last Waltz" with "Such a Night"
42) Moved to New York City in the late 1970s.
43) Met Louis Armstrong in their mutual manager Joe Glaser's New York office.
44) Produced legendary songwriter Bobby Charles' final album, "Timeless."
45) The music festival Bonnaroo took its name from his album "Desitively Bonnaroo"
46) Wrote the score for the movie adaptation of John Steinbeck's "Cannery Row."
47) Performed the song "Cruella de Vil" for the Disney movie "101 Dalmatians"
48) In 1997, he appeared on the charity single version of Lou Reed's "Perfect Day".
49) Performed "Walkin' to New Orleans" in Shelter from the Storm, a 2005 benefit.
50) Joined Aaron Neville, Aretha Franklin and a 150-member choir to perform the national anthem at Super Bowl XL.
51) In 2009, he moved from New York back to his home state of Louisiana.
52) Inducted into the Rock & Roll Hall Fall of Fame in 2011 by John Legend.
53) In 2012, was in Soul Fire Ceremony for Healing of the Waters on BP Oil Spill anniversary.
54) Received an honorary Tulane University doctorate along with the Dalai Lama and Allen Toussaint, making him Dr. Dr. John.
55) Recorded the benefit EP "Sippiana Hericane" for post-Katrina charity efforts.
56) Performed "Yes We Can" at The Grammy Awards, 2006 with Allen Toussaint, Bonnie Raitt, The Edge, and Irma Thomas.
57) Recorded Grammy-nominated "Another Murder in New Orleans" with Bobby Rush and Blinddog Smokin' for New Orleans Crimestoppers.
58) Performed the theme music for Fox's post-Katrina TV drama K-Ville.
59) Won 2008 Best Contemporary Blues Album Grammy for "City that Care Forgot."
60) Recorded "Let 'Em In" on Paul McCartney tribute album "The Art of McCartney.".
61) Recorded opening track "Down in New Orleans" for Disney's animated movie "The Princess and the Frog."
62) Won Blues Album of the Year Grammy for 2012's "Locked Down," produced by Dan Auerbach of The Black Keys.
63) Was featured in the HBO's New Orleans series "Treme" as himself.
64) Introduced the phrase "hip tang" to Bravo's "Top Chef" in hot sauce judging.
65) In 2014, played at the NBA All Star Game & Pharell Williams and Janelle Monáe.
66) Kicked Off Musical Mojo of Mac with Bruce Springsteen on "Right Place, Wrong Time"
67) In Dave Grohl's HBO's series "Sonic Highways," Dan Auerbach told Dave: "Dr. John is cooler than you will ever be."
68) Recorded Louis Armstrong tribute album "Ske-Dat-De-Dat: The Spirit of Satch" after Satch came to him in a dream and said "Do my music your way."
69) "Ske-Dat-De-Dat: The Spirit of Satch," co-produced and arranged by Sarah Morrow, charted at #1 on Billboard's Jazz Chart.
70) Performed at "Lean on Him: A Tribute to Bill Withers" at Carnegie Hall.
71) Played "What a Wonderful World" to induct the song into the 2015 International Songwriters' Hall of Fame.
72) Portrayed himself in the season premiere of "NCIS: New Orleans" fall, 2015 playing "Right Place Wrong Time."
73 Is recording tracks for Disney's "The Jungle Book" directed by Jon Favreau who Instagrammed himself, Dr. John, Bill Murray & Christopher Walken in the studio.
74) Tours internationally and in the U.S. with his band The Nite Trippers featuring Music Director Sarah Morrow.
75) Will receive the Louie Award from the Louis Armstrong House Museum in December, 2015 for helping keep the spirit of Satch alive.
Calling all HuffPost superfans!
Sign up for membership to become a founding member and help shape HuffPost's next chapter