Challenging the all-time NBA record for losses in a single season isn't the kind of history that teams generally strive to make. However, reaching for the bottom also eliminates the risk of stagnating in basketball purgatory, i.e., reaching the playoffs as a low seed only to be bounced in the first round. The 0-11 Philadelphia 76ers have proven so inept as a team so far that one is lead to wonder if the team isn't tanking on purpose.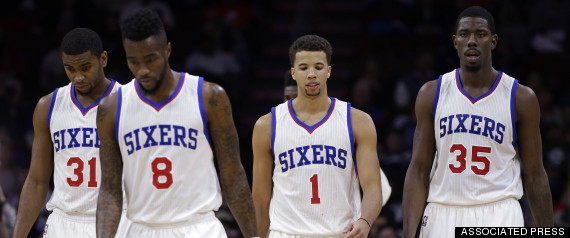 Sure, some fans might argue that tanking the season, as a strategy, is poor form and unsportsmanlike, but I'd argue that it is, rather, sheer genius.
The Eastern Conference of 2014 is a three-horse race between Washington, Chicago and Cleveland. Philly GM Sam Hinkie must know this, as he also must realize that teams need star power to succeed in today's game. The Wizards have John Wall, the Bulls have Derrick Rose and Joakim Noah, and Cleveland has one of the most talented trio of players ever assembled.
Hinkie could be hoping to gain high draft picks and gather his own assortment of young stars. The draft is always a gamble, so more high picks means better chances the 76ers could hit it big. But such a plan offers no guarantee of success and is a big risk to take with a fan base that hasn't had a championship in over three decades. The draft lottery is weighted and based solely on record, which also means he may never actually get a No. 1 pick.
Hinkie, meanwhile, has deliberately dealt his best players, including All-Star point guard Jrue Holiday, with the hope of building a long-term winner.
If that's Hinkie's master plan, it appears to have backfired even more this year than it did last year -- and that was a 19-win team that tied the NBA's all-time record of 26 consecutive losses. And Hinkie is in only his second season at the helm.
Currently, his players' average age is 23, youngest in the league. Hapless players like Hollis Thompson, Brandon Davies, Robert Covington, Drew Gordon and Henry Sims all play significant minutes. Hinkie has signed a league-high nine undrafted free agents, and recently lost to Dallas by 53 points. Their negative 16.4 point differential is worst in the league, and by nearly 10 points.
"I tell people that I think a lot of it is where does your self-worth come from," Hinkie told SB Nation before the season. "Do you need people every day telling you you're doing well? Do you need the masses every day telling you that they agree with you?"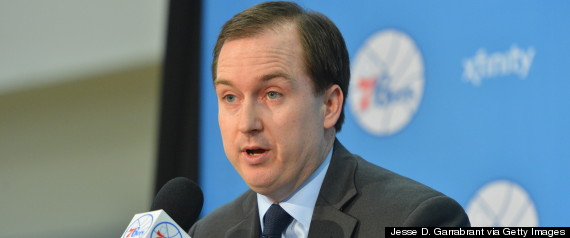 There is a certain inspired ambition to what he seems to be attempting. He wants not one but two premier rim protectors who are athletic enough to run the floor, and he seems to believe that Nerlens Noel and Joel Embiid are the answer. He wants size and length in his backcourt, something that third- and second-year guards Tony Wroten Jr. and Michael Carter-Williams -- last year's Rookie of the Year -- both offer. And he has shown an awareness of how colossally far behind the 76ers are, compared to all the rising powers in the west, let alone the east.
"We look forward to that day when we can be out every night and say tonight, tonight we have a chance," Hinkie told SB Nation. "When that comes, I don't know. I think a lot of that is about the development of our young guys. As our young players come along, then we'll see."
Building a winner in this league -- especially to make something from basically nothing -- is going to be a long process, and can sometimes require the most unconventional of approaches. And in the case of the 76ers, they may have to hit rock bottom before they rise to the top.
Email me at jordan.schultz@huffingtonpost.com or ask me questions about anything sports-related at @Schultz_Report, and follow me on Instagram @Schultz_Report. Also, be sure to catch my NBC Sports Radio show "Kup and Schultz," which airs Sunday mornings from 9 to 12 EST and 12-1 for fantasy football, right here.
Calling all HuffPost superfans!
Sign up for membership to become a founding member and help shape HuffPost's next chapter