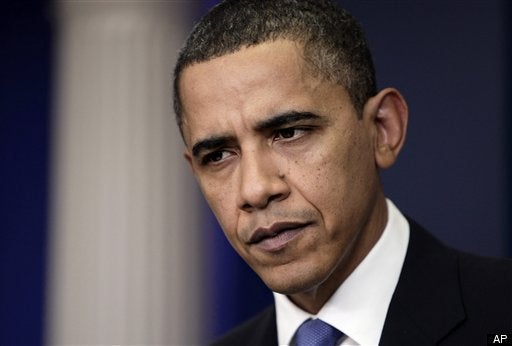 EDITOR'S NOTE: The story below includes references to polling conducted by the firm Research 2000. The reliability and accuracy of Research 2000's polling has since been called into serious question by a report published in June 2010 by a group of statistical analysts.
A full 78 percent of "Republican leaders" believe that President Obama is a socialist, according to a new poll conducted by Esquire magazine.
The magazine says that the survey's respondents include high-profile politicos such as current and former members of Congress, former Cabinet officials, state elected officials, county party chairmen, and "GOP bigwigs from across the country." But the findings should be considered with a large grain of salt -- only 75 individuals were interviewed for the survey, all on the condition of anonymity.
Set for official release on February 16, the magazine's survey represents a confirmation of sorts of the prevalent distaste for Obama that exists within the Republican Party. Earlier in the month, Daily Kos/Research 2000 released its own survey of GOP voters. And of the more than 2,000 self-identified Republicans interviewed for that survey, 63 percent said the president is a socialist (16 percent are not sure, 21 percent say he is not).
It should be noted that the group surveyed by Esquire does not seem to come from the fringes of the party, at least based on their answers to other questions in the survey. Three out of every four respondents, for example, said the primary responsibility for Republicans should be to promote fiscal responsibility; only six percent said social conservative values should guide the GOP. Eighty-seven percent of respondents said that so-called "birthers" are the fringe of the Republican Party, only 12 percent said they are the mainstream. Sixty-seven percent said they would consider supporting a pro-choice candidate in a local, state, or national election; 33 percent said they would not.
With that as a basis, here are some other remarkable data points taken from Esquire's survey:
Given the opportunity to expel one member from the GOP, 30 percent said Sen. Olympia Snowe (R-ME), seven percent said Rep. Michele Bachmann (R-Minn.), 15 percent said former Secretary of State Colin Powell, and 15 percent called for the ouster of bombastic conservative talk show host Glenn Beck.
Pressed to choose which prospective Republican presidential candidate they'd like to see head the ticket in 2012, 31 percent said former Massachusetts Governor Mitt Romney, 13 percent said current Minnesota Governor Tim Pawlenty and 12 percent said former Alaska Governor Sarah Palin.
As for Obama, 70 percent of Esquire's respondents said they thought Bill Clinton was a better president. Twenty-nine percent of respondents said Obama might be the "worst president we've ever had."
According to Esquire, the survey, which is part of its March issue, was conducted over the "course of six weeks last fall and administered with a guarantee of anonymity to all participants."
HERE IS THE FULL ESQUIRE STUDY:
Calling all HuffPost superfans!
Sign up for membership to become a founding member and help shape HuffPost's next chapter