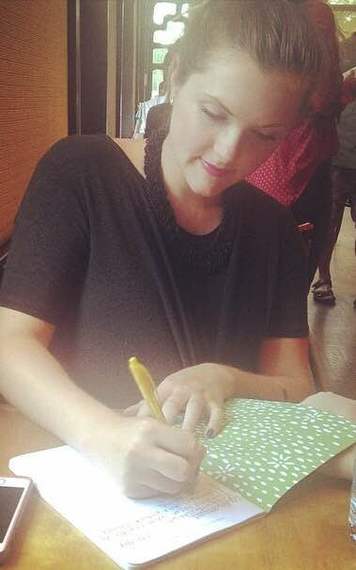 Here we are, quickly approaching the very last semester of our undergraduate career. Usually, our main priorities would be to finalize our winter break plans and start thinking about some internships we want to apply for during the next semester. Today, we are coming to a quick realization that our lives as we know them are about to transform entirely.
In only five months, each of us will be handed the golden ticket to our future and take the last step off of campus and the first leap into the real world. While we know that this moment might be near, most of us are all wondering the same question: how will we get there? Here I have provided a fool-proof checklist for those of us who are looking for some structure for this next spring.
1. Schedule a meeting with your graduation advisor: Recently, I had a friend go visit her counselor to schedule for her last semester. Unfortunately, she hadn't visited her counselor in a while and did not realize that she was off track and was told that she will need to take an extra semester to graduate. For some people this might not be *that* big of a deal, but for others it's a game-changer. It is absolutely crucial that you are familiar with your graduation requirements and are absolutely certain that you have crossed all of your t's and dotted all of your i's for your Bachelor's.
2. Update all of your social media: When I say all of your social media, I mean every single possible site that has your real name and that may or may not show up when someone performs a Google search on you. While it is known that whatever you put on the internet lives forever, you can still do a little damage control before the job search. No employer wants to see a network full of red solo cups or that time you dressed us as a Burnett's bottle for Halloween. Take all of the photos that aren't safe for Grandma's eyes and put them elsewhere. Other things to consider removing: ridiculous Twitter handles or usernames, controversial posts that yielded heated debate and tagged photos you aren't proud of. It is likely that your future employer will search you, so think about what you want them to see.
3. Contact all of your references: While you should keep in contact with your references regularly anyway, this is a time that this communication is crucial. When contacting your references, use a warm greeting and start by reminding them who you are, how you know them and how wonderful it was to meet them or work for them. Afterwards, you may include something regarding your graduation and what type of employment you are seeking. Don't forget to close with a positive thought and all of your contact information. This communication will get you on their radar and maybe they can recommend you for that new position that was just posted at their company.
4. Update your resume and cover letter: For this step, it is advantageous to create a resume and cover letter that can act as a template for each position you are applying for. Instead of having to write a new letter every single time, you'll be able to use this template, saving you time and sanity. For your resume, make sure to take off anything that is older than three years and anything that is irrelevant to the position. That financial firm you're applying for has absolutely no interest in your two summers spent as a nanny. Additionally, it might be necessary to add and remove different things each time you apply for a new position. Look at the job description and use your experience to make your resume match the job description in every way possible. That being said, always be honest. Do not put anything on there that you did not actually do.
5. Plan one "last hurrah" with your best friends: In just a few months, all of you will be traveling all over the world for your very first real job positions. Often, it will be extremely difficult to schedule between multiple full-time job schedules so this might be your last chance to take a trip with them for a while. Whether you take a trip to your friend's cabin for a weekend in the mountains, or you decide to spend one last spring break in Cabo, you'll have the opportunity to make some memories before you're all grown up. Look on Groupon or Hotwire for group deals and save money by selling some of those old textbooks on your bookshelf. It's worth it, I swear.
6. Register for the right classes: This is your last chance to learn about something that might not be in your career path, but could be something you've always wanted to learn a little bit about. First, make sure you're signed up for the classes that you need to graduate, and then if you have an open space go ahead and sign up for that Fashion Design class you've always heard was fun. That being said, be careful that you don't sign up for a class that will stress you out, because senioritis is a real thing and the last thing you want is to worry about a class that doesn't count towards anything.
7. Make a dream list: Make a list of the top 25 companies that you would like to work for. In no particular order, list out each company along with a few reasons why you'd want to be a part of their team. This will give you an opportunity to really think about the reasons certain companies appeal to you. After making this list, develop an action plan on how you're going to conquer this list. It is important that you at least reach out to each and every one of these companies regarding open positions. No company is out of your reach if you're determined enough.
There you have it! A simple checklist for all of us young adults (sort of) panicking for what's to come. Yes, it might be scary. Yes, everything is going to change. But change is inevitable and it's important to approach this new change head-on. Every night spent in the library, every time you paid for gas with quarters, every 20-page paper, every horrible roommate, every ramen noodle dinner, every networking event you were forced to go to, every single instance lead to this. You've worked really hard for this moment and it's your responsibility to make the most of it.
It will all be okay, I promise. Good luck!
REAL LIFE. REAL NEWS. REAL VOICES.
Help us tell more of the stories that matter from voices that too often remain unheard.