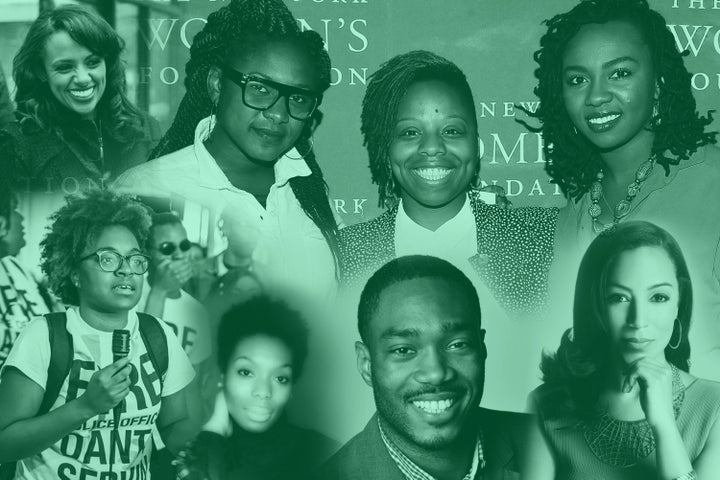 This February, HuffPost Black Voices is honoring black men and women who are paving the way to a better future for black America. As part of our "Black Future Month" series, we will highlight the work of deserving individuals who are striving to make the world a more inclusive place for generations to come.
For the second week of our series, we're honoring eight dynamic activists who consistently lift their voices to empower the black community. These courageous men and women have taken the conversations surrounding race, police brutality and policy to the next level. They are revolutionaries who are leading the modern-day civil rights movement with no plans of backing down.
These leaders assert that all black lives really do matter.
1. Patrisse Cullors-Brignac | Co-Founder of Black Lives Matter
Patrisse Cullors-Brignac is one of the three co-founders of one of the most powerful and demanding movements today: Black Lives Matters. Inspired by the acts of Harriet Tubman and the legacies of the Black Power movement, Cullors-Brignac told HuffPost that Black Lives Matter seeks to develop leaders. "The work of Black Lives Matter is the work of building Black power," she said. "BLM supports the further development of a cadre of new black leaders, as opposed to that one charismatic savior."
Cullors-Brignac, who is also the director of the Truth and Reinvestment campaign at the Ella Baker Center for Human Rights and co-founder of Dignity and Power Now, said she sees blackness as a unifier. "It is more than just phenotype," she said. "It is a politic. It is a belief system. Blackness is where I find and unearth my deepest desires." She told HuffPost that she believes that American politics need to undergo a "radical transformation" in order to abandon the anti-black racism that plagues the country.
2. Opal Tometi | Co-Founder of Black Lives Matter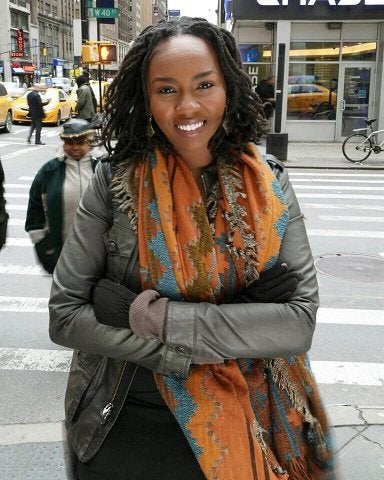 Opal Tometi, co-founder of the Black Lives Matter movement, is an organizer and strategist in several areas. Tometi heads the Black Alliance for Just Immigration and provides significant support for the Pan African Network in Defense of Migrant Rights and the Black Immigration Network. Modeling her practice after Ella Baker, Tometi has been active in social movements for more than a decade.
Tometi fights for the liberation of all those in the African diaspora and ensures the fight is inclusive. In a blog on HuffPost last year, she wrote, "... when we say #blacklivesmatter -- we mean all Black lives matter -- regardless of gender or sexual orientation, immigration status, physical disability, income level, criminal record, etc. In order to have a democracy that works for all of us we need the entire nation to challenge anti-Black racism and get involved in this movement for all Black lives."
3. Alicia Garza | Co-Founder of Black Lives Matter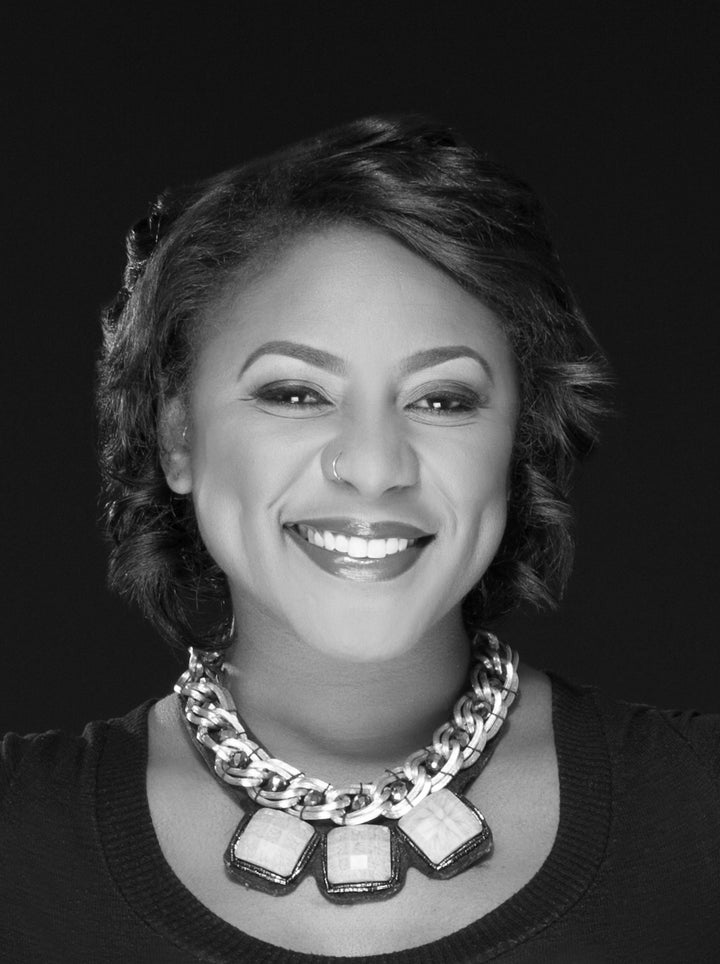 Alicia Garza tweeted the words, "Black lives matter" in 2011 after the death of Trayvon Martin and, at the time, unknowingly created a modern-day revolution. Along with the two other co-founders of Black Lives Matter, Garza has committed to creating a better future for black people. "What we strive for should be more than success in a superficial way -- we can achieve a better black future if we respect our interdependence, commit to learning about the experiences and viewpoints of others, fight to redistribute power and resources so that everyone has enough, and if we practice the principle that everyone deserves human rights," she told HuffPost.
Like Cullors-Brignac, Garza is inspired by Harriet Tubman's extraordinary efforts. She said that she sees the same spirit Tubman had present in so many black women today. Garza and the other Black Lives Matter founders are tapping into that spirit to build resistance and claim justice for all black lives. "To me, being black means being a part of a vast diaspora that has contributed so much to humanity," she said. "Being black to me means being magical, innovative, creative and able to achieve against all odds."
4. Charlene Carruthers | National director of Black Youth Project 100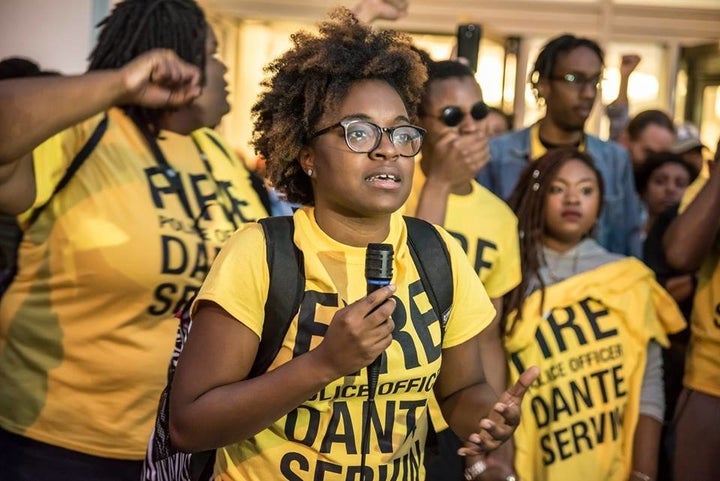 Charlene Carruthers is a pivotal force in today's movement. She's the national director and driving force behind the Black Youth Project 100 (BYP 100), an organization that trains and mobilizes young, black activists. Carruthers ensures that "no Black folks are left out" in her consistent fight for intersectional liberation. "No one of [us] are free until we are all free," she told The Huffington Post via email. "It means that we all have to chip into liberation project that includes folks who have been seen as disposable and been disposed of in our movements... We have to see our struggles as connected, and that the possibility of dismantling of oppressive systems is only realized when we are all included and given space to lead."
Carruthers is inspired by the many black icons who aren't in the forefront of black history, such as Marsha P. Johnson and Assata Shakur. She taps into the legacy of black people who fought for their freedom in the past and continue to fight today. "Blackness is everything and so large that it can't fit in one book, room or worldview," she said. "Being Black means that I am fully human being, and that I can be woman, queer and a leader at the same time."
5. Angela Rye | Founder of IMPACT Strategies and political commentator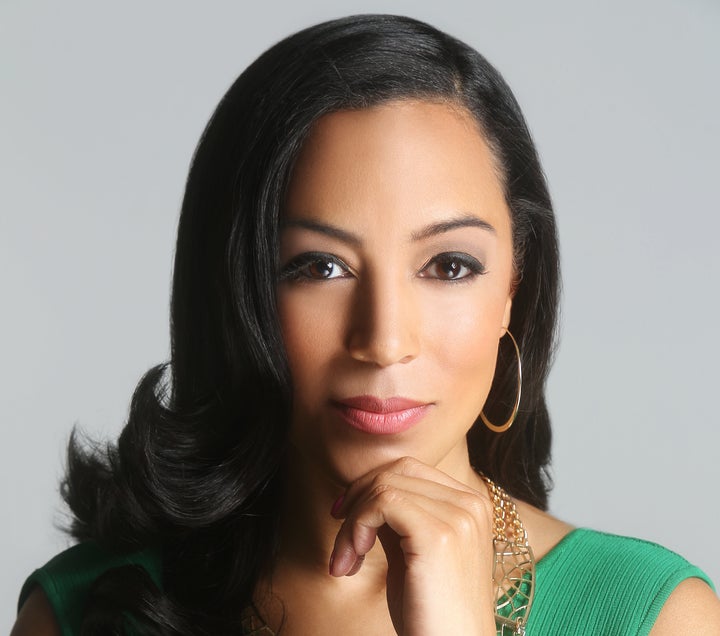 As the namesake of former Black Panther Angela Davis, Angela Rye aptly delves deep to provide poignant political commentary and advocate for the black community. Rye trains the next generation of black leaders with her nonprofit IMPACT Strategies. She told HuffPost via email in order to progress "[w]e must educate young black minds. We must train young black leaders."
Rye, who also draws political inspiration from Shirley Chisholm, praised black people's tenacity, urging them to never give up. "Blackness is beautiful, revolutionary, brilliant, resilient," she said. "I am so proud of who we are as a people ESPECIALLY when you consider the obstacles, hurdles, and challenges we face. We are STILL here! We are STILL making a difference! We are STILL making history! We BAD (in the most amazing way possible)."
6. Dante Barry | Executive director of Million Hoodies Movement for Justice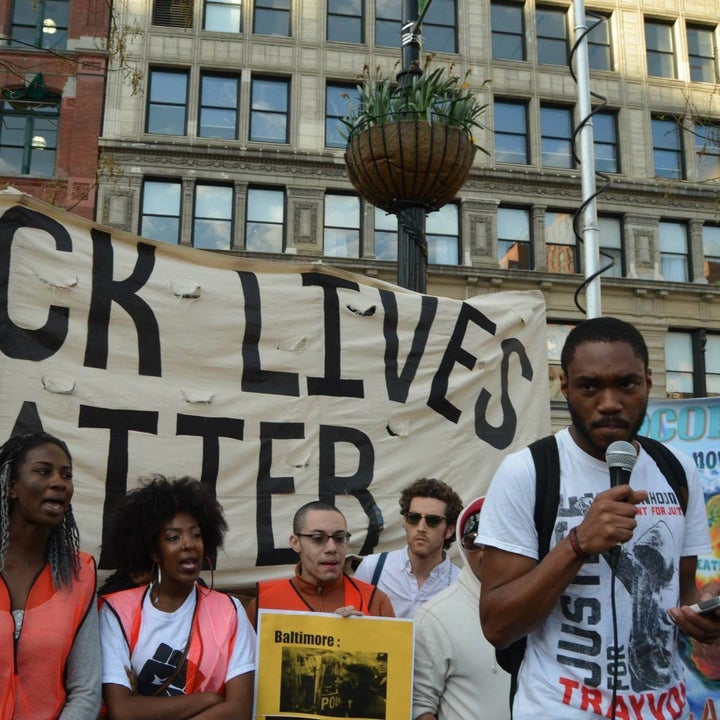 Dante Barry works tirelessly to educate and empower young people of color. As the leader of Million Hoodies Movement for Justice, Barry organizes young people to end mass criminalization and gun violence, applying Ella Baker's leadership model. "Our work at Million Hoodies Movement for Justice is to build a new generation of leaders to confront anti-black racism and systemic violence," Barry told HuffPost.
Barry emphasizes his group's agenda to keep communities of color safe, strong and secure. He uses his background in grassroots organization to orchestrate his plans of developing new leaders and putting more power in the hands of black and brown people. "This moment calls for visionary radical transformation by fundamentally changing how power and democracy impacts black communities," he said. "I think that we can collectively achieve a better black future by continuing to organize in our communities and build real power to transform our futures. Our lives depend on it."
7. Rahiel Tesfamariam | Founder of Urban Cusp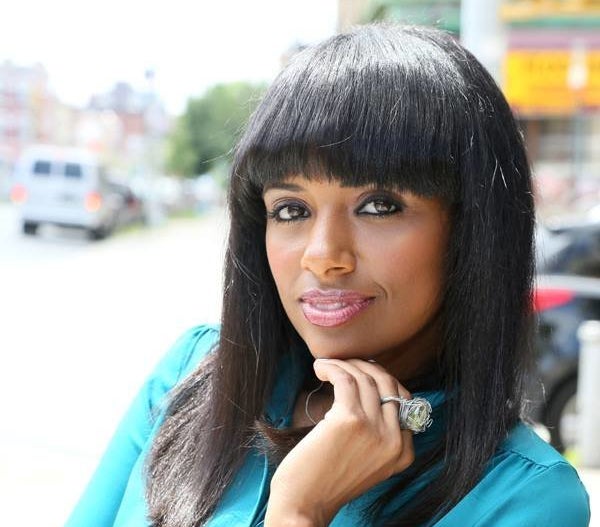 As an activist, public theologian and writer, Rahiel Tesfamariam is a leading voice for black millennials. Tesfamariam founded UrbanCusp.com in order to "highlight progressive voices, ideas and images not commonly found in mainstream media, offering an online community for like-minded change agents." Tapping into the fearlessness of Harriet Tubman, Tesfamariam said she uses her words to transform minds and inspire people to action.
Part of that action, according to Tesfamariam, requires unapologetic self-love in black communities and not settling for reform. "[W]e must instead have an imaginative vision of the world we want to live in, and be committed to being who we have to be in order to usher in that world," she told HuffPost. She's hopeful of a better future partly because of the shear tenacity black people have always exuded. "To me, being black means that I am tied to a legacy of resilience and unconquerable beauty unlike anything else the world has ever seen," she said. "We are a brilliant, warrior-like people who have always risen above our pain in pursuit of our purpose and power."
8. Ifeoma Ike | Co-Creator of 'Black and Brown People Vote'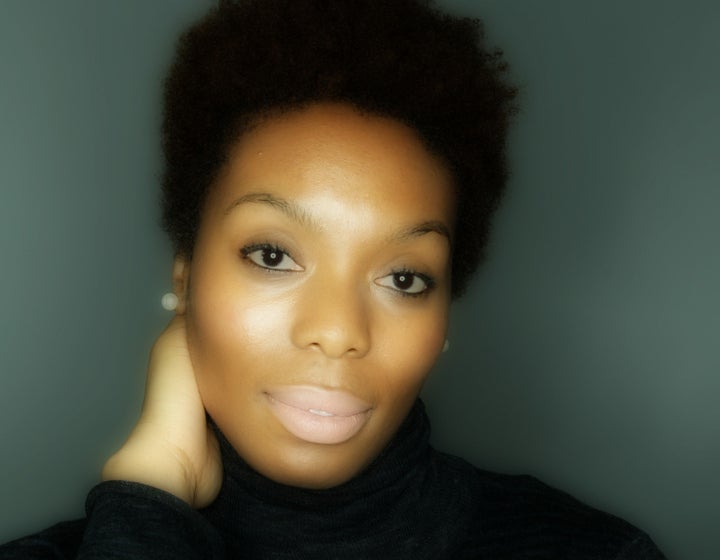 Ifeoma Ike is the epitome of a "chief problem solver." As the founder of Ike Professionals, co-creator of BlackandBrownPeopleVote.org and a recognized thought-leader on addressing institutional inequity. Ike is a woman who wears many hats. "Whether it was getting water to Haiti during the cholera outbreak; writing a legal memo proving that the murder of Trayvon Martin should qualify as a hate-crime; creating a strategy to recruit 1,000 men of color to be teachers... my response to trauma and conflict is to create," she told HuffPost via email. "I cannot quantify the impact of my work; I just know that I have to work."
Ike said that she's inspired by the passion and devoutness of Malcolm X, the strategics Baynard Rustin used and finds a special connection to "chain breakers" such as James Baldwin, Chinua Achebe, Zora Neale Hurston, among others. She explained that the struggle black people face is shared around the world and blacks must "demand for our lives to be a priority beyond hashtags" in order to achieve success. "To be black is to struggle, but with rhythm. To automatically know you have purpose, despite not having privilege," she said. "To be black is to love that you can love, and hate that you love even the things that don't love you back."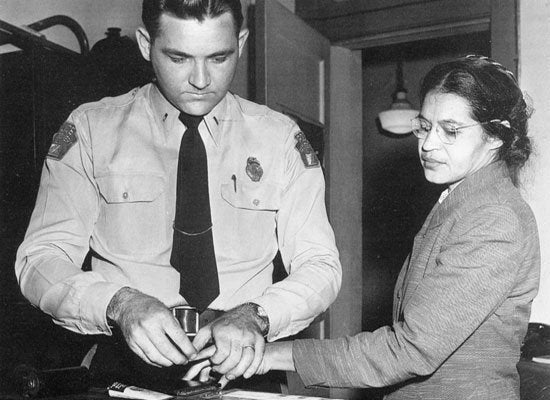 The Remarkable Women Of Black History