Unless you're blessed with as much free time and disposable income for expensive meats and cheeses as Ina Garten, cooking for yourself all the time can be a real pain in the ass. But rather than Seamless your way through life, you can easily load up your iPhone with a few handy apps that'll make grocery shopping and meal prep a little less hellish. Behold: adulthood! And if you're looking for a little inspiration, take on one of Thrillist's own original recipes.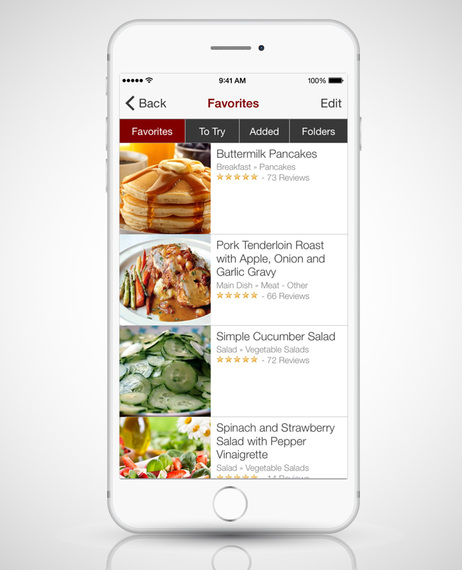 Credit: Screenshot via Big Oven/Shutterstock

BigOven
What it is: The Swiss Army Knife of home-cooking apps
iOS: Free
Android: Free
Windows: Free
BigOven is one of the highest-rated cooking apps in the iTunes Store for good reason -- it's packed with a suite of hugely helpful features, including access to 350,000 recipes (which you can favorite and save), auto-generating grocery lists, and a menu planner. There's even an easy way to figure out what new and not-disgusting meals you can make using the leftovers in your fridge.

Kitchen Stories
What it is: Video tutorials for kitchen newbies
iTunes: Free
Android: Free
For the visual learners among us, Kitchen Stories has got you covered with a glut of different snack, entree, side dish, and dessert recipes broken down into step-by-step photo tutorials, which should help assuage the anxiety of whether you're doing everything right. Also, there's a whole catalog of how-to videos to walk you through everything from making sauerkraut and homemade croutons, to filleting a fish or poaching an egg.
Mealime
What it is: A slick-and-simple meal planner for busy single people and couples
iTunes: Free
Mealime makes it insanely easy to plan out a unique meal plan for your entire week, providing a selection of 30-minute recipes personalized to suit your particular likes, dislikes, and dietary restrictions. Plus, it'll help you save money and prevent unused groceries from going bad, since your meal plans are "intelligently created" to use up the majority of purchased ingredients over the course of the week.

Pocket Wine
What it is: A pocket-sized sommelier
iTunes: $3.99
For wannabe oenophiles who haven't the slightest idea what to sip alongside their roast pork or ribeye, Pocket Wine will walk you through it. Apart from narrowing down a perfect fine wine to suit your particular palate, the app has an entire section dedicated to recommending wine pairings for all types of foods and cuisines.