In my line of work, I get to meet a lot of librarians. Our company works with public libraries to promote early literacy and boost family engagement. That means we partner with people constantly coming up with new ways to make reading--and learning in general--more fun. And what I'm constantly amazed by is how much libraries have changed.

Last week, a friend asked me an interesting question. "Libraries are so antiquated," she said. "Are they really open to new technologies or services like yours?" Yes, this old school perception persists...and many parents are missing out! As Annisha Jeffries at Cleveland Public Library put it, "When you left the library, that's what it still is for you." So if you haven't visited since 1990, well, you may be thinking VHS. But, as Heidi Nagel at Kent District Library said, the reality is that, "increasingly, libraries are stretching our expectations."
As Rachel Zukowski from Prince George's Memorial Library System in Maryland pointed out, "We're over that whole shushing thing." The next generation of libraries are not filled with students hunkered down over encyclopedias. Sure, they still have books; but now they offer ebooks, iPads, robots and even sewing machines. They also offer homework help, punk rock aerobics, gardening, movies, musical storytimes, and more. For FREE.

More and more libraries are also serving as early literacy spaces--a loud, playful place that lets kids play freely and reinforces the fact that play is early literacy. Kiss your image of a library as a book warehouse goodbye, and say hello to community spaces and gathering places for the 21st century.

For my friend, her three kids, and for any parent of little ones who hasn't taken their kids to the library lately, here are 8 awesome reasons to go! While these programs may not be in your city, check with your local library; I'm sure it has its own unexpected offerings.



Photo Source: Jessica Zaker

1. Go on a Fairy Hunt (Sacramento Public Library)

Jessica Zaker, an award-winning librarian at Sacramento Public Library, created this awesome scavenger hunt, which changes themes every year. (Last year, they hunted for pirates!) Families built fairy houses at one branch and were then told to follow the clues and they might find fairies at the end. The clues sent families to local businesses along a nearly 2-mile route. Those businesses handed out gifts to families, from fairy juice to orchid oil; there were even roller derby girls cheering them along the way. At the end, there was a magic show, face painting, and of course, many fairies!

Jessica created this adventure to encourage families to use both library branches available to them, and to highlight the small businesses connecting them. And this fun activity also helped kids learn about "cooperation, their community, working together, ecology, sustainability."
2. Discover Technology (Beta Tech Project, Arapahoe Libraries & KDL Lab, Kent District Library)

Google Glass and solar powered light bulbs for everyone? When I read about Arapahoe Libraries bringing first-generation technology to patrons, I reached out immediately, wanting to know more. What an innovative way to make emerging technologies accessible to an entire community. Anthony White, Supervisor of Programming, told me their Beta Tech Project offers children and families access to the latest technology, including state-of-the-art creative spaces and one-on-one-time with technology specialists to explore and learn.
Librarians do tech roadshows, bringing drones and virtual reality systems to farmers' markets and Tedx conventions alike. Through their gadget check-out program, families are even able to check out robots in order to learn simple coding. As Anthony shared, "This is more than playing with cool things; it's about about the discussions among families that come from sharing the technologies."
This trend is growing within libraries, each taking on its own unique flavor. Last year, Kent District Library unveiled its new program series, KDL Lab, which offers families the opportunity to explore their creativity using new technologies without having to make a hefty personal investment. KDL initially purchased a WaterColorBot, several sewing machines and 3Doodler pens. People of all ages enjoy their programs--especially the "Refashion IT," in which patrons bring in old t-shirts and give them a full redesign using KDL Lab tools.

This system serves both urban and rural populations, so they're able to route programs to some areas where traditional maker-spaces can't be found and to neighborhoods where families can't get the items they provide. Extending new technologies into every pocket of KDL's 18 branches is especially exciting.
3. Get Into the Story (LIT Room, Richland County Library)

Not too long ago, my family got to visit Richland Library in Columbia, SC. It was a work trip, but since it was Spring Break, my kids got to come along, so we turned the trip into a family vacation. (Okay, a family work-cation.) While there, we had a chance to visit something called the LIT Room. My kids are still talking about it.

The LIT room is described as a "cyber-physical environment...[that] transform[s] the room with light, sound and movement, evoking a multisensory reading experience." Storytime librarians, students, and others can program the room to interact with the reading of a story so that the room actually mirrors the actions and emotions within the book. Imagine reading Where the Wild Things Are, and when wild things "roar their terrible roars," you roar too while the panels around you move vigorously and turn red!

Richland Library is asking, can literacy be cultivated by adding new dimensions to the reading experience? I think this response from a child who experienced the LIT room says it best, "When everything started moving, I felt like I could see some of the images that were inside my head!"
4. Enjoy Some Playtime (Ready 2 Read Centers, Prince George's County Memorial Library System)
"When kids go to the library, they don't usually think they will get to play pretend or build a tower," says Rachel Zukowski. But those expectations are changing in Prince George's County, where they have implemented several Ready 2 Read play spaces throughout their system. These well thought-out areas let kids play freely and reinforce the fact that play is early literacy.

Inspired by Storyville in Baltimore County Public Library (a beautiful, interactive learning center for little kids and their parents--seriously, if you are ever in Baltimore, you must go), they set up gorgeous centers with toys, manipulatives, and dramatic play pieces. With play centers set up just for them, kids can express themselves and learn about sharing and cooperation, and even nutrition. Some toys have activity cards that explain how it encourages early literacy skills, and encourage parents and kids to play together by sharing tips on how adults can engage children as they play. Around the centers, parents and caregivers also see posters about how to bring the practices embodied in the play space into their own homes.
5. Make Art (ArtLab and Studio 470, Cleveland Public Library)
If I have learned one thing about working with children's librarians, it's that they are incredibly resourceful and generous. At Cleveland Public Library, Annisha Jeffries and her colleagues discovered that one of their storage rooms wasn't being used. "It had a sink," she said, "so we thought, why not make this into a place where kids can paint, draw, do arts activities, and have interactive storytimes?"

The team created what is now called ArtLab, with stations for kids to get creative. Children are invited to make things in this space anytime, and there is a great deal of programming for celebrations. For example, to celebrate Earth Day, they potted flowers and made artwork with used materials, then read related books for storytime.

CPL has also opened up another space for teens--Studio 470 has video game stations, XBox, Wii U. Librarians often bring maker-related tools, like robots and 3D printers, into the space, along with other pieces of technology. It's a simple but powerful concept and has rapidly become a gathering space for older kids in the community.
6. Get Outside and Learn (Collector's Corner and StoryWalks, Saint Paul Public Library)
I went to summer camp in Northern Minnesota, so I was happy to learn about two of Saint Paul Public Library's programs that take advantage of their beautiful outdoors. The first is a partnership with the Science Museum of Minnesota called Collector's Corner. Kids can bring a natural item to the library, where volunteers will help them learn more about it. They can then trade it for another natural item at the Trading Place. There are some really cool rocks, feathers, and pinecones there! It's like a science museum "branch" within its library walls.

The second program, Storywalk, is also a partnership, this one with the local Parks and Recreation Department. Kids do what they do best, moving, while reading a story and walking through the park. Pages from books are displayed along park paths so that children can read as they walk. The concept of a StoryWalk was developed by Anne Ferguson of Vermont, and SPPL has adapted it to work with their community and get families outdoors!
7. Grab Dinner with a Librarian (The Supper Club, Madison Public Library)
Most parents will tell you that going to the app store for their kids is difficult, confusing, and overwhelming. As part of my company's service, we help with app curation, and we do that with the help of ah-MA-zing curators like Carissa Christner at Madison Public Library.

When I asked Carissa how she shares the wealth of knowledge she has about kids' apps, she told me about MPL's "The Supper Club," something Carissa dreamed up and delivers regularly to parents. Each month, families are invited to eat dinner at the library (yes, eating in the library!) while learning about the best apps on the market for kids. Librarians will show parents how to use those apps to boost learning. They even do related family activities and crafts that help extend the concepts and topics covered with apps. I would have that for supper any day!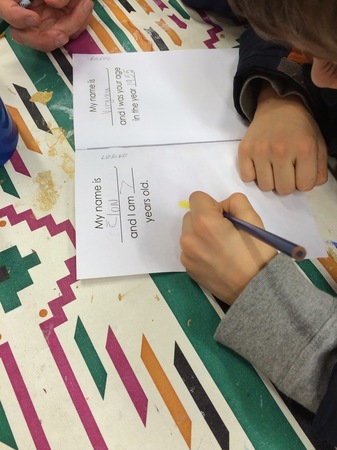 Photo Source: Amy Koester

8. Talk about Important Issues (Voices of Race, Skokie Public Library)
Libraries have always served as places for communities to gather and they are embracing that role even more today. But what about coming together to have hard conversations as a community? Libraries are doing that too.

Amy Koester of Skokie Public Library recently created the Voices of Race youth program to complement a larger annual initiative in her community. She asked herself, "How do you help children to see the world from perspectives other than their own, especially in a developmentally appropriate way?" She organized different programs, both for school-aged kids, and even preschoolers, to help them understand "different people have had different experiences than them." For older children, the focus was more around sharing their own stories and voices through poetry. While this was uncomfortable initially, it did eventually open up a raw dialog about race in the community.

____
It seems like every day, a new library initiative pops up, innovating on ways to engage kids and help make learning more interesting, interactive...and fun. I am lucky enough to get to talk to librarians to learn about these programs. But I encourage you to check out your local library and see what they're up to. I think you'll be impressed--and more than a little surprised--by what they're doing. And once they see what the next generation of library looks like, your kids will thank you!
Note: All photos used with permission

This article originally appeared on the Zoobean blog. Please reach out to jordan@zoobean.com with questions or to share your own favorite offerings for youth at public libraries.
Related
Popular in the Community