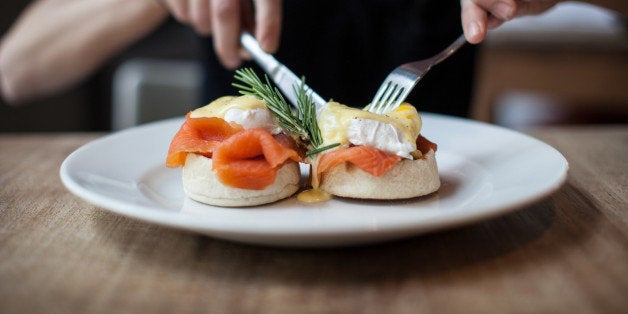 Like walking briskly down a city street, or defending our local sports teams to the death, brunching is something New Yorkers do best. After eating my way through enough of them, these iconic brunch haunts begin to take on similar characteristics. Here are some typical components I've experienced over the years, everywhere from the cafes of Stone Street, up to the Red Rooster in Harlem:
The prix-fix deal that sounds reasonably priced, but isn't. $45 for an entrée and all-you-can-drink mimosas at Pranna? Sounds like a steal! Except in actuality, you're getting a plate of scrambled eggs (make-at-home price: $2) and three watered-down cocktails, tops (because honestly, how much brunch booze can you drink in an hour, to make the prix-fix pay for itself?). It's the illusion that counts, and keeps me coming back for more.
The mid-afternoon dance party. Two o'clock rolls around, and I'm not quite ready to go home, but I couldn't possibly eat another bite. The best way to burn off that Nutella French Toast is by twerking to the beats dropped by DJ WhatsHisFace, while sucking down champagne through a straw with a sparkler attached to it. Bagatelle won't even be mad that you're dancing barefoot on the couches.
The ridiculously long wait-time. I feel like I never eat brunch at the time I actually want to eat it - it's usually two hours after I've put my name down at places like Barrio Chino, or Five Points. I could make a reservation, but an NYC brunch really shouldn't be planned in advance - it's the sort of thing you decide after you've rolled out of bed, realize you only have processed cheese slices and a few pickles in your fridge, and that your closest friends are similarly scrounging around, that the idea springs to mind. But even if I make a reservation, I usually wait another thirty minutes to an hour, for the previous table to rise from their bottomless Bloody Mary stupor, and politely exit.
Menu items that sound really different, but all taste the same. I think people in New York have this illusion that brunch food is "special," and unlike any other food they've ever tasted. When in reality, it's breakfast, eaten at 1pm because I woke up late. You will find slight variations on poached eggs, fruity French toast, vegetarian omelets, and applewood-smoked bacon on every. single. menu. Never mind that a diner will serve you the same stuff, at any time of day.
How every bar/restaurant smells like last night's stale beer. Even the fancy ones. Few brunch spots make the effort to clean their facilities between closing time on Friday or Saturday night, and brunch the next day. It doesn't really matter, because the best spots will just get wrecked even more once the dance parties begin, and alcohol is liberally spilled all over the place.
Everyone vying for the al fresco tables. Every NYC bruncher wants to sit outside. It's like, the "brunch" thing to do. And all for what? To have an excellent view of the Nudie DVD store across the street, and "people watch." Nice weather days only happen so often in New York - and when I say nice, I mean clear skies, and no distinctive wet garbage smell - so I guess I can see why people would desire one of eight outdoor tables Isabella's has.
The cell phone conversation. Everyone is on their cell phones. Seriously. No one talks at brunch anymore in New York City. It's all texting, and Instagramming their meal choices, and updating their statuses to say, "At Garage's live-jazz brunch with my besties!"
Your favorite brunch spot being closed for a private party. It's a terrible sinking feeling walking up to the Boisie Tea Parlor, only to see that the entire restaurant has been reserved for another private party on Sunday at noon. The day will come when I'm on the other side of the 'closed' sign...
REAL LIFE. REAL NEWS. REAL VOICES.
Help us tell more of the stories that matter from voices that too often remain unheard.