In a small home, you don't always have the luxury of leaving your entry or hallways free of furniture and storage. Sometimes you need to use every square inch to have a place for everything. Luckily, with a little creativity and a few tips from yours truly, you can create several storage areas in these cramped spaces — without feeling boxed in.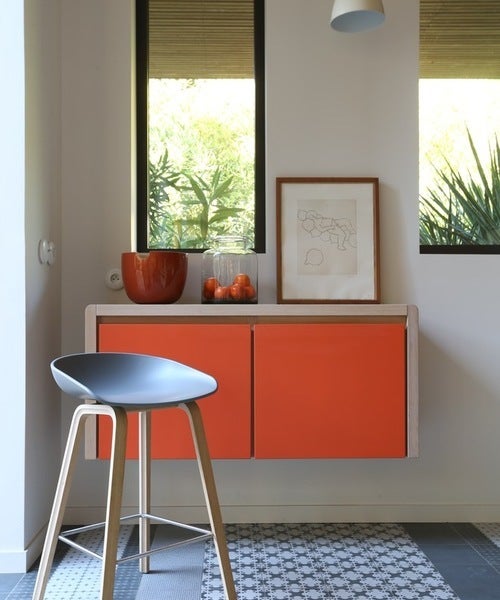 1. Floating cabinet. We usually see floating cabinets used as bathroom vanities or perhaps cool modern bedside tables, but they are excellent choices for cramped entryways and hallways. The fact that they float off the ground means you'll avoid stubbing toes when multiple people are trying to squeeze through the space at the same time. Floating cabinets also make it a bit easier to maneuver wheeled items through, such as strollers or luggage.
Choose a cabinet with hard lacquered doors in a fun color to add a pop of interest and to help it stand up to a few accidental dings.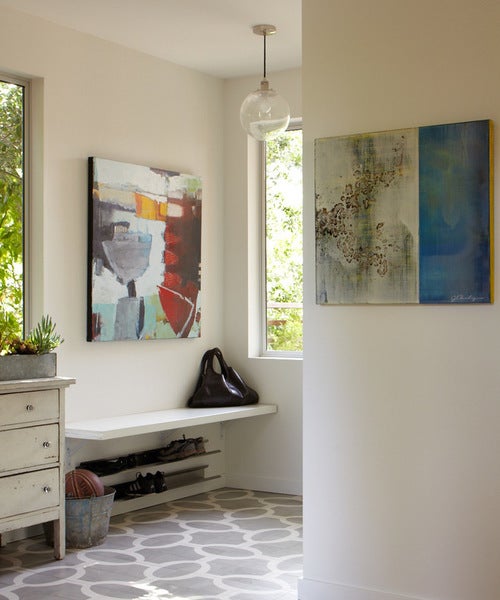 2. Shoe shelves. Shoe racks that sit on the floor don't always make the best use of space. Thinking back to our floating cabinet, it's helpful in a small space to keep the floor free and clear. Instead of a floor unit, try using wall-mounted racks or slim shelves to keep shoes up and out of the way, and hidden from normal view (which may be just as well for your well-worn sneakers).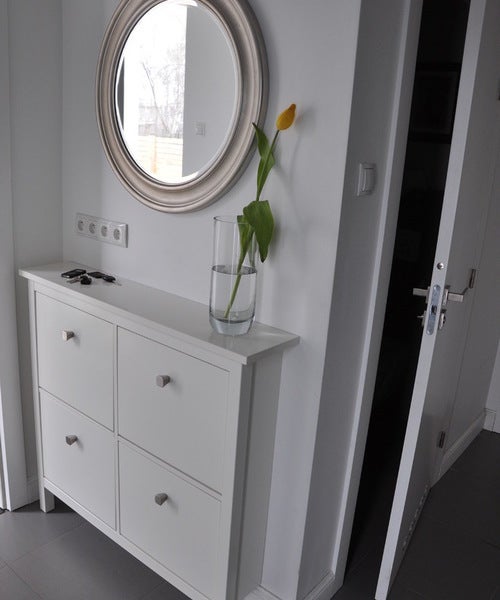 3. Slim cabinets. Speaking of shoe racks, many companies sell slim wall-mounted shoe cabinets with tip-out compartments that usually have a much slimmer profile than a typical storage unit. These compartments can work well for many other storage needs, such as holding documents, mittens, plastic bags and other small and flat items. The shelf on top is usually just deep enough to hold some decorative items and act as a catchall for keys or coins. Switch out the knobs for a stylish upgrade and you've got an easy solution that can look high-end.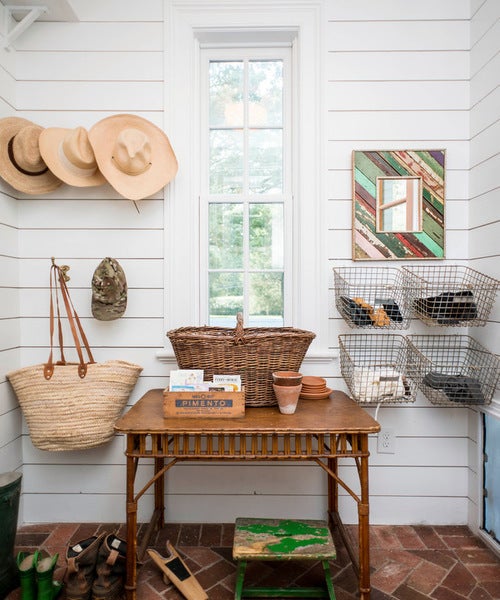 4. Wire baskets. Sometimes the trouble with storage baskets is that after you've tossed things in them, you forget what ended up where. Mesh storage baskets like those shown here are easy to hang (you just need a few nails or screws, or even a removable hook, like those by 3M), and can keep your items reined in yet visible.
This is a great solution for items like gloves, scarves, even dog sweaters —anything that actually looks attractive on display but doesn't make sense hanging on its own hook.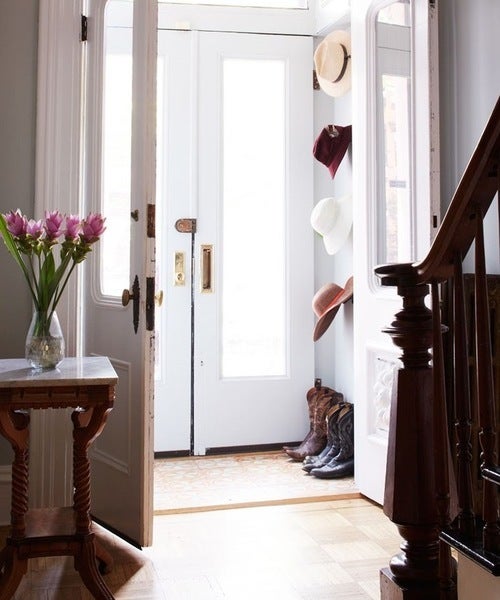 5. Hat rack stack. The entryway between two sets of double doors may not be a great place for a cabinet or set of deep shelves, but it can be the perfect place to hang your hat — literally. A few simple hooks here create a stylish display down the wall, which can be perfectly capped by a pair or two of boots. Not a hat person? Try the same idea with scarves, bags or leashes.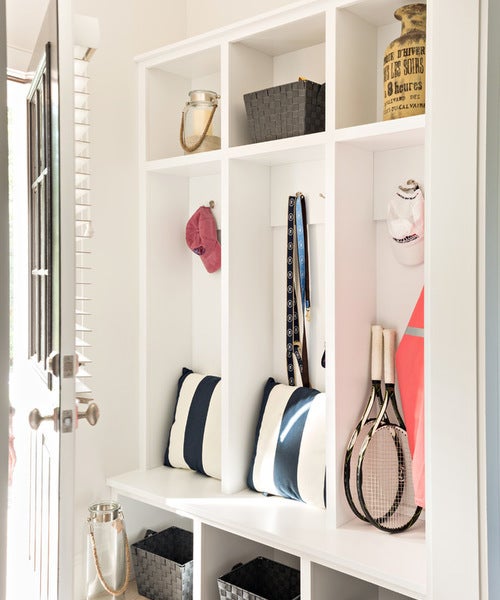 6. Open compartments. Custom built-ins like those shown here are a bit more of an investment than a free-standing furniture piece or shelves. But they make keeping an organized entryway a snap. That's because you can design the units to accommodate everything you plan to toss there.
Open storage hooks and shelves make tossing down boots, hats, sporting equipment and the like quick and easy enough that even the laziest resident can make the effort. Defined, separate compartments keep the whole wall from feeling unkempt, and actually feature the casually tossed items like a display case. Between open and closed storage, it's the best of both worlds.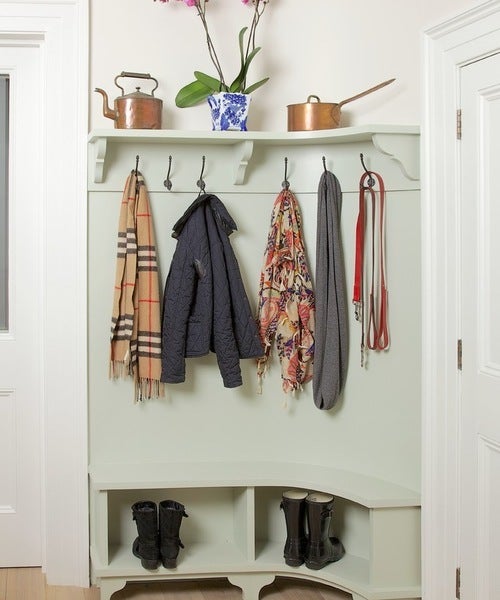 7. Storage corner. Have an odd corner or a curved wall that can't fit any sort of functional furniture? Consider getting a custom wraparound shelf cut to fit. Or, even easier, hang a row of hooks to mimic the look of this storage nook. Paint the area an accent color from the floor to about 6 feet high, and you'll create the look of a custom niche even without any carpentry work.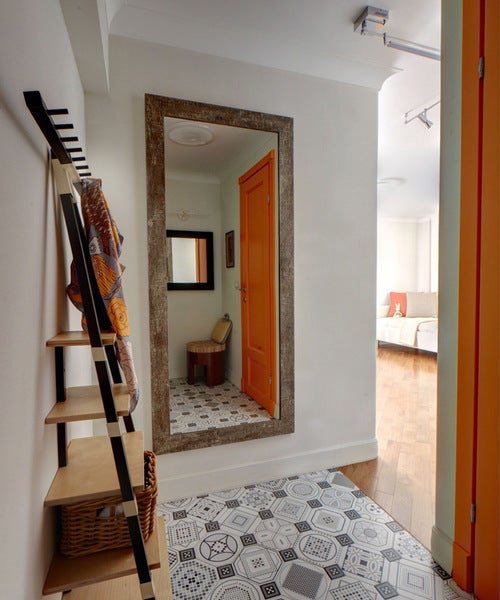 8. Ladder shelves. Whether you pick up a ladder-inspired shelving unit like this one or creatively repurpose an actual ladder, this sort of storage solution has practical benefits and style. Because the "ladder" leans away from you as it moves upward, it effectively takes up less space where you need elbow room. In fact, this design can make it seem even slimmer than it really is.
This makes a space feel less closed in than a shelving unit that stays the same height all the way up, but still gives you somewhere to store baskets or other items of various sizes.
Calling all HuffPost superfans!
Sign up for membership to become a founding member and help shape HuffPost's next chapter
This post was published on the now-closed HuffPost Contributor platform. Contributors control their own work and posted freely to our site. If you need to flag this entry as abusive,
send us an email
.