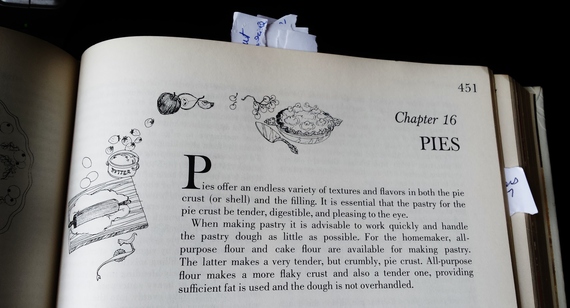 It was recently Mother's Day and that made me think of my mom and her fear of pie-ing. I also happened to be in the midst of the pie chapter in this massive tome of a vintage cookbook: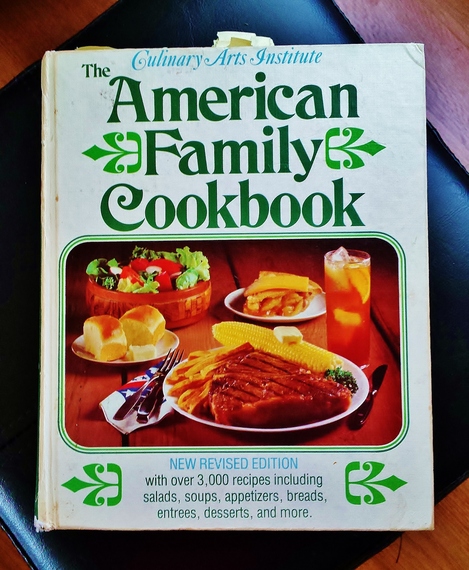 You can tell it's a good one by the number of tags sticking out of the top.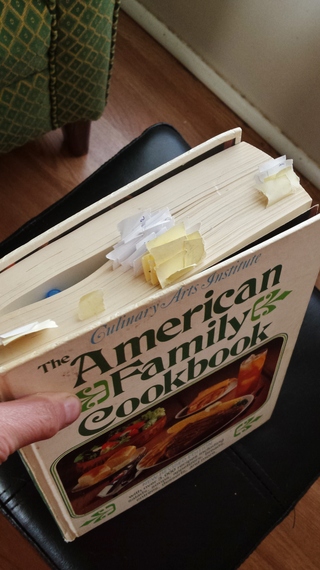 The pie section is fantastic; full of recipes and techniques I've not seen before. I'm not much of a pie baker, having inherited my mom's crust anxiety, but these variations are enough to make me want to grab my rolling pin and turn on the oven. I figured I'd share them before it gets too hot to bake, in hope that they'll help overcome other people's pie-ranoia.
Now on to the crusts.

1. Spice Spice Baby
Follow your favorite pastry recipe, but sift together 2 tablespoons sugar, 1/4 teaspoon cinnamon, 1/8 teaspoon ginger, and 1/8 teaspoon cloves with the flour and salt. Substitute orange juice for the cold water.
Imagine how delicious this would be as the base for a pumpkin pie!
For a one-crust pie, add 1/2 cup (2 ounces) finely shredded Cheddar cheese with the lard or shortening. Double the cheese if you need two crusts.
Great for apple pie or a hearty quiche.
Mix 1/2 cup uncooked rolled oats with the flour in your favorite one-crust recipe, and increase the shortening slightly. (For example, if your recipe calls for 1/3 cup shortening, increase it to 1/2 cup.) Bake at 400 degrees F for 15 minutes or until crust is lightly browned.
Combine 1 tablespoon butter, 1 tablespoon sugar, 1/8 teaspoon grated lemon peel, a few grains salt, and 3 tablespoons flour; mix until it reaches the consistency of course crumbs. Brush top of unbaked pie with milk, then sprinkle with the crumb mixture. Bake pie as directed in the recipe.
Sift 1 1/2 cups all purpose flour with 1/2 teaspoon salt. Cut in 1/2 cup shortening and 3 tablespoons peanut butter until pieces are the size of small peas. Sprinkle 2-3 tablespoons of cold water over the mixture, a teaspoonful at a time, mixing lightly with a fork after each addition. Add only enough water to hold pastry together and proceed as for a traditional crust. Bake at 450 degrees F for 10 minutes.
Wonderful with a silky chocolate filling!
This one is great for those who have gluten sensitivity. Just mix 1 1/4 cups finely ground almonds with 1/4 cup sugar, then cut in 1/4 cup butter with a pastry blender. Turn mixture into the pie pan, and press it firmly against the bottom and sides of the pan. Bake at 375 degrees F until lightly browned, then chill.
Substitute the almonds with other nuts to best match the flavor of your pie filling.
This delicate shell is also gluten free. Beat 1/3 cup (2-3) egg whites until frothy. Beat in 1/8 teaspoon salt, 1/4 teaspoon cream of tartar, 1 teaspoon lemon juice, and 1/8 teaspoon almond extract. Gradually add 1 cup sugar, beating constantly until stiff peaks form. Fold in 1/3 cup flaked coconut. Spread over bottom and up sides of a lightly greased pie pan. Bake at 325 degrees F for 40 to 45 minutes, or until crisp and very lightly browned.
Last in the gluten-free lineup is this unusual variation. Combine 1 1/3 cups flaked coconut and 1 cup double strength coffee. (If you happen to have instant on hand, just mix a teaspoon of crystals into the cup.) Let stand 30-40 minutes. Drain coconut, then spread on paper towels and pat dry. Spread 2 tablespoons softened butter over the bottom and sides of your pie plate, then sprinkle the coconut evenly over the buttered surface and press into place. Bake at 350 degrees F 10 to 12 minutes or until coconut is crisp.
There you have it: eight reasons to stop worrying about perfection and start focusing on flavor. Now get in your kitchen and make some pie!