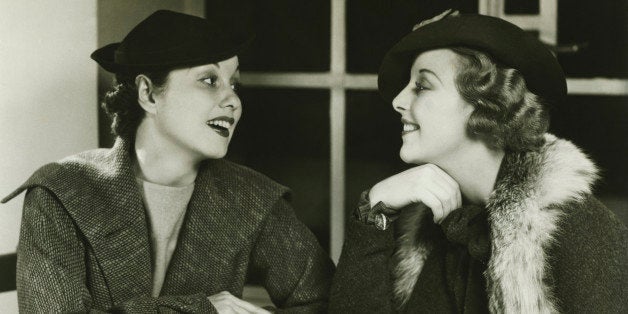 Where would we be without our friends? Let's face it -- as we grow older, we need them more than ever. Yes, we love our spouses and family, but there's something about a girlfriend that helps us see life differently. They open us up and change us for the better. Here are eight kinds of friends I'm blessed to have...
1. Old friends. We sat beside each other in college Shakespeare. We went for drinks after work in our 20s. We've seen each other through weddings, baby showers, teaching teenagers to drive, and bad hair days. We've watched each other grow. We treat each other gently. We know our friendship is precious. We also know we're in it for the long haul. We look forward to grandchildren and senior discounts. Having them in my life has been a gift.
2. New friends. Just when I think I've made all the pals I'm going to make, someone else comes along. Maybe it's on Facebook or in the local coffeehouse. We discover that we've each read Anais Nin's diaries. We're both moved by great art and annoyed at certain politicians. There's something nice about finding a new friend later in life. They make me realize there's no expiration date on meeting great people.
3. Funny friends. I can't help it. They crack me up. If we were schoolgirls together, we'd always be in the principal's office. They swear like sailors and never hesitate to speak their mind. They love theme parties, inventing new vegetable dips and Seth Rogen movies. They wear bright-colored lipstick and faux fur coats. They're always sending out crazy videos, usually involving cats. They bring out something young and rebellious and fun. They teach me not to take life, or myself, too seriously.
4. Glamorous friends. Females aren't sexy past a certain age? Sorry, these women didn't get the memo. They still wear stilettos and perfume and form-fitting dresses. They love to flirt. They purr around handsome men. And yes, they still carry it off. They enjoy being a girl. And men respond to their fun, feminine charm. They inspire me to not hang up my party dress quite so fast. Don't believe what we're told by the media. There's still life past 40.
5. Smart friends. I have friends who know everything. They know the best hotel in Taos. They know who to call for septic issues. They know the newest sushi restaurant in Cleveland. They know how to get an ink stain out of white furniture. They know the best subway to take if you need to get to Brooklyn fast. They're practical and savvy. I think I know a lot till I'm with them and realize I don't know anything. I love basking in their presence and encyclopedic smarts.
6. Adventurous friends. Ice fishing in Minnesota? Hiking Machu Picchu? Skydiving? Where's the sign-up sheet? I have friends who will do anything... and I mean anything. They're brave and intrepid. They love life and live it fully. They don't care if they're older or female or scared. The answer's yes... what's the question? They teach me life doesn't have to have boundaries. We're only limited by imagination and confidence. They inspire me.
7. Brave friends. They've had a bad medical scare or terrible loss. They've shown what it's like to pick up the pieces and go on. They still laugh and are kind. They've taught me that happiness takes courage and is a choice. They've taught me that despite crushing challenges, life goes on. It's possible to find not only purpose, but joy. They've taught me to live in the moment and cherish what I have. They've shown what it's like to meet heartache with dignity and grace.
8. Wise friends. They always have their nose in a book. They're thoughtful and gentle. They're quiet and introverted. They speak softly but see everything. They're the ones sitting in the corner who observe. Because they're great seers, they're full of insight and perception. They sense things coming and are usually right. If I have something sad or emotional to work out, I go to them.
Yes, I'm blessed with wonderful friends. And many fall into several (if not all) of these buckets. Whatever the case, I'm not sure where I'd be without them. You know who you are. Thank you for making my life richer.
PHOTO GALLERY
Famous Female Friendships
REAL LIFE. REAL NEWS. REAL VOICES.
Help us tell more of the stories that matter from voices that too often remain unheard.