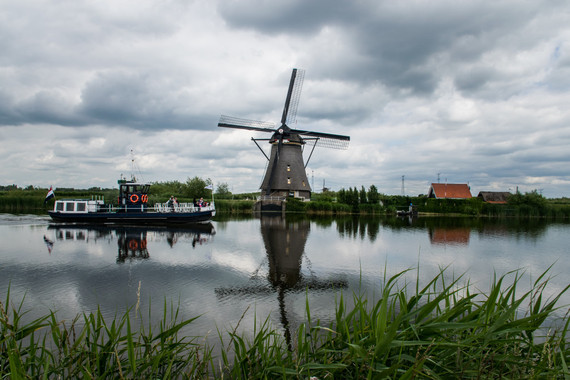 By College Tourist; Author: Veronica White of University of East Anglia
Bring a book, catch a train and spend a day exploring everything Dutch in the Netherlands.
When you think of the Netherlands, the first things that jump to mind are windmills, tulips, canals, bikes and cheese (and maybe some other things, but Amsterdam is the best place for those). Amsterdam Central Station is the perfect place start your journey exploring each of these aspects of Dutch culture. Here are eight day trips you can try to fit into your itinerary:
1. Windmills of Kinderdijk
With 19 windmills remaining from around 1740, Kinderdijk, a UNESCO World Heritage site, is one of the iconic locations for Dutch windmill photography. Since so much of the Netherlands is situated under sea level, windmills were built to pump out water and keep the country from flooding. The windmills in Kinderdijk are situated along a canal which you have the option to either walk or take a boat trip along. Make sure you take the opportunity to visit the inside of a windmill -- if you thought your dorm was small, just wait till you see how cramped life was living in a windmill! As this visit is mostly outdoors, try to plan your visit to Kinderdijk on a day when the weather is decent -- a completely sunny day in the Netherlands is a rarity, so make sure you pack a raincoat even if the weather forecast doesn't predict rain! If you're visiting during the summer, bring along a picnic and eat lunch in the grass by one of the windmills or if you're visiting in the winter months, make sure you stay to watch the early sunset behind the windmills. Although getting to Kinderdijk is a bit of a pain, it's definitely worth the trip!
Quick tip: If you buy your ticket online and print it out, you'll save 10% on the admission price. Don't miss visiting the museum -- the movie is interesting and it's including your ticket price.
How to get there from Amsterdam Central: Between April and October, the nicest way to get there is by boat. First, take a train to Rotterdam Centraal, then take Tram 7 in the direction of Willemsplein and get off at Willemskade. From there, board Waterbus line 20 and transfer at "Ridderkerk de Schans" to the "Driehoeksveer" ferry. The staff on board the boat will help you if you let them know you're headed for Kinderdijk. For more detailed travel information visit: www.9292.nl
If you're passing through the Netherlands from mid-March to the beginning of May, visiting the tulip fields around Lisse is a must. A perfect way to explore the tulip fields is by bike, allowing you plenty of time to get that perfect photo of the gorgeous fields whilst at the same time experiencing the typical Dutch lifestyle of cycling everywhere. Download a bulb field cycling map, rent a bike in Sassenheim, then spend the day losing yourself in the colours and magic of the tulip fields. Be aware you may need to pre-book a bike during high-tulip season.
Quick tip: To take great Instagram-worthy photographs of the tulips, try changing your perspective by getting lower to the ground.
How to get there from Amsterdam Centraal: Sprinter train to Hoofddorp where you transfer to the sprinter train in the direction of Den Haag Centraal, get off at Sassenheim. 40 minutes.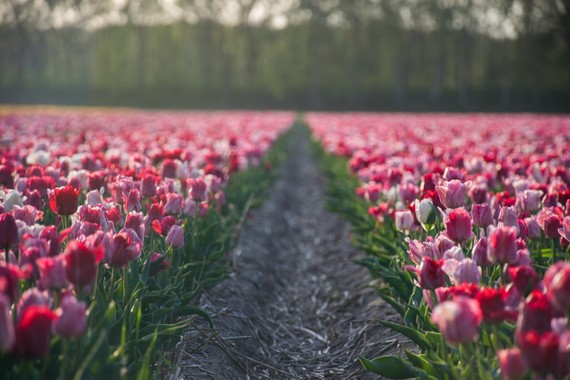 Being home to the largest university in the Netherlands has shaped Utrecht into a chic and buzzing city with a vibrant student culture, cheap food options and a huge shopping district. The central pedestrian area borders both sides of a beautiful canal where you can eat picnics, dine at outdoor cafes or enjoy evening drinks right on the edge of the water. If the weather is good, consider renting a kayak and cruising along the canals.
Quick Tip: Get into the centre of town quickly by walking through the shopping mall that is attached to the station.
How to get there from Amsterdam Centraal: Direct train in the direction of Maastricht, get off at Utrecht Centraal. 30 minutes.
Another university town like Utrecht, Leiden has a lot of the same charm as Amsterdam, but without the insanity of hordes of tourists. The calmer atmosphere in Leiden lends itself well to renting bikes and exploring the city centre which is full of picturesque canals and bridges. On Saturdays there is a large market along the sides of the central canal where locals stock up on groceries for the week. Make sure you try a traditional Dutch verse stroopwaffel (translates to fresh syrup waffle) from one of the vendors at the market!
Quick tip: If you want to rent a bike, you can rent one just outside the train station, but make sure you bring a €50 cash deposit per bike as well as a valid ID (passport or driver's license)
How to get there from Amsterdam Centraal: Direct train in the direction of Den Haag Centraal or Vlissingen, get off at Leiden Centraal. 30 minutes.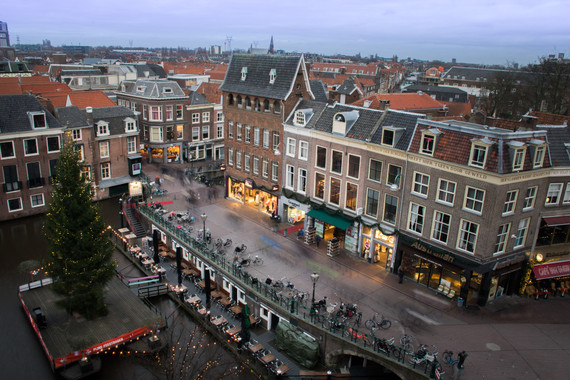 5. Cheese Market of Gouda
Gouda is famous for its cheese market, which are held every Thursday morning in the spring and summer months in front of the Gouda City Hall. While this is a pretty "cheesy" tourist attraction (pun intended), it's fun to watch the local farmers selling their cheese...make sure you try some - not everyone can say they've eaten real Gouda cheese in the centre of Gouda!
Quick tip: The American way of saying "Gouda" is very different to the Dutch pronunciation. Whereas Americans pronounce the name of the city and cheese as "Goo-da," to avoid being laughed at by locals, try pronouncing it as "Gow-da." (If you're feeling brave, watch this video to try to learn how to pronounce a Dutch "g"...it's harder than the locals make it seem!)
How to get there from Amsterdam Centraal: Direct sprinter train in the direction of Rotterdam Centraal -- make sure Gouda is listed as one of the stations on the information sign on the platform. Get off at Gouda. 55 minutes.
During WWII, Rotterdam was completely flattened by Nazi bombs, resulting in a modern city being built up on the ashes of the previous city. In the recent years, Rotterdam has been injected with a new sense of life, creating a vibrant city life. Some things you can do include taking a boat tour around the Rotterdam harbour, grabbing a bite to eat at the Fenix Food Factory or experiencing the massiveness of the Rotterdam market which is held every Tuesday and Saturday. A special point of interest for Americans is the Hotel New York on the Maas River, which was the last point of departure in Europe for thousands of people emigrating to the United States in hopes of a better life. Stop by for a drink in their classic historic bar.
Quick tip: For a fun and interesting lunch, go to the newly built Markthal -- an indoor market with a huge variety of exciting things to taste. The huge ceiling of the Markthal is covered in paintings of various foods and has been called the "largest artwork in the world."
How to get there from Amsterdam Centraal: Direct train to Rotterdam Centraal. 70 minutes.
7. Culture and Art in The Hague
Home of the Dutch royalty and government, The Hague is often overlooked by tourists visiting the Netherlands, but it is a city not to be missed. Whilst not as quaint as Amsterdam, The Hague is much less touristy and has equally impressive art museums such as the Mauritshuis which houses Vermeer's The Girl with the Pearl Earring. Also consider visiting Scheveningen Beach where you can brave the cold and touch the North Sea.
Quick tip: Consider buying a Museumkaart if you intend on visiting more than five museums during your stay in the Netherlands. The Museumkaart gets you free entrance and often front-of-the-line privileges to over 400 museums throughout the country (like the Mauritshuis), so make sure to buy it at the beginning of your trip! It can be bought at all participating museums.
How to get there from Amsterdam Centraal: Direct train to Den Haag Centraal. 50 minutes.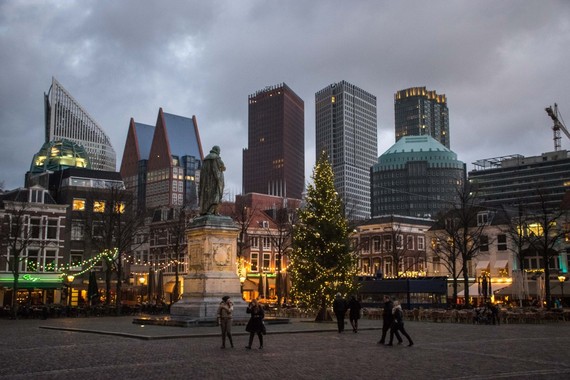 When you're in Europe, it's easy to jump on a train and in a matter of hours be exploring another country! To make Brussels a feasible day trip from Amsterdam, plan on an early mornin. Depart from Amsterdam Central no later than 9:00 if you want time to truly discover the heart of Brussels. Being the capital of Belgium, Brussels is similar to Amsterdam in terms of the numbers of tourists, but if you know where to go, you can avoid the throngs of people and experience the more local lifestyle. A great area for drinks in the evening is along the street Borgwal, where there are many cute bars and restaurants.
Quick tip: Try to avoid restaurants on the main square as these not only be the most touristy, but are often more expensive than restaurants a few streets away.
How to get there from Amsterdam Centraal: Direct International train to Brussels Zuid/Midi, get off at Brussels Central. 3 hours and 20 minutes.
grand place Brussels image
The Grand Place in Brussels is a must see on your visit, but areas directly surrounding this area tend to be fairly touristy, so dare to venture further into the city.
Amsterdam is a wonderful city to explore and with so many things to do, it's easy to forget about the rest of the Netherlands. Hopefully this list has given you a few ideas of some day trips you can take to expand your cultural knowledge of this beautiful country -- all without having to pack your bags and get a new hotel room!
Related