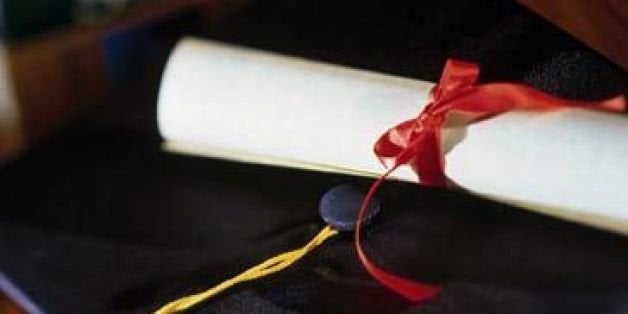 For college students who are graduating, commencement doesn't just mean a diploma -- it means graduation presents. Which means you'll have well-meaning relatives and family friends asking you what you want as a gift, so you might want to have a few answers at the ready.
Here are some great graduation presents to ask for, with something for every budget.
1. University Alumni Swag & Memorabilia. Just because you're done attending college doesn't mean you have to stop wearing it. Over your years at university, you probably amassed a collection of sweatshirts, T-shirts, and other stuff with your school's logo on it.
But as a graduate of the college, a whole new avenue of swag has opened up as now you can wear and possess stuff that says you are an alumni of the school.
From mugs to sweatshirts, asking for this kind of graduation present means whoever buys something for you doesn't have to break the bank but can still get you something that you'll like.
2. Picture Frames. This is an easy gift for someone to get for you, and it's pretty cheap, so if you know someone wants to get you a graduation present but doesn't have a lot of money, these are the perfect things to ask for. You can ask for one that you want to frame your diploma with or for a couple you want to use to decorate your room at home or your new place.
Bonus: if you have a few pictures you want developed, you could even ask the gift-giver if they would buy some prints of them to fit whatever size frames they're going to purchase.
3. Cards Against Humanity. This is pretty much the best game ever, especially for college student-aged people. It's described as a "party game for horrible people" -- think Apples to Apples except more mature and not as family-friendly and a lot more hilarious and raunchy.
It's a blast to play and no matter where you go in life, it's great entertainment to have and a graduation gift you'll definitely use and enjoy with friends.
4. A Netflix Account. If you don't already have a Netflix account or use your family's, this is the perfect graduation present. You can use it wherever you go, even if you don't have a TV, and it's really the gift that keeps on giving -- binge-watching and sitting around in your pajamas all day has never been easier, or more enticing.
Plus, it's only $7.99 a month so a year's subscription is less than $100, and the subscription can even be given as a shared gift from two people.
5. Gift certificates or Gift Cards. These are great because the person giving them can decide how much they want the certificate or card to be worth, while still giving you something more personal than cash.
Having a few places in mind that you'd want credit to will keep you from feeling put on the spot when asked where you'd want a gift card to. Think restaurants, Target, Amazon, or Starbucks.
6. Money. Even if it may be considered impersonal, this is still the classic -- and perhaps most wanted and useful -- graduation present to receive. The somewhat tricky part to telling people that all you really want for your graduation is money is figuring out a nice way to put it.
Consider telling the potential gift-giver that you're trying to save up for something and would appreciate a contribution to your cause and goal in honor of your graduation.
7. Business Cards. Even if you don't have a job all lined up for after graduation or don't know what your exact title will be at your new job, business cards are still an awesome graduation present.
They can just be printed to say your name, email address, phone number, and perhaps a descriptive line about you or a motto or slogan, like "Living Tomorrow's Yesterday, Today." (Think about it). Or you know, something totally different and way more legitimate and informative.
8. Gifts for a new apartment. From a coffeemaker to bedding to home decor, you'll probably need to buy a whole bunch of stuff if you're moving into a new apartment after graduating. By asking for it as a graduation present, you're saving yourself some money and ensuring that whatever someone gets you is useful.
If you do want to ask for this sort of thing as a gift, browse online catalogs and add items to a wish list or your shopping cart so you can easily send the link to what you want to the people who want to buy you a graduation present.
Hopefully those of who you are graduating end up getting the graduation presents you actually want; in any case, congratulations!
Calling all HuffPost superfans!
Sign up for membership to become a founding member and help shape HuffPost's next chapter