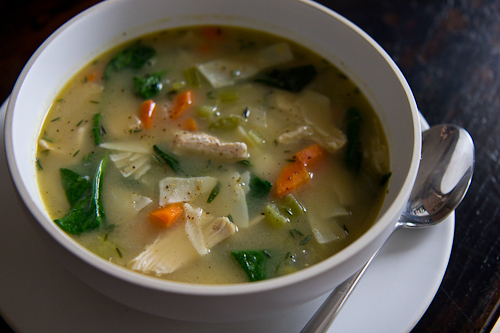 The New Year brings with it a whole host of resolutions (eat less! exercise more!) and unrealistic goals that are often abandoned by February. Everywhere we look magazines and ads are touting the virtues of "detox diets" and "liquid cleanses" as a form of penance after our holiday indulgences. Personally, I take a more moderate approach: I make soup. Hearty, healthy, and chock-full of vegetables, there is nothing more comforting on a cold day than a steaming bowl of homemade soup (and some good crusty bread).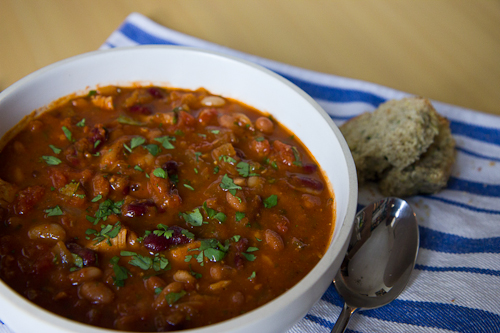 I love making soups and stews for so many reasons. First of all, it's a great way to feed a crowd on the cheap, and most soups contain a bunch of ingredients that are already in my pantry (olive oil, spices, canned beans, chicken or vegetable broth, garlic, onions) and fridge (herbs, carrots, celery, greens).
Second, they're so easy to make. Just chop everything up, throw it in the pot, and let it simmer. In fact, many of the recipes below take 30 minutes or less to make.
Third, soups and stews are extremely versatile and highly forgiving. In my Tuscan White Bean Soup for example, the prosciutto can be substituted for bacon -- or eliminated altogether. The turkey can be swapped for chicken in my Three-Bean Turkey Chili, or left out for a delicious vegan stew. Spices can be increased or decreased according to taste, and when a soup calls for greens (like Swiss chard) it can be swapped out for any other dark leafy green, like kale, spinach, collard or turnip greens.
Fourth, they're packed with vegetables (and therefore vitamins and minerals) and I always feel quite virtuous eating something with so much fiber and so little fat. And last, but not least, soups and stews freeze really well. If you are just cooking for two you can freeze half of the batch for another night, and still have leftovers for lunch the next day.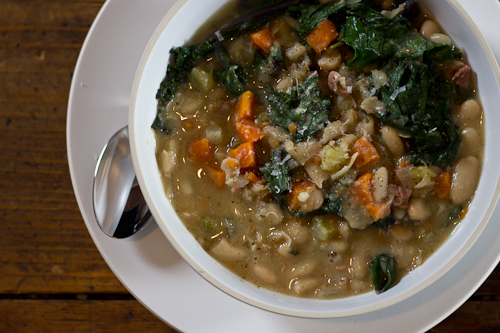 8 Healthy Soup & Stew Recipes (click on the links below for recipes)
(V=vegan, Q=Quick/30 minutes)
Popular in the Community