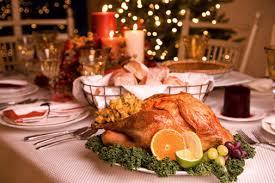 The last six weeks of each year are the weeks that most people overeat and feel out of control. They just keep eating, waiting for January 1 when they breathe a sigh of relief that the holiday season is past.
These six weeks are full of traditions, holidays, parties, office gatherings, alcohol, and food. Would you like to be the one this year to manage all these celebrations while you enjoy the festivities of the season? Would it be in your best interest to learn how to enjoy all that the holidays offer, including your favorite traditions and special holiday food? You can! And there will be no need for regret when it's all over.
"These are a few of my favorite things."
Rate all holiday foods from 1 to 10, ten being your favorite. Eat only your 8s, 9s and 10s, leaving out foods you do not rate highly. Food that you rate under an 8 is mediocre to you, or food that you can have any other time during the year. On different days you'll be faced with different options, so a particular food you rate one time a 9 may be rated a 6 on another day. Keep the rating system in your head, and eat what you want, but remember...
Portion control is vital, even if it is your absolute favorite food. Put a smart portion on your plate, eat it slowly and savor it. While you fill your plate, keep in mind to...
See your plate. When food is not piled on your plate and does not overlap, the design on your plate is visible. See your plate! It stops you from overeating. While placing your favorite food on your plate always ...
Take only the food you want, not what others think you should eat or "taste." If you eat what you want, and then what others want you to eat, you'll gain your weight and their weight, too. As the end of the meal is approaching...
Remove platters of challenging food away from you, allowing you to sit comfortably and enjoy conversation with your guests. If the food is not removed, and is too challenging, remove yourself. Get up and get some air, because...
You should listen to your breathing. When you sigh or begin to breathe a little deeper, your body has had enough to eat. Listen to the message your body is sending and let it guide you to realize you've had enough, and...
Plan your family events around physical activities. Stop collecting calories and start burning them. When the holiday is over...
Never cut back on regular eating the day after a holiday to compensate. This pattern always leads to overeating. Eat regularly each day between holidays and party days.
This is the time of year that we think of others. We want the holidays to be memorable for those we love. Make it memorable for you as well. Be as generous to yourself as you are to others. In the heart of the holiday season, when time is at a premium, take some precious time to consider your needs. When you care for yourself, you'll enjoy the season without wishing for a quick ending.
Remember each holiday party and meal, it's not what's on the table that matters. It's who's at the table that's important.