Is there such a thing as home decor that looks current for decades? The reality is that in interior design, as in fashion, styles change. Still, there are strategies you can follow to avoid creating a too-trendy home that you will tire of sooner than you like. Read on to see eight rooms with timeless appeal and to learn how you can apply their ideas in your own home.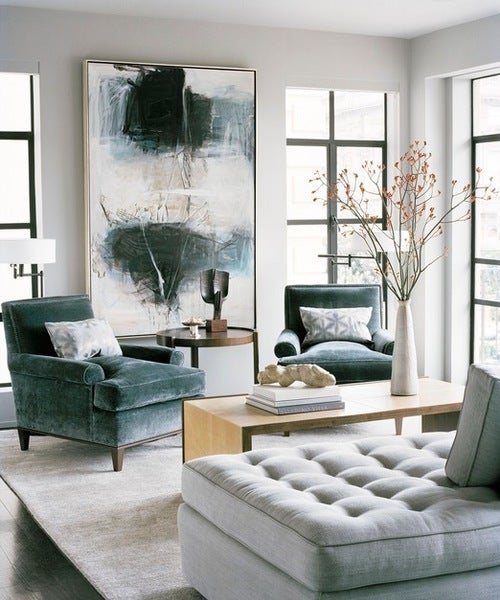 1. Formal and contemporary. This room shows how a mix of furniture styles can work together in a single room. Notice that the style of the armchairs is more formal and traditional, while the large painting and waterfall coffee table are more contemporary. The artful branches in the vase offer a casual vibe — think about how they look compared with a traditional floral arrangement — creating a pleasant contrast with the formal upholstered chairs.
Takeaway tip: Mix furniture styles for a collected feel that defies a specific time period. Blending pieces that don't all come from the same time period or design style can help a room look fresh for a longer time. By contrast, choosing furniture and accessories that come from a single era — whether it's midcentury or early Colonial — definitely ties that room to a specific time period. While that's ideal when you're going for a retro or nostalgic vibe, it's something to be aware of if you want your room to be harder to pin down in terms of when it was designed.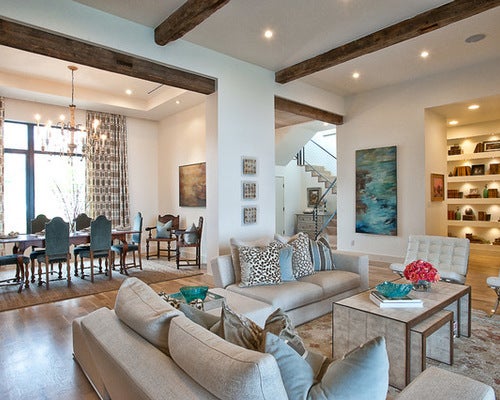 2. Clean lines and unifying color. Mixing styles to create staying power can be challenging for novices, but one strategy for avoiding a style collision is choosing contemporary furnishings with clean lines, as shown in this photo. Notice that the pieces in the seating area have simple shapes, whereas the chairs surrounding the dining table are curvy and appear to be older or more traditional. The color blue, sprinkled throughout both rooms in the abstract art, throw pillows and dining chair upholstery, helps unify the traditional dining room and the contemporary living room.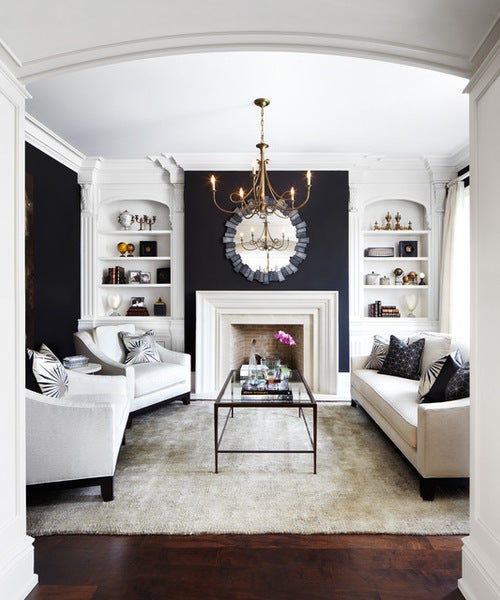 3. Classic with contemporary. This room demonstrates the mix of different decor styles in a room, but here it is done by juxtaposing classic architectural details — arched doorway, crown molding, built-in shelves — with more contemporary furniture. The lines of the sofa, chairs, coffee table and mirror above the mantel are more modern than the finishes of the room.
Note that this approach doesn't work with every architectural style — midcentury homes often look wonderful paired with midcentury furniture, and modern, glass-walled homes might look odd filled with traditional American antiques — but placing a few pieces of contemporary furniture in most spaces often works.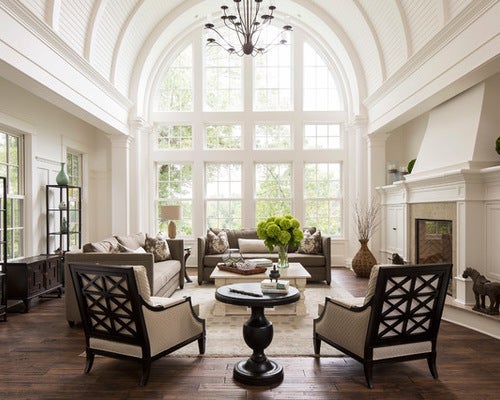 4. Historical architecture. This room, like the one in the previous photo, benefits from gorgeous architecture with classic elements — here, a barrel vault ceiling and Greek-style pillars. When a room has a historical reference, as these elements provide, it's more difficult to tell when it was designed. As with the previous room, these older architectural styles work well with a mix of traditional and contemporary furniture.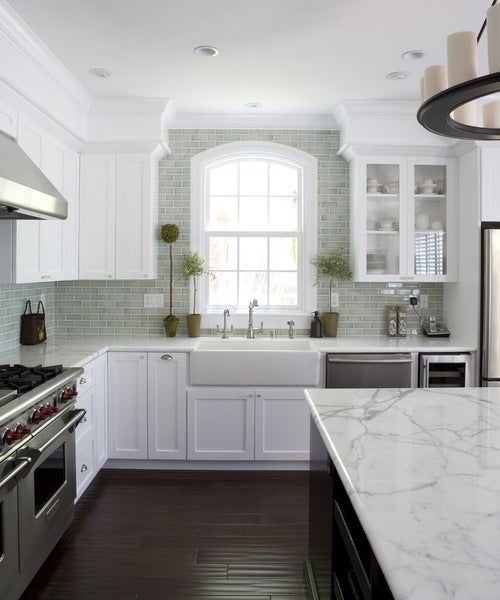 5. Neutral palette. This room's neutral color scheme for the major elements helps give it staying power. Traditional white cabinetry, here in a Shaker style, is currently popular — a full 38 percent of kitchen renovators choose white for the color of their cabinets, according to Houzz research. But popularity doesn't necessarily mean it will go quickly out of style. In fact, decorating with neutrals is a way to give your rooms staying power — you can always use accessories and artwork to introduce more color. In this room, a neutral backsplash and classic marble countertops help create enduring style.
Takeaway tip: Choose neutral colors and classic finishes to give your room staying power.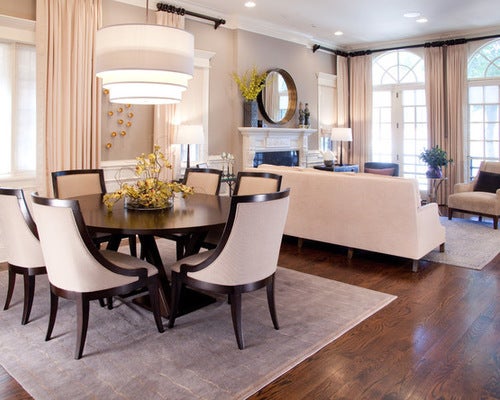 6. Minimal texture and color. This open-concept living and dining area also sticks to a neutral base. The wood floor, wall color, drapery, rugs and furniture are all neutral colors. Even the textures are relatively neutral: Both rugs have simple patterns, and the upholstery has very little pattern. The only dramatic color in the room comes from the floral arrangements and a few accessories, including the art on the wall and the throw pillows in the seating area. A lack of trendy color helps give this room a look that will last.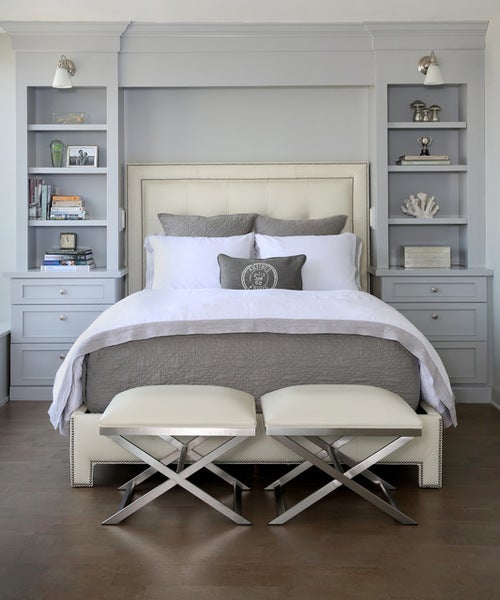 7. Built-in personality. This inviting bedroom has staying power thanks not only to architectural details like the built-in shelves, which give rooms a classic feel, but also thanks to the design choices. Solid bedding in neutral grays and white, along with a bed frame and benches in warm cream, creates a more enduring color scheme. Also, the accessories decorating the shelves are a mix of personal mementos, books and decorative items. Using this blend helps the room avoid looking decorated just to follow a trend.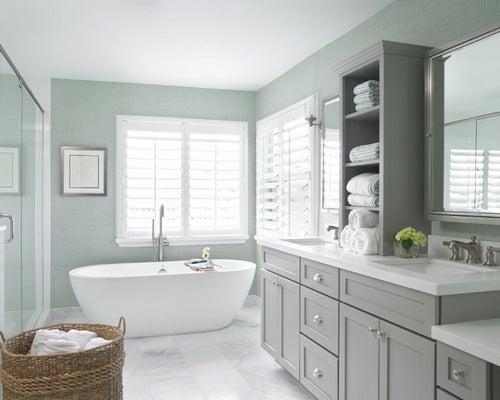 8. Neutral and classic. This bathroom embodies some of the principles we've been talking about. It has a palette composed primarily of neutrals. The architectural features, including the shuttered windows and the free-standing tub, are also fairly classic.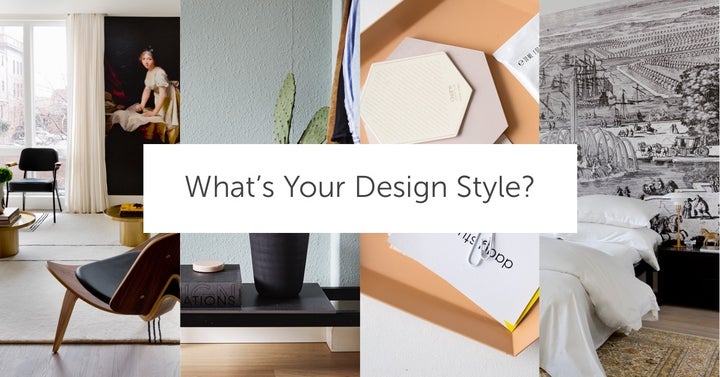 Related
Popular in the Community