A sea-change is brewing in Florida and it's shaping up to be the most closely watched 2016 referendum on any state's election ballot. Solar advocates are on track to ask voters to permit entities other than monopoly utilities to sell power generated by solar energy systems in the Sunshine State.
With strong support by the Southern Alliance for Clean Energy Action Fund under the name "Floridians for Solar Choice" and backed by evangelical Christians, Libertarians, clean energy professionals and Florida retailers, as well as environmental activists, the ballot push appears to be gaining momentum with each passing week. Last month, the ballot initiative secured the required signatures in a petition drive - about 68,000 - to seek authorization from the Florida Supreme Court to place the initiative on the 2016 ballot. That official tally at this writing was about 80,000. You can track it here.
Given that Florida harbors the most potential for solar in any state east of the Mississippi River and is the country's largest underperforming solar market, the stakes couldn't be higher. The ballot push comes as both Georgia and South Carolina have taken recent steps to enable markets for solar. With North Carolina leading the way , the pendulum for solar in the Southeast U.S. is clearly swinging toward solar energy and the economic and environmental gains that come with it.
Florida is one of only five states where laws expressly prohibit residents and businesses from buying solar directly from anyone other than the electric utility, including Oklahoma, Kentucky, Georgia and North Carolina (even with progress there). A law awaiting the Governor's signature in Georgia would remove the Peach Tree state from that list. Similar legislation is underway in North Carolina. Currently 24 states allow for third-party financing agreements while several others do not directly outlaw the agreements.
Advocates for the referendum already have succeeded where other ballot initiatives have stumbled early on. While leaders acknowledge they have a long way to go, the extent to which they can raise something on the order of $10 million while securing additional support from traditionally conservative groups will likely determine whether a referendum gets on the ballot and then earns the support of at least 60 percent of those voting.
Pegeen Hanrahan, a former Mayor of Gainesville, FL who managed the campaign to secure a successful ballot referendum last year to protect Florida's water and land legacy, commended the solar ballot push for all that advocates have achieved thus far. But she cautioned they need to prepare for vocal opposition with deep pockets backed by traditional utility and fossil fuel interests.
"We've taken a lot of early fire and we're only getting stronger," said Stephen Smith, Executive Director of the Southern Alliance for Clean Energy, which has operations throughout the Southeast U.S. "Floridians for Solar Choice has assembled the broadest and deepest coalition of conservatives in support of clean energy that has ever been assembled by any group. They truly believe in this effort. This could change the political calculus in Florida."
Here's my early take on the hurdles that proponents face. With the right message, each of them is not only surmountable but they could be turned on their 'head' and used against opponents.
Comments are welcome, especially those that identify other obstacles the advocates must overcome and advantages that could help secure its passage.
Explain in layperson's terms what the petition would actually do. As petitions typically are worded, this can be a stumbling block. You be the judge if the proposed wording, below, will help voters understand what's at stake. Click through the sign the petition here.
BALLOT TITLE: Limits or Prevents Barriers to Local Solar Electricity Supply
BALLOT SUMMARY: Limits or prevents government and electric utility imposed barriers to supplying local solar electricity. Local solar electricity supply is the non-utility supply of solar generated electricity from a facility rated up to 2 megawatts to customers at the same or contiguous property as the facility. Barriers include government regulation of local solar electricity suppliers' rates, service and territory, and unfavorable electric utility rates, charges, or terms of service imposed on local solar electricity customers.
When asked if the ballot text could edited for clarity, Stephen Smith, said "once you start gaining signatures the wording cannot be changed." So if there is any disconnect with voters, there is nothing that can be done even at this early stage.

Hurdle #2
Raise at least $8 million and perhaps more to pay for TV advertising and other advocacy communications. By comparison, the referendum to protect public lands reportedly spent about $6.1 million and prevailed with about 75 percent of those voting without any significant opposition. Here's more on why a solar referendum faces much longer odds of securing support from the required 60 percent of those voting.
Aggressively promote the petition drive so that it can go viral, perhaps with a credible spokesperson and dozens of additional and diverse allies throughout Florida whom the public would recognize and take seriously.
Persuade at least 850,000 Florida voters to sign the petition in order to get the required 683,149 certified signatures needed. Voting authorities usually disqualify a certain percentage on review. The opposition has no role in this, it is strictly a state Department of Election exercise. Here is the website with the official numbers so far, more are under review .
Prepare for and fight back against the inevitable onslaught of advertisements and aggressive PR tactics by Duke Energy Florida and Florida Power & Light. Their business models depend on holding on to their exclusive rights to sell electricity. Rest assured they will stop at nothing legal to defend it.
Among the ways ballot advocates can prepare or fight back is to draw a sharp contrast between how the parent companies of Florida Power & Light (NextEra Energy) and Duke Energy Florida (Duke Energy) are investing in solar systems for their shareholders outside of Florida but at nowhere near the same pace within Florida. NextEra brags about "becoming America's clean energy leader;" but what about back on its home turf? Communicating that hypocrisy is no easy task. To be credible, it will require deft messaging and execution.

Hurdle #6:

In ways that will resonate with voters, point out how dysfunctional energy policy is in Florida and how accountability to consumers is sorely lacking. And that is a big reason why Florida is falling farther behind other states even in the Southeast in terms of solar-powered generation. The extent to which investor owned utilities provide a lot of financial support to the most important state lawmakers, who in turn confirm the Governor's nominations for the Florida Public Service Commission, begs for consumer education and enhanced awareness. That said, this may not be the platform to do that.
Respond to objections from opponents and their allies that solar energy is subsidized for the wealthy few who can afford it. One example of how an opponent, or opponents, are trying to cast doubt on the proposed amendment surfaced late last week. Barry Moline, executive director of the Florida Municipal Electric Association, said those utility customers who buy the power from small solar energy producers could end up paying less in taxes collected by utilities for cities and the state as well as revenues to local governments from franchise fees. To that, Stephen Smith replied "We have discussed with Barry digging into the numbers for his customers to see if his concerns are valid. In other states they have proven not to be the case."
Quickly and decisively correct false claims by the referendum's opponents. One example from this earlier this month: the Koch Brothers-funded Americans for Prosperity (AFP) Florida said recent solar energy policies in Georgia "have resulted in rate hikes and did not result in solar becoming any more economically viable."
But Politifact.com, which vets such claims, stated "the program in Georgia is thriving"and the statement is completely wrong: "Part of Georgia's implementation plan was that using solar power wouldn't affect rates, and it hasn't." Politifact's source? None other than Georgia Power. For that, Politifact declared that AFP's claim deserved its lowest rating a "ridiculous falsehood," aka "Pants on Fire".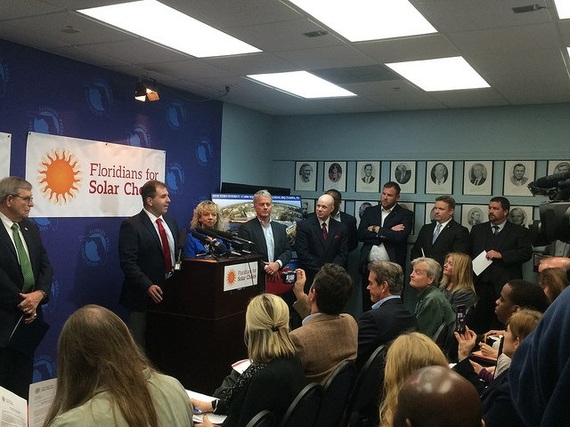 Leaders from these organizations are leading and/or supporting the solar ballot initiative in Florida for the 2016 General Election ballot. They spoke at a press conference January 14, 2015 in Tallahassee. Standing left to right:
Randy Miller, Executive Vice President of Governmental Affairs, Florida Retail Federation;
Tony Perfetti, Florida Director, Conservatives for Energy Freedom and Chair, Floridians for Solar Choice;
Debbie Dooley, Founder, Conservatives for Energy Freedom and Co-founder, Tea Party Movement;
Dr. Stephen A. Smith, Executive Director, Southern Alliance for Clean Energy (SACE);
Christopher Delp, Corporate Counsel, Wind Turbine & Energy Cables Corp. (bald head);
Mike Antheil, Executive Director, Florida Solar Energy Industries Association (FlaSEIA; arms folded);
Ash Mason, Southeastern Energy Policy Director, Christian Coalition of America;
Alex Snitker, Vice Chair, Libertarian Party of Florida.