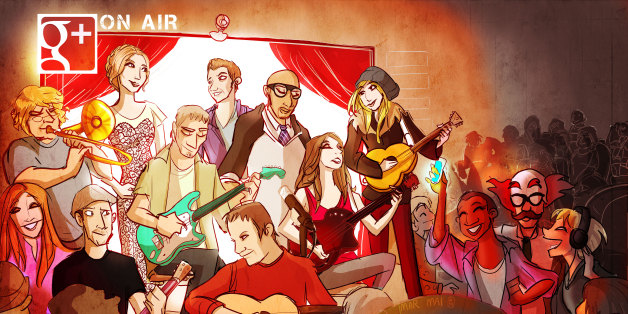 The internet is loaded with talented people, especially ones promoting themselves on social media. One cool tool that musicians have discovered is Hangouts On Air through Google+ and YouTube. Up to nine members of the community join the singer or band in a live video broadcast that the entire world can watch. It can be a surreal experience and feel like you're sitting at a bar listening to brand new music, right from the comfort of your own home (or, for that matter, from anywhere).
We connect as humans through each beat, note and melody in music. Pump up the volume and enjoy each of these vibrant souls that have put themselves out there in a unique way. Here are 8 musicians that have really taken to Hangouts and embraced the Google+ technology. Enjoy the tunes!
1. Heather Fay
Heather Fay's a "scraped-knee girl" that started doing open-mic hangouts with fellow musician Cat Beach (with the help of Cam Meadows), giving singers a chance to be heard. She has included the Google+ community in her music videos and films many near her Connecticut home. Even in the snow, you can see that Fay is all heart! She performed at the first New York City HIRL (hangout in real life) and just released her crowdfunded new album, "Cherish the Broken." She's a Thriller!


2. James Olmos
A native Californian who's been a musician since 1979, James Olmos is a regular performer in the virtual community "Second Life." "Mixing the heartfelt emotion of a singer-songwriter with captivating melodies, each of his original songs paints a picture while he acoustically uncovers the story in his soul," reads Olmos' bio. He is ALL SOUL!


3. Anacron
Anacron does it all, from rapping to DJing to playing the saxophone. Also a resident of "The Golden State," his bio reads, "Comfortably celebrating his 'UNFAMOUS' status, Anacron defies fleeting hype and continues to find success the old-fashioned way: through hard work and pure, potent talent." He even beat Kanye West in a rap battle back in the day!


4. Lizzy Spit
A nu-folk singer/songwriter, Lizzy Spit is a Brit living down under and always brings the fun to live hangouts. Her "mellow tones, delicate guitar, and stirring lyrics will make you wonder if she's been reading your diary -- such is her gift for putting feelings to music." She calls her biggest fans, "Spits".


5. Ryan Van Sickle
Hailing from the Great White North, Ryan Van Sickle brings a very Springsteen-Dylan influenced sound to his music, but keeps it his own. He performed live at two NYC HIRL concerts and has toured the East Coast, performing house shows for fans. Van Sickle even invited a lucky fan up on stage to sing with him. You can really feel everything he's got up there -- his music is all blood, sweat and AWESOME! #CANADA
6. Daria Musk
A Connecticut native, Daria Musk wrote her own Google+ song -- "+1 Me" -- inspired by all her experience with HangoutParty, concerts on New Year's Eve and Valentine's Day, as well as a jam session with Guitarist Preston Reed. Musk also performed twice in New York City with Google+ers in attendance -- "G+niuses," as she calls them. She always tries to broadcast her live performances through Hangouts On Air and has the screen onstage with her as she jams. Plus, she is a Google Glass explorer and plans on using the wearable tech in future performances.


7. Corey Koehler
You can find Corey Koehler strumming away on his guitar, even on a frigid Minnesotan day, with a sound that is a mix of folk and country. He has appeared as a guest on many music Hangout shows as he builds his audience. "Corey performs music with two goals in mind; 1) Entertain the hell out of you and 2) provide you with a spark to do something meaningful with your life while helping others to do the same," reads his bio.


8. Rebecca Perl
A native Long Islander, Rebecca Perl even had Natalie Portman as a babysitter at some point in her young life. She performs solo and with her band with music inspired by Dave Matthews. She also performed at The Living Room NYC during the second HIRL concert and has recently opened for Gavin DeGraw and Howie Day.


Some of the other amazing musicians that you should circle (follow) and give a listen to include: singer-songwriter Laura Marie, metal rocker Matt Gibson,
Austin-based band Suite 709, pianist-singer Shani Rose, jazz guitarist Rob Michael, as well as Brent Michelle, Tim Jones, Hanna Silver and Hadyn Godfrey.
Join in on the fun! Google+ is AWESOMESAUCE!

REAL LIFE. REAL NEWS. REAL VOICES.
Help us tell more of the stories that matter from voices that too often remain unheard.
BEFORE YOU GO
PHOTO GALLERY
Celebrity News & Photos