At 40+ expecting twins, I wanted to be prepared, so I researched the heck out of my baby registry. Now that my boys are almost 6 months old, I can look back with a bit of perspective and analyze what I did well and what I wish I had known going into the parenting journey.
First, I recommend having your baby shower at least two months in advance of your due date. So many women wait until the last minute, but you might well give birth early. Even if you don't, you'll want plenty of time to organize all the goodies that you will be getting.
Second, I highly recommend using babylist for your registry because it allows you to select items from any website -- as opposed to say, Amazon or Babies R Us, where all your products have to come from that one supplier.
Now, here are the best resources I have found, divided into two categories: Stuff and Services. It certainly isn't exhaustive -- you'll also need diaper cloths and bags, changing pads, cribs, car seats, strollers, etc, etc. I have focused here on exceptional products and services that you might not have thought to include otherwise.
This 2015 digital baby class is a must.
I have been a "kid person" my whole life. I started babysitting at age 12 and was even an au pair one summer to a 4-month-old.
Point being, I thought I knew babies.
Turns out caring for a newborn -- a baby under 3 months of age who is still supposed to be in the womb--is very different from taking care of an older baby or toddler.
Sure, there are literally hundreds of books you could read on the subject of baby care. Some of them, like What to Expect in the First Year, are fantastic. But it is so helpful to see the techniques demonstrated. Classes are terrific, but they can prove expensive and time consuming, and aren't available everywhere.
Lucky for you, two former nurses and the co-founders of LA's favorite mommy shop The Pump Station have created a feature-length video packed full of tips on every subject you need to fully prepare for your new arrival: holding, swaddling, baby wearing, breastfeeding, pumping, bathing, diapering, sleeping tips, tummy time, using a car seat, and so on. It's available online or as a DVD.
This is exactly what most of us need to feel confident and in control when our screaming beauties come home from the hospital. I can't recommend it highly enough.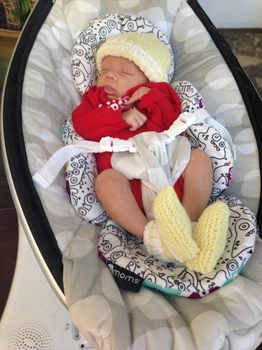 This "space pod," as my husband and I call it, is a miracle. It moves in six different directions, plays a variety of white noise from the built-in speakers, and has an attachment to your iPod/iPhone. And since they hit three months, my boys have loved staring at the mobiles that dangle overhead.
I don't know how I would survive without this. We have used it from day one, and still do to this day--everyday. It is the best safe, happy place where I can stow my babies while I use the bathroom or cook a quick egg for breakfast.
I only wish they made them in adult sizes!
Have you ever tried holding a tiny, slippery newborn in one hand while getting soap ready and pouring water out of a cup with the other? Stressful!
I love this bathtub because it helps to hold your baby upright with its sticky back surface. It also tells the water temperature so you don't accidentally burn your little one. And it has a separate compartment that stores clean water for rinsing after the bathwater has become soapy and dirty.
Nothing beats these cleverly designed wraps for rapid, easy swaddling. Just fold, fold and boom! Even the most Houdini of a child can't escape. I found them so much easier to use then those large swaddling cloths that everyone seems to love (which are just pieces of muslin fabric cleverly marketed at $20 a piece- what a racket!).
5. Medela Symphony Pump and /or My Brest Friend Nursing Pillow

If you are going to mostly pump, be sure to invest in a hospital-grade machine that is highly efficient because you are going to be spending a lot of time getting intimate with this device. Many many many hours. I recommend the Medela Symphony pump because it works super well and is portable.
Some insurance companies cover pump rental cost, so be sure to ask about that first. But they may give you a low-grade pump that will make your job twice as hard. Why not ask your friends and family to cover the cost of renting (or buying), if that is what you need to do?
If you're going to mostly breastfeed, then it might seem like it would be easy enough to use a regular pillow to nurse. Maybe it is for some people. But there is no way I could have tandem fed my two boys without the twin version of this pillow. It offers just enough structure and height to perfectly place your baby (or two!) into position for feeding.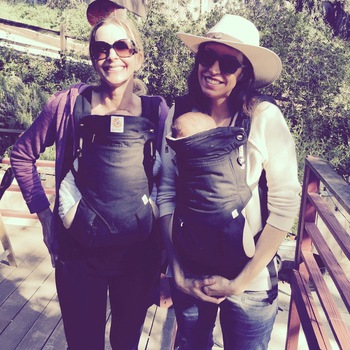 I'm a huge fan of baby wearing. It is the cure-all for fussiness in my boys. Just strap them onto you and they'll be happy! Plus it leaves your hands free for cooking, laundry, etc.
My choice is the Ergo 360 because it grows with them: You can face your babies inward when they're small, then outward at about 6 months, and later put them on your back. And it really is the best ergonomic solution, keeping your back healthy by distributing your baby's weight onto your hips.
Whenever friends come to visit, I tell them to wear sneakers because they will get to strap one baby on while I take the other, and we'll go for a hike. It sure beats hanging out talking on the sofa.
Once you've brought your baby home, the fun begins. Get ready for the most intense sleep deprivation you have ever experienced -- even if you pulled a lot of all-nighters in college.
Having a night nurse is not a luxury that all of us can afford, so why not ask for people to contribute to the cost of one on your baby registry? You will not only maintain your sanity by getting a few good nights of sleep a week, but also -- if you find a good night nanny -- learn a ton about how to sleep train your baby.
My husband and I used the fabulous Gigi Gareza, a night nurse with over 15 years of experience, three nights a week. She guaranteed us that she would "work her way out of the job" by having our boys sleep trained by three to four months of age. She did. And I am forever grateful to her for that.
We never had to "cry it out" (CIO), a highly controversial technique. Rather, because we had the boys on a feeding and sleeping schedule from day one, we very gradually extended out the time between nighttime feedings from three hours to four to five. Once they reached the weight of 15 pounds, they were neurologically ready to go eight hours without food -- and they've been contentedly doing so ever since.

In my opinion, sleep training makes for happier babies, and definitely for happier parents. Especially us older parents!
My husband and I live in LA, with no family around. Many of our closest friends live in other cities. My best friend Jen, who lives in Portland, had the brilliant idea of helping us out by soliciting donations from our network for food delivery every day for the first month of our twins' lives.
She found a service called Wholesome2go, which delivers super fresh and healthy meals to your door at night. These meals were a lifesaver. I had no interest in shopping or cooking with newborn twins, and we would have been eating pizza and cereal most nights if left to our own devices.
Naturally, if you have friends and family nearby, you can have people sign up to bring you meals during those early weeks. Beware, however, that you might not feel like having an hour or longer visit with every person who comes by to deliver food. I suggest asking for donations to a professional food service, or specifying that you'd like food to be dropped off at your doorstep, and visiting time will depend on how you're feeling.
To all the future parents out there: Good luck and enjoy the wild ride!
Related