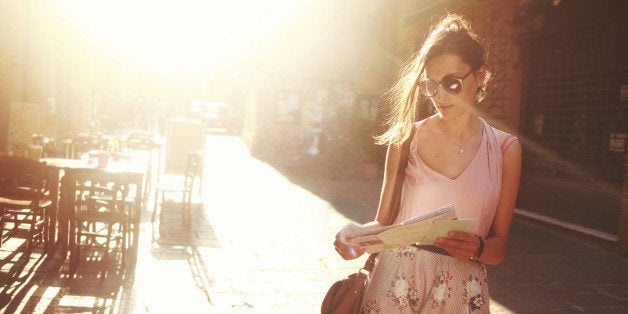 By no means am I one of those extroverted types who needs to be constantly surrounded by other people, but when I think about certain activities like dining, traveling and pedalo boating, I tend to get a visual of Christopher McCandless in Into the Wild -- dying after mistakenly eating poisonous foliage and scrawling with his last bit of strength, "Happiness only real when shared".
Recently, however, my views changed. With a six-week long university break stretching out before me, the 17,000 km journey back home to Australia appearing a smidge too far, and indecisive friends "umm-ing" and "aah-ing" over holiday plans, I decided to travel alone.
I spent nine days exploring the wonders of Copenhagen, Budapest and Vienna. Despite my initial misgivings, I had the most incredible time -- maybe because these cities are not exactly the harsh Alaskan wilderness, and I didn't have to survive on moose flesh.
The upsides to traveling solo:
1. You get a better sense of the places you visit when forced to navigate by yourself.
I've always played gormless sheep in the past, relying on the excuse that I have "no natural sense of direction". But just as claiming to be "bad with names" seems to be an excuse for being lazy/uninterested in committing a person's name to memory, this trip reinforced that being "bad with directions" is just the product of not paying enough attention.
Sure, it was a steep learning curve (a few times I found myself boldly forging ahead into a dead-end/lake), but enough time consulting maps and exploring on foot and I came to feel that these cities were my stomping ground.
2. You'll always meet people. The beauty of traveling solo is that you then get to decide how much time to spend with them.
On the train from Budapest to Vienna, I met Chris, a German architecture student. We had a good three-hour chat, and actually arranged to meet up the next day. However, when I got a flurry of messages that evening suggesting that maybe he wanted more than a museum buddy ("Do you want to go exploring? Vienna at night is soooo beautiful [winky-face]") I bailed, saying that I was sick and not sure if I'd last the full day in the city. And it wasn't awkward. Well, at least not until I ran into him at the Kunsthistorisches Museum the next day.
3. You get to explore at your own pace and indulge your own tastes.
Personally, I love getting out early to see as many museums and galleries as possible, throwing in the odd walking tour, and collapsing with exhaustion in the evening. Others may enjoy a more leisurely pace, or exploring a city's nightlife. For example, between hammed-up phlegmy wheezes (I was 'sick', remember?) I found out that Chris had, in the time I'd powered through Vienna's Imperial museums, National Library and Albertina, taken a long city stroll to hunt for breakfast (ending up with a fish sandwich). To each their own.
4. No one will judge you for subsisting on cake.
Hey, if a poppyseed strudel is "traditional" or a dessert has a name like marmorgugelhupf (marble bundt) or punschkrapfen (fondant fancies), then I'm going to claim it as a cultural experience.
5. Traveling alone makes you more assertive and intrepid.
You become the ultimate decision-maker. No-one else is going to answer if you passively whine, "Soooo, what's the plan?" One of my best experiences traveling alone was venturing out from central Copenhagen to Hillerød to see Frederiksborg Palace. This required a little bit of extra research, and asking a few locals for directions, but was totally worthwhile -- not only for the magnificence of the castle, but also for the confidence boost. Conquering little challenges in a foreign place will make you feel as smug as a Cheshire cat in a cream bath.
1. There are always safety concerns when traveling alone.
Before I travel anywhere, my parents like to recount the last few episodes of Air Crash Investigation and those Holidays from Hell-type TV shows that discuss people being abducted/swallowed by a hippo/encased in an ice tomb. Stranger danger has been drilled into me from a young age.
Some things are obviously ill-advised, like wearing your passport in a clear-cover traveler's pouch over your clothes (no, just because it's called a "security pouch" doesn't mean it's made of demiguise hair), choosing destinations that SmartTraveler red flags, or arriving/leaving anywhere late at night.
But there's no reason that you should feel uncomfortable traveling alone if you take the right precautions. For me, this meant shelling out a bit extra for central, reputable hotels, and messaging my parents with frequent updates ("Don't worry Mum, haven't encountered any freaks or exotic animals yet").
2. It can be more expensive, particularly not being able to share accommodation or take advantage of 2-for-1 deals.
On the other hand, every clam you shell out is on something that you enjoy or value. And not having to share a bed with someone who snores like an old bear or thrashes around making snow angels in the bedclothes is always a plus.
3. Some experiences are just more fun when shared with friends or family.
This might include going to the baths or hitting up the ruin bars in Budapest, or the top recommended one on TripAdvisor for Schönbrunn Palace in Vienna (ie. "Getting Married"). That said, there are very few activities that require company, and there are always fellow tourists with whom you can share a conspiratorial look, rapturously gaze at amazing art and architecture, or even share a fish sandwich.
My solo adventures in Copenhagen, Budapest and Vienna really emboldened me. Where before I might have waited to have friends or family to travel with, the fact that I was able to take such pleasure in navigating these unfamiliar environments alone has given me confidence to plan future trips. Corny as it is to say, my solo traveling experience has literally opened up a world of possibilities.
Popular in the Community