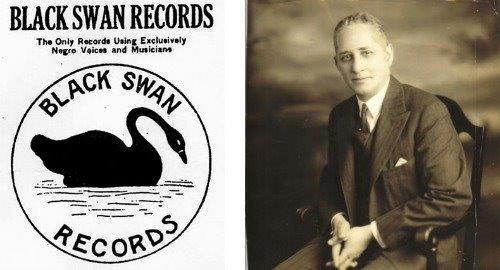 Black Swan Records was the first black owned record company. It was based in Harlem and founded in 1921 by Harry Herbert Pace. The label received a major climb of successes, but declined into bankruptcy within a very short period of time. Although, Black Swan Records lasted from 1921 -1923, it has made an everlasting impact in today's music industry. Anyone can adopt life lessons from the case of Black Swan's successes and failures. Here are 8 lessons to apply to your life, based on the case of Black Swan Records:

DO SOMETHING. Harry Herbert Pace created Black Swan Records in 1921, out of a need to take action, after recognizing the discriminatory barriers within the music industry. By 1920, Bert Williams (Columbia Records) and Mamie Smith (Okeh Records) were the only black voices to be recorded by major companies. Lesson: If there is a gap to be filled surrounding an issue or concern dear to you, sometimes you just have to take action to find a solution.
THE PAST SETS YOU UP TO STEP UP. Harry Herbert Pace worked in printing, banking and insurance industries. It was these various positions that helped him to develop and test his business acuity and leadership skills. Our past professional and personal experiences often prepare you for your currant situation or what is to come in the future. Even in experiences that were unfavorable or challenging, you may have developed mental toughness, perseverance or the ability to overcome adversity, so you can keep pushing along. Lesson: You past experiences may not be noticeably related but they ARE totally related to the bigger motion picture of your life!
CONNECTIONS ARE NOT A COINCIDENCE. Harry Herbert Pace attended Atlanta University, where he was also influenced by one of his teachers, W.E.B. DuBois. During, the beginnings of Black Swan, W.E.B. Dubois supported Pace and was on the Board of Directors. When he met W.C. Handy in Memphis, they initially became partners and collaborated in writing songs as well as developed the Pace and Handy Music Company, which in turn brought Harry Pace to New York City, where he met his wife. Lesson: Whether it is for a short term or longevity, your connections with individuals are not a coincidence. A new discovery about yourself, a lesson or experience comes out of it for everyone, to help contribute to growth and development.
STAY AUTHENTIC. Before vinyl records, sheet music was popular. While W. C. Handy and Harry Herbert Pace were doing well selling their sheet music, Pace observed how white recording companies bought their music and lyric but would record them with white artists. White major companies refused to let them sing their music in their own style. This culture prompted Harry Pace to start his own record company. Lesson: Sometimes you have to break the mold to stay authentic.
STAY ENCOURAGED. Challenges will arise, especially when you are attempting to accomplish a goal. Harry Herbert Pace faced many challenges in starting his record company. There were many obstacles thrown at him to deter his vision. He could not use a local pressing company because the larger white companies used their purchasing power to keep him out. He would have to utilize a pressing plant in Wisconsin. Lesson: Find ways to work around, through and over the challenges you face and never give up!
COMMUNICATIONS VIA THE COMMUNITY. When Black Swan Records went on the road for shows, made any new developments, new music, or released press releases, etc., it the popular black newspapers and media like, The Chicago Defender, Pittsburgh Courier or Baltimore Afro American, that helped to promote the company. Lesson: Although, our communities have expanded and it can consist of various outlets, we still need our community's support in becoming successful. It still takes a village.
ALIGNED AND FOCUSED. Blues Singer, Ethel Water was Black Swan's musical sensation, so much that Harry Pace added an unique clause in her recording contract wit the company, that stated she could not marry for a least one year at the time of the signing. Pace did this in response to the many marriage proposals Ethel Waters would receive from would be suitors. Many of them suggested that she give up her singing career to become a domestic partner. Lesson: The point is that you have to be honest with yourself and others about the direction you are trying to take. This does not mean that you can not be associated with someone that does not see the same vision, you will just be able to identify the various roles people play in your life and vice versa.
TRUST THE JOURNEY. Black Swan Records went bankrupt in 1923. It was short-lived and may have been a disappointment to Harry Herbert Pace, but it was the start of Black Swan Records and his determination that opened up many doors for black artists. Large records labels could not deny the talent, value and revenue that black talent had to offer. Black Swan artists such as Ethel Waters, Fletcher Henderson, William Grant Still and others, went on to having much success in the music and entertainment industry. Lesson: Remember to trust your instincts along the journey because you never know the positive impact you will have on others!
Love, Peace and Soulful Sips!
www.SoulfulSips.com
Twitter: @soulful_sips
IG: soulfulsips
Sources:
http://www.blackpast.org/aah/black-swan-records-1921-1923
http://www.neh.gov/humanities/2010/novemberdecember/feature/black-swan-rising
http://redhotjazz.com/blackswan.html
REAL LIFE. REAL NEWS. REAL VOICES.
Help us tell more of the stories that matter from voices that too often remain unheard.