When to Jump is a curated community featuring the ideas and stories of people who have made the decision to leave something comfortable and chase a passion.
Two weeks ago, I made the huge life decision to quit my corporate job in the field I've been in and pretty successful at for 15 years to pursue writing, teaching yoga, and whatever else comes. 50% plan, 50% open to possibility.
I didn't wake up and decide one day; it's been a series of leaps every day for the past several years and a great deal of sweat, tears, late nights and early mornings, soul searching and asking and receiving.
Along the way, I picked up some wisdom. This article distills what I've learned into 8 key mantras for manifesting your own jump. In each subsequent piece in this series, I will more deeply explore each mantra and provide my favorite resources and tools.

1. There is no order of difficulty in miracles. - A Course in Miracles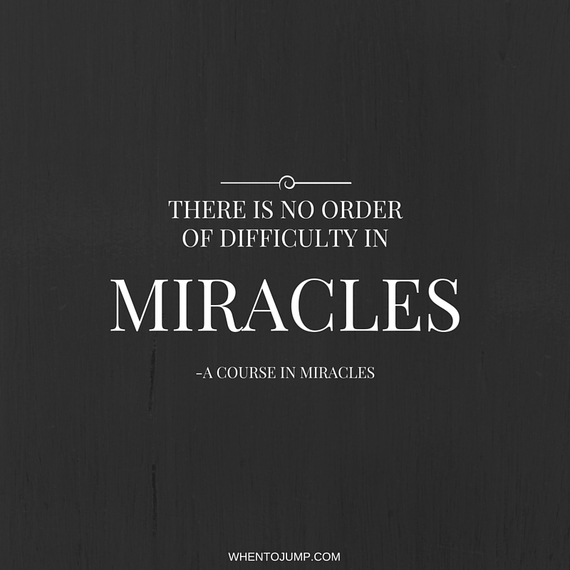 This is one of the core principles from A Course in Miracles and it is first on the list for a reason.
Most of us who want to make a big shift in our lives can't fathom how it'll happen, and these words take the pressure off needing--or even thinking it's possible--to know how it'll all unfold. The realm of infinite possibility (or miracles, or supercomputer-level problem-solving skills, if you will) always exists, whether we recognize it or not. When we see a child born, witness uncommon bravery, or even see a dramatic comeback at a sporting event, we often recognize it as a miracle. But many of us believe that kind of thing is only reserved for special moments, occasions, or people.
But that's just not true.
The challenges and obstacles we all face on the path to change, including the most common scarcities of time, money, power, and resources, don't register as difficult to the Universe. This mantra serves as a reminder to recognize a larger force at play, and one that is always conspiring on your behalf (particularly when you're doing the work!).
2. You are allowed to change. - Laura McKowen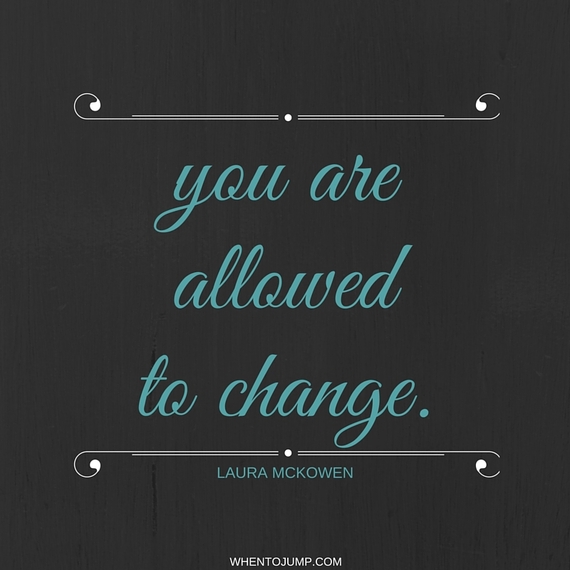 Many of us believe that because we were once X, we cannot become Y. In my own case, at the age of 37, I thought because I had been a Marketing Person for the past 15 years, I couldn't become a Writer. Or, because I was once a daily drinker, I couldn't be a happy sober person. We are afraid of leaving our tribes, failing, being judged, not being qualified enough, abandoning our old selves and the people in our lives by becoming something new. But we are all, always, and forever allowed to change. In fact, we change at a cellular level every second, whether we recognize it or not.
3. Begin anywhere. - John Cage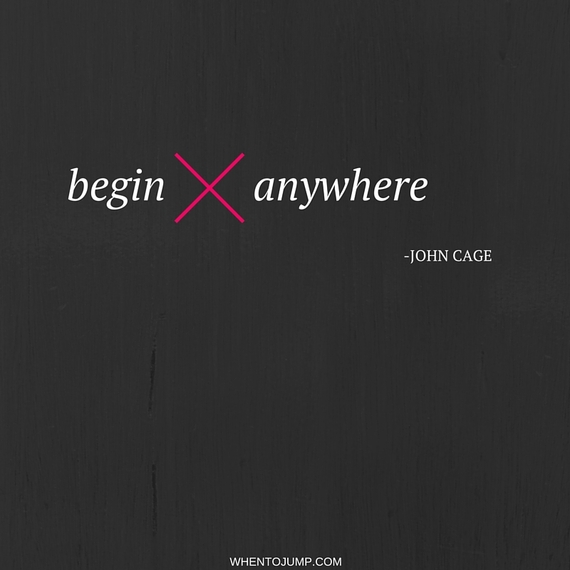 One misconception I had for a long time was that I needed more time, space, energy, money--something--to move things forward. But in reality (you know the punchline here) those things never came. When I made my first earnest step toward what would eventually turn into changing my career, I was just doing something that filled me up--writing--because I couldn't stand to not do it any longer. I was freshly divorced, newly sober, and a single-mom with a full-time job and money, space, energy, time were in the shortest supply.
Anything and everything is progress. Just start. Do one small thing in the direction of your jump today.
4. Do it afraid. - Joyce Meyer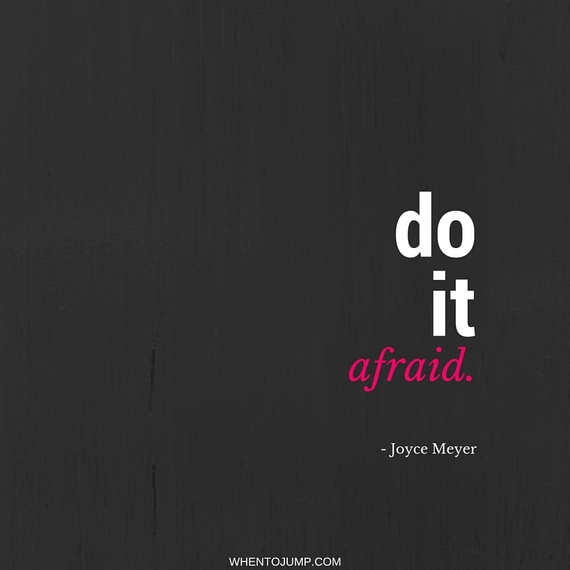 Fearlessness is a myth. It doesn't exist. Fear is always going to be along for the ride, so we have to work to change our relationship to it by continually doing in the face of it. That's what courage is.
5. Done is better than good. - Elizabeth Gilbert's mom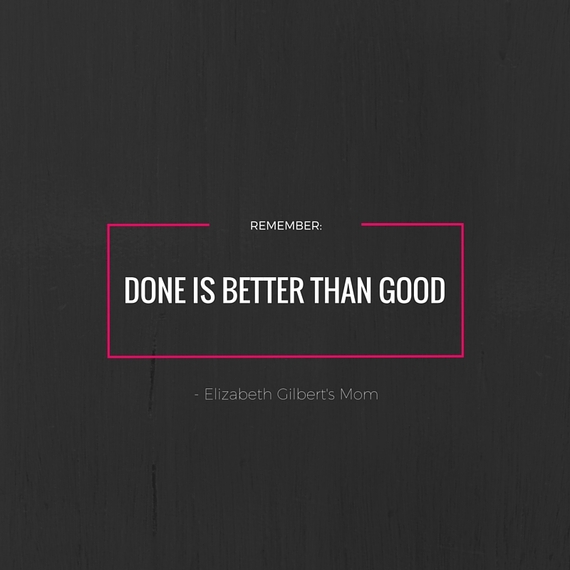 We've all heard Sheryl Sandberg say, "Done is better than perfect," but what about "Done is better than good?" by Elizabeth Gilbert's mom? Even better, right?
What keeps so many from doing so many things is this idea that if it's not good enough, it can't be seen. And so, we never start. For days, months, weeks, years, we don't start--or we start but don't see anything through. As Liz says in her book, Big Magic: Creative Living Beyond Fear,"A good-enough novel violently written now is better than a perfect novel meticulously written never."
6. You don't need to ask permission. - Laura McKowen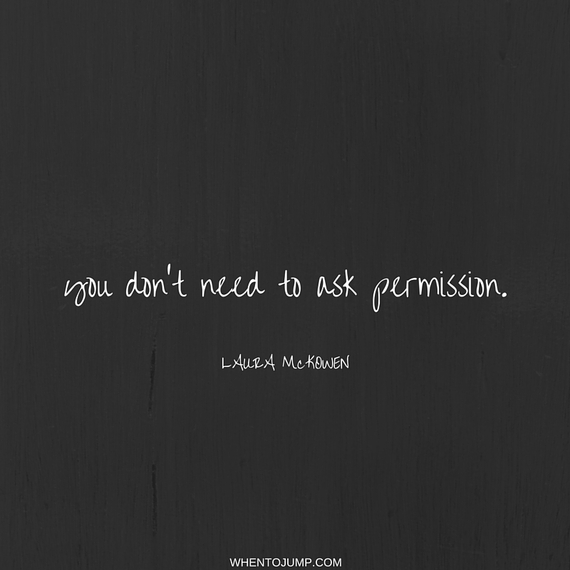 It is necessary to ask for support, but you do not need to ask permission.
7. Bird by bird. - Annie Lamott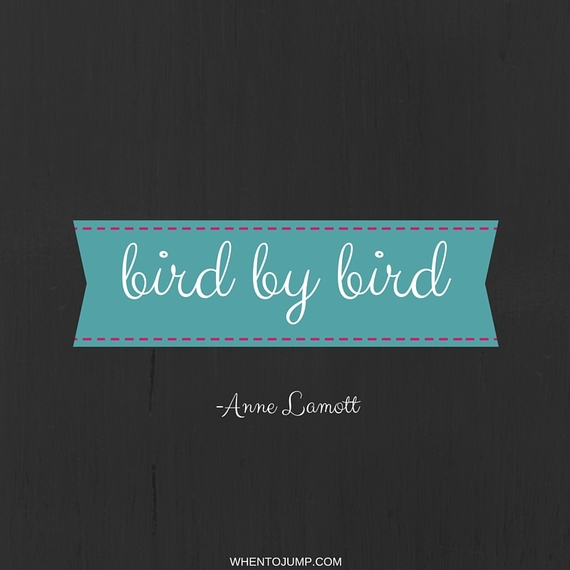 This is a phrase that famous author Anne Lamott quoted in her book Bird by Bird: Instructions on Writing and Life. The origin is that her brother was late in starting a report on birds for school and, when he finally sat down to do it, was overwhelmed with the enormous bulk of work in front of him. Their father's response to him was, "Just take it bird by bird, kid."
Countless times in the past two years when I've been stuck on writing a piece, struggling to solve a creative problem, or crashing under the weight of too many competing priorities, I've paced around my house repeating these words: bird by bird, bird by bird, bird by bird.
When you're working toward anything, do the next thing right in front of you, and then the next, and the next , and so on. Jumping happens not once, but in a series of a million of smaller steps. Just make the next one.
8. You can't miss your boat. - Glennon Doyle Melton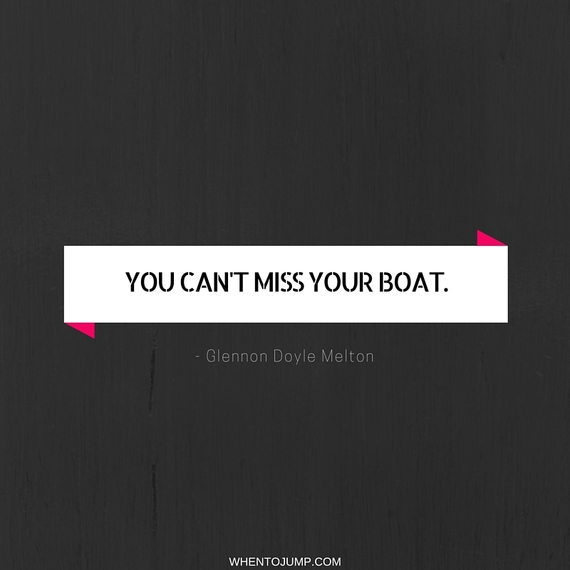 Building off mantra #1, these words remind us of an abundant universe versus a scarce one. A universe in which, when you take a slice of pie, the pie fills in and becomes whole again. Set aside all the information you've collected about first-mover advantage, trade-offs, economic principles of scarcity and other constructs that appeal to your rational mind and make perfectly logical sense. Step into the possibility that there's enough for everyone, and that if you have a gift, a treasure inside you, a purpose that is meant to come forth, your boat will stay docked until you are ready.
When to Jump is a curated community featuring the ideas and stories of people who have made the decision to leave something comfortable and chase a passion. You can follow When to Jump on Facebook, Instagram, and Twitter, and learn more about the Jump Curve framework here. For more stories like this one, sign up for the When to Jump newsletter here. (Note: The When to Jump newsletter is not managed by The Huffington Post.)