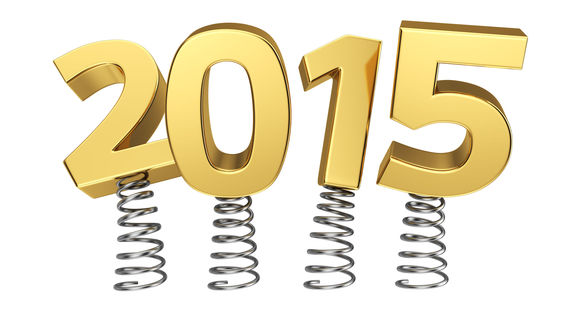 Can't wait until 2014 is behind you? If your answer is Yes, you're not alone. Surely you've heard people say, "Man, I can't wait for this year to be over!" and you know it's been tough for them. Before long you're commiserating because, come to think about it, it's been a bad one for you, too -- and you're off to the races. And the rot sets in.
Please understand me. I don't lack compassion for anyone's troubles. But you make a big mistake if you start 2015 complaining about 2014. Why? Because doing so saps your confidence and sets you up to start the new year with a load of negative baggage about your chances of success -- and that's the last thing you need. That's why for the past 35 years the first of the 10 Best Year Yet questions, which you answer to make your one-page plan for the new year, has been, What Did I Accomplish? More about answering that question in a moment, but first the big picture.
8 Moves to Make 2015 Your Best Year Yet
At this time of the year I always begin a series of articles about how to make your next year your best year yet. To do so, you answer 10 questions, which connect you to your inner power and wisdom in order to create your personal one-page road map for 2015.
The main thing I want you to remember is that making your plan is based on your answers to the questions and that matters because when you're finished, you own your plan. You've done all the reviewing, learning, thinking, and planning for yourself. Your answers have come from your true self, your heart, who you are -- and that means you can count on your plan, trust it, and let it guide you toward making the changes and achieving the results you care about most.
As you answer each question, you'll be making the smart moves that take you to your best year yet in 2015. I say this with confidence because over a million people have discovered this process, made their plans, followed through, and their results have been extraordinary. Over the next few weeks I'll tell you how to make each move, so that your plan is as powerful as you want it to be.
Here are the eight moves:
Appreciate my success.
Learn from my disappointments.
Stop lying to myself about who I really am.
Create my next year from the inside out.
Give myself a performance review.
Set my top 10 goals.
Be accountable.
Pay it forward.
So, let's get started with the first move.
The alternative to looking back and whining is to take another look and think about what you've achieved, what went well, and the good things that happened to you. The most important ground rule for answering each question, is to trust your first response. Ask the question, listen for your answer, and write it down. Don't edit, don't argue, and don't question whatever occurs to you.
Here are a few from my list for 2014:
A painful estrangement with a loved one has been healed.
Tim and I are happier than we've been in years.
The Best Year Yet business has a strong, new, and youthful leadership team.
We took our first cruise ever with 5 good friends.
My back and knee pain no longer keep me from doing what I want to do.
I did my first two-week silent spiritual retreat.
And at least I haven't gained any weight.
Now, it's your turn. Writing your answers to this question takes less than five minutes, and it's a game changer: What did I accomplish?
Cheers to a new year and another chance for us to get it right. -- Oprah Winfrey
Be in touch if you have questions about how to make this work or perhaps want to share one of your achievements. Either scroll to the bottom of this page to the Comments section or contact me directly at jinny@bestyearyet.com.
P.S. If you want to complete your plan sooner, you have these options:
Popular in the Community