More than 750,000 Americans live with an ostomy, a surgically created opening in the body for the discharge of body waste. Whether it's because of cancer, an inflammatory bowel disease like Crohn's disease or ulcerative colitis, diverticulitis, or incontinence, an ostomy can give people with debilitating illnesses a new lease on life - one with fewer hospitalizations and less debilitating pain.
Despite the fact that having an ostomy can be life-saving, ostomies are often stigmatized. People sometimes equate having an ostomy with disability and a sub-par life. Case in point - two years ago the Cincinnati Police Department launched a public education campaign to try and deter teens from entering a life of violence. While the ultimate goal of the campaign was admirable, they attempted to accomplish it by showing pictures of people with colostomies, declaring that a gunshot could lead to an ostomy for life.
"You're not killed, but you're walking around with a colostomy bag and that's just not the way to get a girl's attention," said Lieutenant Joe Richardson in 2013.
This is just one example of a negative public campaign perpetuating the ostomy stigma. Unfortunately, these characterizations alienate ostomates around the country and worldwide.
October 3 marks World Ostomy Day, a day to raise awareness about all ostomies - colostomies, ileostomies, urostomies, and others. We at the Crohn's & Colitis Foundation of America understand the importance of educating the public and supporting our patients, many of who live with ostomy bags. To do so, we wanted to debunk some of the common myths about ostomies.
MYTH: An ostomy is a death sentence.
This couldn't be farther from the truth. For many facing ostomy surgery, they are extremely ill, and the alternative to having surgery is facing fatal complications. Many patients will say that getting an ostomy gave them their life back.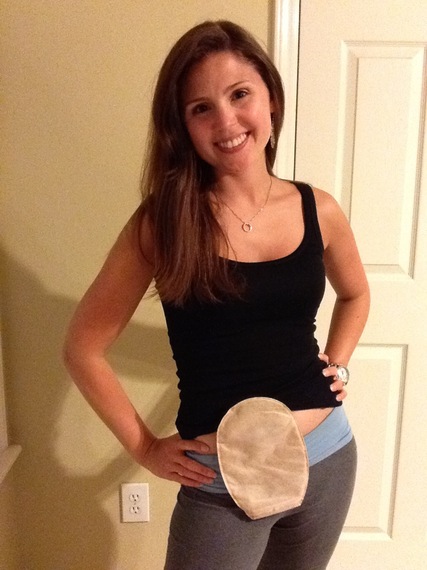 Stephanie, a Crohn's disease patient who had ostomy surgery in 2012, said: "Having an ostomy has given me back my life and I am able to do all of things that I've always wanted to do, but had been held back before by Crohn's disease."
MYTH: Only cancer patients have ostomies.
Most people hear about patients with cancer having ostomies. However, patients with common diseases, like Crohn's disease, ulcerative colitis, diverticulitis, familial polyposis, neurogenic bladder disease, and birth defects, may require ostomy surgery at some point in their life.
MYTH: Ostomies are permanent for everyone.
For some patients, an ostomy is permanent. However, for many, an ostomy is performed to allow part of the intestines to heal from scarring, inflammation, infection, abscesses, and fistulas before the procedure is reversed to create an internal pouch. YouTube sensation Rebecca Zamolo lived with a temporary ostomy for a year to allow her body to heal after a long battle with ulcerative colitis.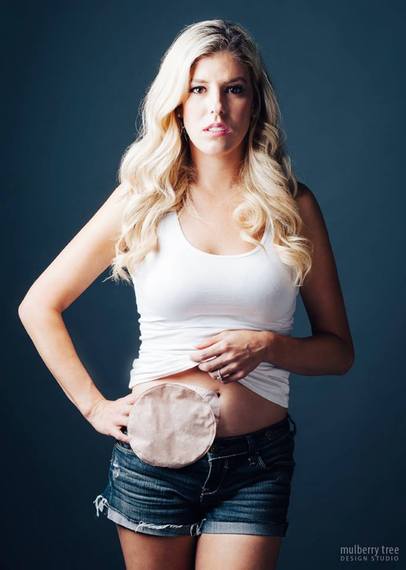 Just three months ago, Rebecca had her ostomy reversed and now lives with a J-pouch, an internal pouch formed from part of the small intestine. In a note penned to her ostomy bag before her reversal surgery, Rebecca wrote: "As I head into my final surgery I am hopeful and excited for the future you have allowed me to have. And I know that if at some point I need you again, my life will still be great. So thank you Ostomy Bag for showing me how special this life is, and letting me live it to the fullest."
MYTH: People with ostomies stink.
Most ostomy products are built with air filters in them that use charcoal, which neutralizes potential odors. Unless the individual has an ostomy leak, you won't be able to smell anything.
MYTH: Only old people have ostomies.
For years, ostomies have been associated with elderly individuals who have some form of cancer. That isn't the case - anyone, at any age, can end up with an ostomy.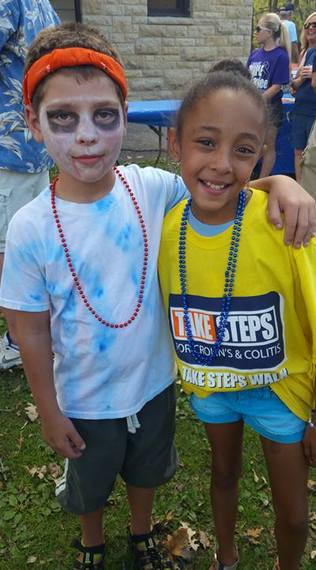 Take Aria - diagnosed with ulcerative colitis when she was in kindergarten, Aria was seven years old when she had a proctocolectomy (removal of her colon and rectum). Following the surgery, she lived with an ileostomy bag for two months while her J-pouch healed. She is just one example of the many young people who live with ostomies.
MYTH: Everyone can see if you have an ostomy.
Not if you don't want them to. Ostomies are designed to be hidden easily under most clothing. The person with the ostomy may be concerned about the visibility of their ostomy, but to the average person, it is typically unnoticeable.

MYTH: You can't dress regularly if you have an ostomy.
If you have an ostomy, you can wear the same clothing you wore before your surgery with very few exceptions. To provide peace of mind and additional support, some ostomates may wear special accessories to help keep the ostomy in place and prevent it from showing.
According to the UOAA, "many pouching systems are made today that are unnoticeable even when wearing the most stylish, form fitting clothing for men and women."
MYTH: You can't be physically active if you have an ostomy.
This is also wrong. Many people with ostomies are physically active and participate in sports of all types. Rolf Benirschke played as a placekicker for the San Diego Chargers while living with an ostomy. Al Geigberger played professional golf with an ileostomy. Ostomates have completed half marathons, triathlons, and IRONMAN competitions, like Elise Baum:
"I am so happy to have my life back. I feel great and don't have any restrictions on what I can do. Before the surgery, I was a prisoner. Now I am free."
Every year, 130,000 people in America undergo life-saving ostomy surgery. On World Ostomy Day, let's take the time to educate ourselves about the different kinds of ostomies and begin to raise greater awareness and acceptance of ostomies to combat the misinformation and stigma that exists in our society.
Related