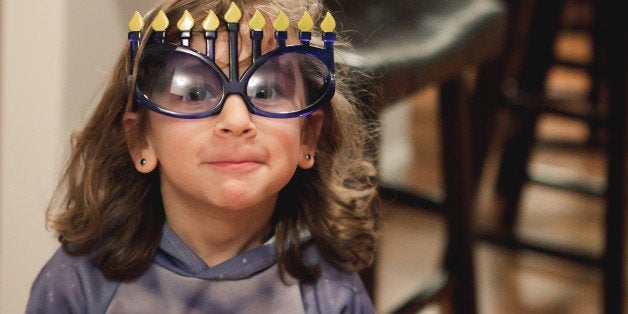 "Put on your yamaka, it's time to celebrate Hanukkah... even if you're 28 years old, single and live in San Francisco! So much funnaka to celebrate Hanukkah... even when you've moved out of your parents house 10 years ago and now you feel like the only Jew in town."
These are my feeling towards Hanukkah this year.
As The Jewish Festival of Lights embarks upon us, I'm reminded that I no longer live at home with my family in Dallas, Texas.
I'm no longer that little, innocent girl with brown curly hair and glasses, jumping around my family's kitchen table, anxiously waiting for us to light the menorah and sing the traditional Hanukkah blessings.
I no longer receive eight amazing gifts each year, and tear open big boxes wrapped in shiny, blue and white paper in my family's living room.
At 28 years old, I have officially become an adult living in a city where I did not grow up. Yet as the eight nights of Hanukkah continue, I'm reminded of the importance of keeping my family's Hanukkah traditions.
After all, I grew up in a traditional Jewish household, and spent four years living in Tel Aviv, Israel. I won't let anything stop me from forgetting the importance of the Jewish holidays (especially Hanukkah).
Since there are eight nights of Hanukkah, here are eight ways to keep your family's Hanukkah traditions burning strong:
Instead of a Christmas tree, Jews celebrate Hanukkah by lighting a menorah for eight nights.
A menorah is a type of candelabra with nine candleholders, eight for each night of Hanukkah, and one additional candle used to light the other candles. The Hanukkah candles are lit each night of Hanukkah after sundown.
A blessing over the candles is then sung, followed by gift giving. It's a tradition to light the menorah each night of Hanukkah, yet I plan to light the menorah at least once this year.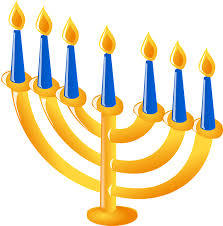 2. Give and receive gifts.
Who doesn't love giving and receiving gifts during the holidays? Rather than a few gifts, however, Hanukkah traditionally involves eight fabulous nights of presents. In order to keep the tradition going, I plan to give at least one great gift this year.
While typical Hanukkah presents consist of books, clothes and electronics, I'm thinking about signing some of my single, Jewish girlfriends up on JDate.
Who wouldn't appreciate the gift of love at our age? After all, love is the gift that keeps on giving (just like the oil that kept burning for the eight nights of Hanukkah).
3. Go to a Hanukkah party.
Let's face it, there aren't as many Jews living in San Francisco as there are in NY or LA. Sometimes we feel outnumbered. However, that doesn't mean we can't celebrate each night of Hanukkah at a different party.
This year, I plan on getting crazy at least once at a Hanukkah party in SF. While eight nights of partying can be a bit intense, it's tradition to celebrate the holiday with friends and family, so make the most of that one Hanukkah party this year.
4. Eat jelly doughnuts and latkes.
Just like any other holiday, it's a tradition to eat delicious, fried foods during Hanukkah to commemorate the miracle associated with the Temple oil that burned for eight nights.
Jelly doughnuts, know as sufganiyot, are round, deep-fried pastries filled with jam, custard or chocolate, and topped with powdered sugar. Eight nights of these bad boys also means a ton of time spent at the gym, so I plan to eat at least one sufganiyot this year. It's also a tradition during Hanukkah to eat fried potato pancakes, known as latkes. Be sure to add a side of applesauce of sour cream to your latke to make it extra delicious.

5. Sing Adam Sandler's "The Chanukah Song."
It's hard not to associate Adam Sandler with Hanukkah. The famous Jewish comedian originally wrote and performed "The Chanukah Song" on Saturday Night Live in 1994.
Since its debut, The Chanukah Song has become a global hit and traditional song to sing during Hanukkah.
This year, I plan to grab some friends, drink some "gin and tonica" and celebrate Hanukkah by singing karaoke at least once to "The Chanukah Song."
6. Play a game of dreidel.
Games are great, especially during the holidays. On Hanukkah, Jewish children play a game called dreidel, which means "spinning top," or "to turn around" in Yiddish.
A dreidel is a pointed, four-sided toy that can be made to spin on its base. Children take turns spinning the dreidel on Hanukkah, and get chocolate "gelt" each time the dreidel falls on a Hebrew letter embossed on the dreidel's side.
I plan to keep the Hanukkah tradition going by playing "sexy dreidel games" this year; is a description really needed here?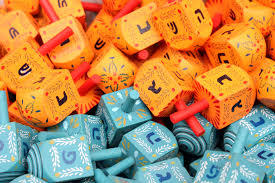 7. Share a Hanukkah miracle.
The miracle associated with Hanukkah was when one tin of oil was enough to burn for all eight nights of Hanukkah. Miracles are a big part of the Hanukkah tradition, making it the perfect holiday for self-reflection.
What miracles have happened to you this year?
I can think of one major miracle that happened for me right before Hanukkah. This year, I plan to share this miracle with my friends and family to help us remember the things in life we should be thankful for.
8. Wish your friends and family a Happy Hanukkah.
Finally, one of the most obvious Hanukkah traditions is to pick up the phone and call your friends and family to wish them a very Happy Hanukkah.
I know, who uses the phone to actually call anyone nowadays? Trust me though, you will be happy you did!
However, for those of you who are exceptionally busy during Hanukkah (like eating latkes and playing sexy dreidel games), Bitmoji just came out with some really awesome Hanukkah greetings.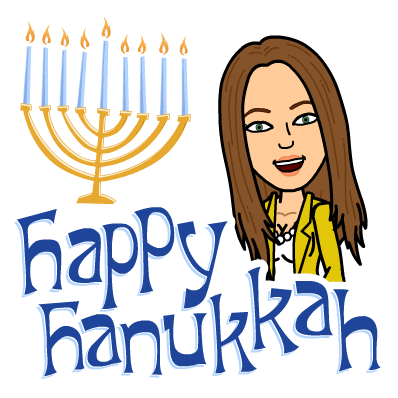 This year, I have already sent multiple Bitmoji text messages and have called my close friends and family to wish them a Happy Hanukkah. It feels good to keep the tradition going.
REAL LIFE. REAL NEWS. REAL VOICES.
Help us tell more of the stories that matter from voices that too often remain unheard.