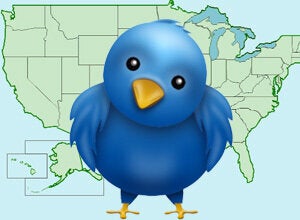 Earlier this year, Twitter boasted that the site had grown to around 190 million users who tweet around 65 million times each day.
These statistics are impressive, but the Pew Research Center has come out with its own numbers that provide some context for Twitter's growth and how far the microblogging service has yet to go before it is mainstream.
According to Pew, 8% of Americans on the Internet use Twitter.
That number is larger among certain groups, including adults between 18 and 29 years old, African-Americans and Latinos, as well as people who live in cities. On an average day, 2% of online adults use Twitter.
Pew notes that the most recent survey was a follow-up to previous research which found that, in September 2010, 24% of Internet users said they "use the internet to use Twitter or another service to share updates about yourself or to see updates about others."
In order to better understand just what proportion of American web users are on Twitter, Pew decided to "use question language that exclusively focuses on Twitter," asking respondents point blank, "Do you use Twitter?"
Pew's report also sheds light on how Twitterers use the service (see charts below).
The most popular activities include sharing personal updates (19% of Twitter users say they do this at least once a day; 72% ever do this), posting reflections on their work life (12% do this at least once a day; 62% ever do this), and sending tweets with links to news stories (12% do this at least once a day; 55% ever do this). Sharing videos and posting locations in tweets were the least popular Twitter activities among Pew's respondents. Retweeting is fairly common, with 18% of people surveyed saying they retweet once a day or more.
The findings show that nearly half of Twitter's users check the site for new content every few weeks or less. Nearly a quarter (24%) check Twitter several times a day, while 21% say they never "check for material posted by others." Twenty percent consult Twitter less than every few weeks.
What do you make of Pew's findings? What surprises you about the numbers?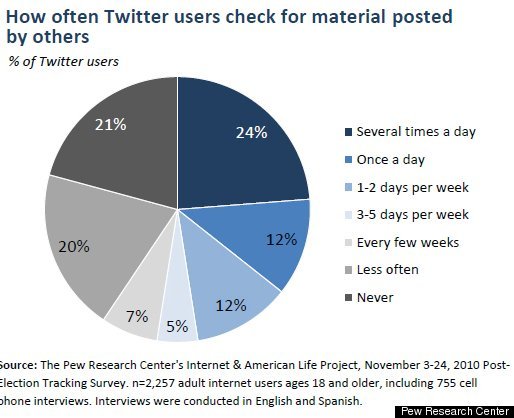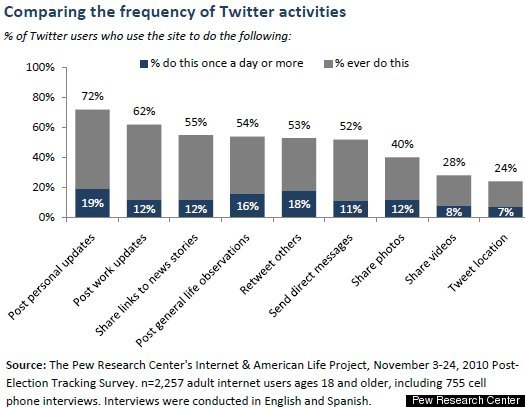 Related
Popular in the Community