Known for his mind-bending optical illusions, Dutch artist M. C. Escher created mathematical works in the 1950s and '60s depicting impossible feats of architecture. But the fact that his dreamlike structures are unbuildable according to the laws of physics hasn't stopped architects and other artists from interpreting his designs into real-life structures. Buildings, parks, and gardens across the globe are home to mystifying stairways that were directly influenced by his work or look like something he would have imagined. These structures range from the abstract—monuments, public art installations—to wholly functional facets of modern architecture by the likes of Zaha Hadid or Thomas Heatherwick. AD has selected examples from around the world that defy the idea of a staircase as a means of getting from point A to point B.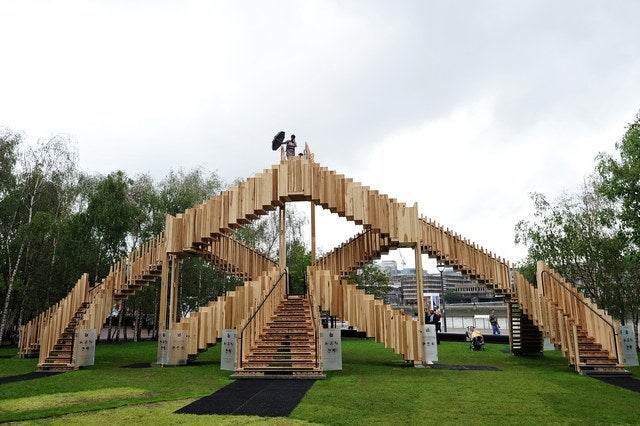 London
In fall 2013 a lawn just outside London's Tate Modern gallery was the site of Endless Stair, an interactive art installation by de Rijke Marsh Morgan Architects. Built to promote the launch of the London Design Festival, the perplexing structure used multiplying panels of tulip tree wood to make the iconic drawings of M. C. Escher come to life.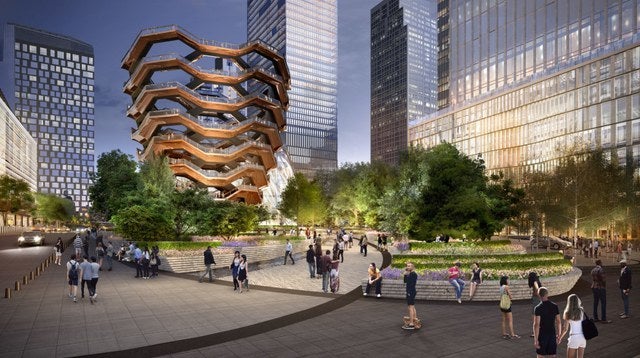 New York
Designed to be the crown jewel of Manhattan's Hudson Yards, Vessel is a dizzying arrangement of 250 stairways that will provide panoramic views from its site in Trafalgar Square. Set for completion in fall 2018, the structure has been described by its designer, Thomas Heatherwick, as having an infinite number of routes.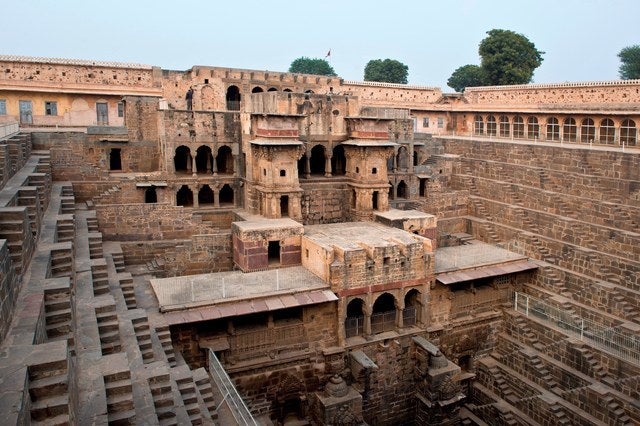 Rajasthan, India
Located near Jaipur, Chand Baori is a stepwell made of 3,500 stairs that descend 13 stories to a pool of water. Built between A.D. 800 and 900, the illusion-like structure is a popular attraction for tourists, a swimming hole for the city's residents one day a year, and a filming location for movies like The Dark Knight Rises and The Fall.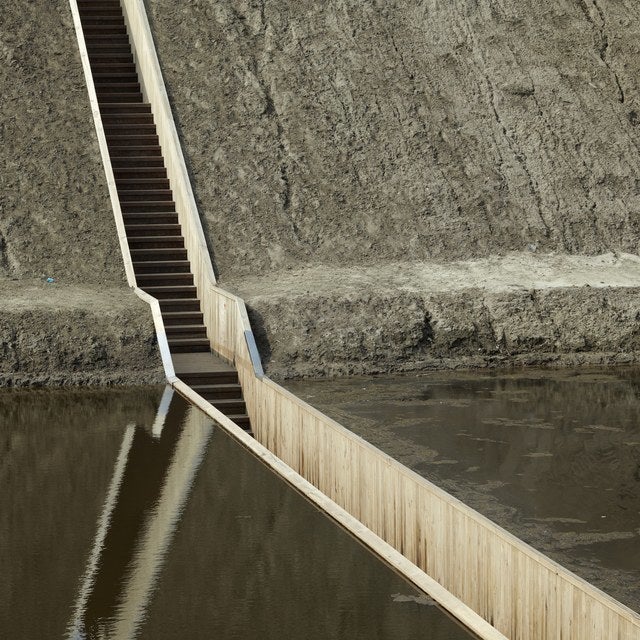 Halsteren, The Netherlands
Known as the Moses Bridge, this intriguing stairway seemingly disappears into the moat of a 17th century fortress. Created by design firm RO&AD, the Biblical-inspired pathway cleanly splits the body of water with walls of wood and foil, with the help of a pump that prevents any flooding.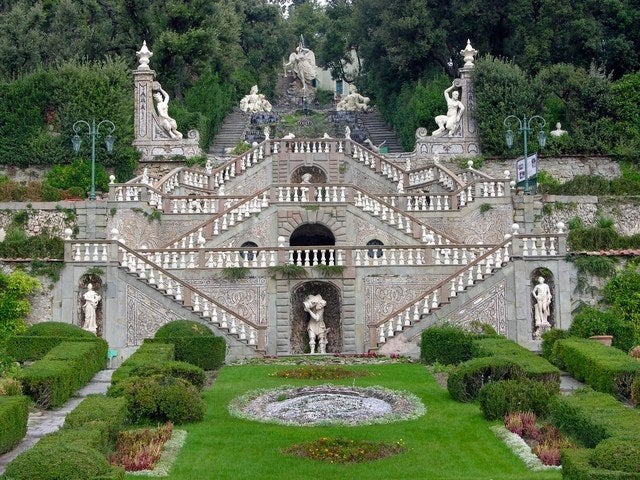 Tuscany, Italy
The gardens in Tuscany's Villa Garzoni are accessible by these terraced flights of stairs arranged with spellbinding symmetry. Completed in the 17th century, the balustraded Baroque staircase leads down to a water garden, which was added in 1786 by local architect Ottavio Diodati.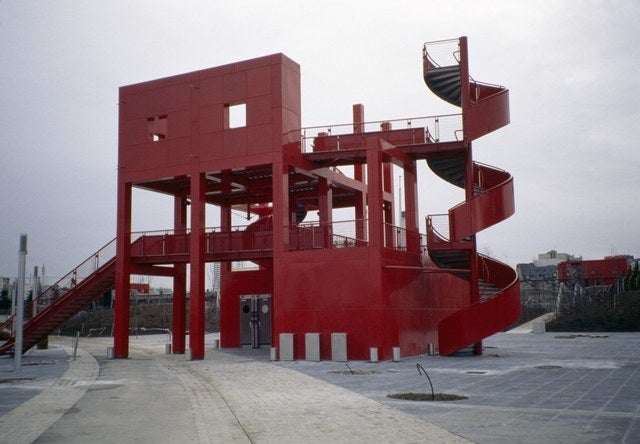 Paris
Paris's Parc de la Villette is home to 35 distinct follies, public artworks that are meant to represent architectural deconstruction and act as points of reference for the park's visitors. All rendered in bright red, each folly has nonsensical features, like this one with a puzzling assemblage of posts, balconies, and a spiral staircase that leads to nowhere.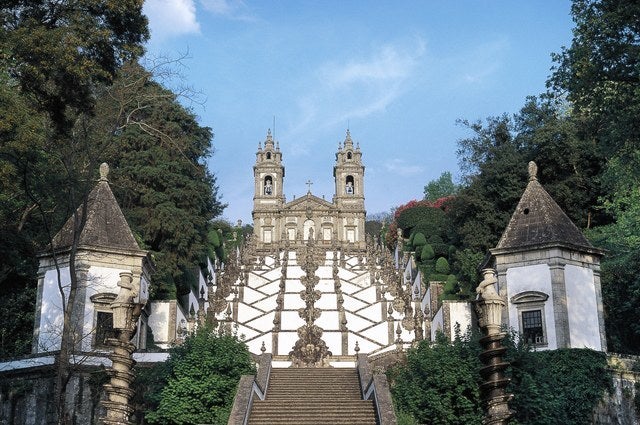 Braga, Portugal
Visitors to the Bom Jesus do Monte sanctuary in Tenões, Portugal, must climb 381 feet of zigzagging steps on this Baroque stairway up to the church. Built during the 18th century, the back-and-forth stair configuration was designed with fountains along the way to symbolize purification of the pilgrims who climbed to the top.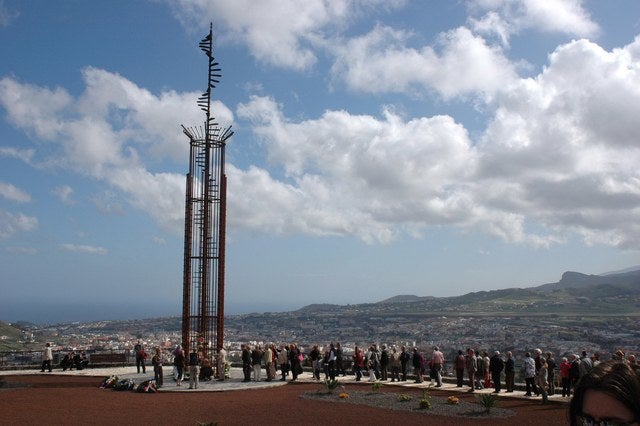 Mesa Mota, Spain
Built to honor the victims of a 1977 plane crash, the International Tenerife Memorial in the Canary Islands stretches nearly 60 feet high with a spiral staircase–like design. Conceived by Dutch artist Rudi van de Wint, the structure is not made for actual ascent but is meant to symbolize a connection between earth and sky.
More from Architectural Digest:

Calling all HuffPost superfans!
Sign up for membership to become a founding member and help shape HuffPost's next chapter
This post was published on the now-closed HuffPost Contributor platform. Contributors control their own work and posted freely to our site. If you need to flag this entry as abusive,
send us an email
.