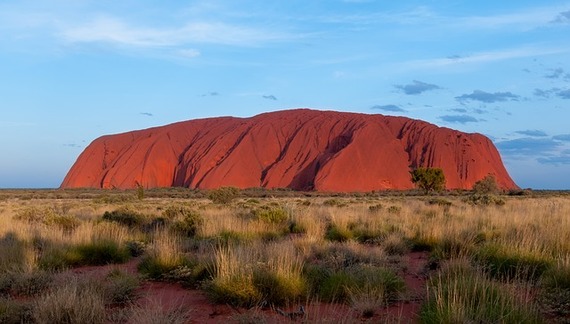 With exotic creatures, rare ecosystems found nowhere else in the world and a colorful history and indigenous culture, is Australia the real-life Neverland of Peter Pan? Maybe you won't have to battle pirates, but your imagination and thirst for raw adventure will be ignited when surrounded by prehistoric fauna in Daintree Rainforest or when staring into the gaping mouth of a giant clam in the Great Barrier Reef.
Thrill seekers flock to Australia to experience all this country has to offer, but to really get off the ol' beaten track, travelers with a taste for the unknown are turning to the outback towns in Australia, where lonely landscapes stretch to the sun, mining history tells the story of challenges and chance in the search for prosperity and everything from the bizarre to the beautiful can be discovered. Check out these 8 outback towns that may be small, but are packed with plenty to do and see.
Now that the Aerodrome has been completed, it's possible to fly direct from the state capital to remote Miles in Queensland and spend time exploring this rural outback town and it's dedication to preserving the area's history and culture. Visitors can delight in the exquisite recreation of the town's main street as it was at the turn of the century and walk through an old time post office, general store, pub and more. Other must-see sites include Dogwood Crossing@Miles and Chinaman's Lagoon for rare waterlilies.
Reach for the stars in Coonabarabran, where the sky is clear and clean- perfect for star gazers. Warrumbungle National Park features a unique mountain range consisting of towering, circular outcrops jutting high into the clouds from fluffy, green forest below. Camping, walking and bird watching are popular activities, with an abundance of various bird species and docile grey kangaroos. The park is Australia's only Dark Sky Park, and the Siding Spring Observatory, located on the outskirts of the park, houses the country's largest optical telescopes.
Take a stroll through time in this historical little mining town or stroll your way through the natural wonders of Mount Remarkable National Park, where walking trails through Alligator Gorge and Hidden Gorge will transfix you with colorful flora and dazzling red quartzite cliffs. Melrose is a haven for mountain bikers, boasting a multitude of trails in the foothills of Mount Remarkable and beyond. During June Long weekend, bike enthusiasts from all over Australia gather for the Fat Tyre Festival, one of Melrose's biggest events of the year.
History buffs should check out Longreach, where excellent museums abound. Learn all about Australia's stockman, where you can navigate the The Australian Stockman's Hall of Fame and Outback Heritage Centre. Longreach is also home to Qantas Airlines, with an award-winning museum that tells a story of the airlines origin through hands on displays and and detailed exhibits. If you want to get outdoors, charter flights are available to explore the stunning Lake Eyre Basin.
The attractions in Alice Springs are endless, bursting with history, indigenous art and wilderness adventure. Located close to World Heritage site, Uluru, you get more than just breathtaking ancient rock formations and unique terrain, but you can delve into aboriginal culture and the spirituality surrounding this vast desert land. Ever wanted to ride a camel? Hop aboard the hump of one of these gentle giants for a ride through Uluru-Kata Tjuta. At the end of the day, the subtle glow of star dappled skies beckon relaxation as you enjoy a romantic gourmet dinner amongst the dunes.
Home to the largest opal-mining community in the world, this outback town in South Australia has a reputation for producing ample amounts of gem quality opal. Visitors can learn about the Coober Pedy mining history at Umoona Opal Mine & Museum and shop for fine, one-of-a-kind jewelry. Another distinctive feature of the town are the "dugouts" or caves that were carved out of the ground. These unusual abodes allow residents to enjoy a more temperate climate and escape the scorching summers. Over 3000 people live underground and besides houses there are "dugout" hotels, bars, churches and art galleries.
There is plenty of fascination found in Kalgoorlie- Boulder; twin towns birthed from the discovery of mining opportunities. Visitors can observe regular blasts at an open-cut mine still in use or get a glimpse into Australia's pioneer past at the mining ghost towns that still haunt the region. The wilderness is not to disappoint, with salt lakes that shimmer white and stretches of land colored burnt red and orange. Lake Ballard is home to 51 steel sculptures by famous British artist Antony Gormley; a collection of lonely skeletal figures wandering the barren white salt plains like mirages of the lost.
One of the southernmost Australian outback towns in Queensland, this lightly populated town is known for horse races, which swells the population to the thousands come September. But, this outback town isn't just for horse lovers. Nature enthusiasts can explore the impressive sand dunes of the Simpson Desert or enjoy the pristine scenery of the Diamantina River. Outback tours from Brisbane to Birdsville are also available for prime four-wheel-drive road tripping through the remote terrain of the sprawling outback.