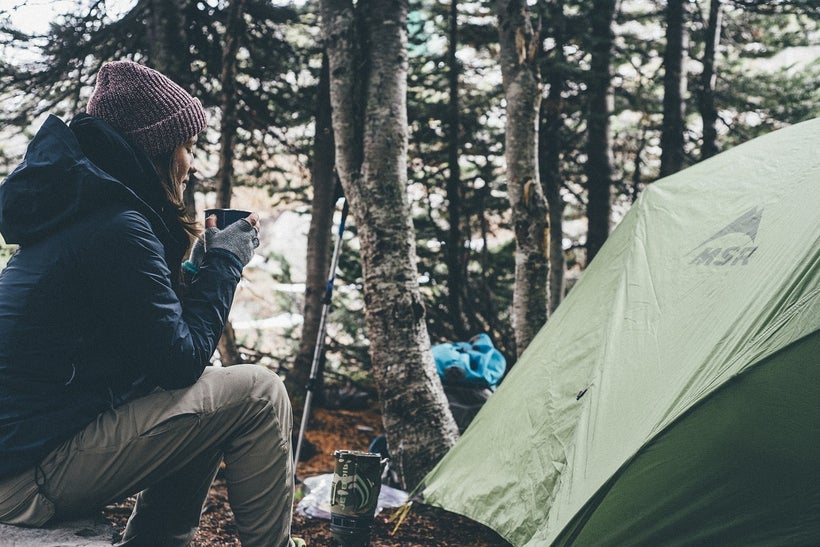 As summer relaxation evolves into autumn invigoration, this equinox shift lends itself to spontaneous vacations, outdoor adventures and basic unplugging from the everyday routine. So, follow that wanderlust off-the-grid this season for a long overdue nature encounter—and I don't mean just on your Instagram feed.
But before trekking off into the wilderness, stock your camping arsenal with these compact and convenient gadgets which keep every explorer—from the tent-pitching novice to the trailblazing fanatic—both safe and comfortable along their travels. The roundup below features 2016's must-have gear for taking on The Great Outdoors anytime of year—but especially now. Because carpe diem!
Product: Eat 'N Tool
Company: CRKT
Price: $7.99
This three-in-one contraption helps you adapt to even the most primitive surroundings. Whether you're cooking dinner, cracking open a brewski or tweaking campsite repairs, the Eat 'N Tool has you covered. This collapsible, ergonomic design effortlessly becomes a screwdriver, eating utensil or bottle opener to make "roughing it" more twenty-first century conducive.
Product: LifeStraw
Company: Earth Easy
Price: $19.95
This go-anywhere filtration system keeps you hydrated, both in the elements and during emergency situations. Just slip into your backpack before a hiking excursion, then promptly quench your thirst while en route. Developed to purge 99% of bacteria from contaminated water sources, the LifeStraw can purify up to 1,000 H2O liters for safe—and satisfying—consumption.
Product: Onja Stove
Company: Primus
Price: $144.94
This double-burner cooking unit folds into a briefcase for both functional storage and over-the-shoulder transport. Equipped with advanced adjuncts including wind protection, gas powered stovetops, and an interchangeable serving plate turned cutting board, the Onja Stove elevates that quintessential "roasted hotdog on a stick" to a more mouthwatering degree of gourmet.
Product: NeoAir Trekker
Company: Therm-A-Rest
Price: $149.95
This patent-pending mattress features SpeedValve technology for hyper-accelerated inflation—no pump needed. The lightweight, insulated composition is versatile enough to accommodate any climate or season. In addition. the NeoAir Trekker comes with a storage container and repair supplies to ensure long-lasting durability, no matter how rugged that terrain.
Product: River Lion
Company: Adventure Lion
Price: $13.77
This heavy-duty pouch is fashioned from impenetrable waterproof materials to shield against the most aqueous conditions. Whether you're caught in a torrential downpour or kayaking through rough rapids, compress those personal items and recreational gear inside for safekeeping throughout your expedition. The adjustable sling even makes River Lion a go-to option for everyday usage.
Product: Solar Paper
Company: Yolk
Price: $135.00
This state-of-the-art mobile docking station is considered the "world's thinnest and lightest" charger. Its magnetic paneling and wireless accessibility harness the sunlight to recharge smartphones, tablets, cameras, gaming consoles and other USB devices. Not to mention, Solar Paper gets the entire job done in 2.5 hours—right on par with a conventional charger's bandwidth.
Product: Voyager Lantern
Company: Black Diamond
Price: $17.98
This after-hours essential combines both the ambient warmth of a lantern and precise beam of a flashlight. Producing 75 lumens—or 50 lumens in flashlight mode—to ignite your evening activities, this LED powerhouse can alternate between functions with just one toggle switch. Even more impressive, the Voyager weighs less than five ounces, ideal for concentrated efficiency.
Product: Simple Shower
Company: Rainburst
Price: $9.99
This dual-purpose gadget offers a solution for plastic waste and the standard "campsite shower" dilemma. Made from recycled materials, this spigot attachment screws onto an average-size bottle, creating a handheld waterspout to cleanse your entire body. Aside from personal hygiene maintenance, the Simple Shower is also effective for hosing down equipment.
From the high-tech and sophisticated to the unique and downright quirky, this comprehensive camping checklist will up the ante on your next alfresco adventure. So, start packing, fellow wanderlusters. Nature awaits.
Calling all HuffPost superfans!
Sign up for membership to become a founding member and help shape HuffPost's next chapter
This post was published on the now-closed HuffPost Contributor platform. Contributors control their own work and posted freely to our site. If you need to flag this entry as abusive,
send us an email
.