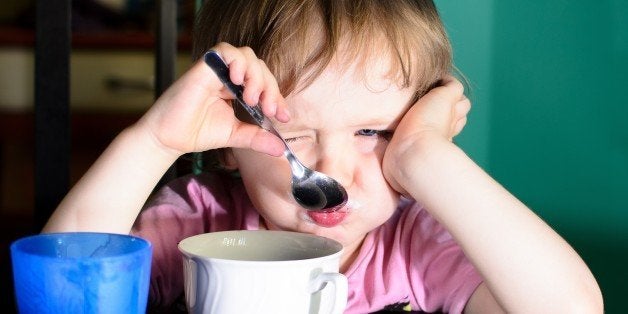 Judging other parents was easy before I had children of my own.
Ohmigawd, that woman is letting her 2 year old chew gum!
Can you believe those people are permitting their kids to make a mess in this [crappy] restaurant?
I would NEVER let my girls entertain themselves with an iPhone!
After I had kids, I realized some parenting battles aren't worth being late to the office, defeated and stressed out. They aren't worth spiking my blood pressure. They aren't worth the eye roll. They aren't worth raising my voice.
Make no mistake -- some battles are worth fighting.
Accepting candy from strangers.
Trolling around the medicine cabinet.
Getting into a swimming pool without an adult.
That said, in our home, some things will never be worth the battle with our daughters. Here are eight of them:
Hair Styling. My daughter enjoys doing her own hair, which entails putting a hundred bows, rubber bands, and barrettes onto every square inch of her head. By the time she's done, she's proud of herself and making her remove them and then re-doing her hair would hurt her self-esteem.
There's nothing wrong with looking like a ragamuffin in public.
Lipstick. A lover of make-up and all things girly, my daughter routinely invades my cosmetics bag and occasionally ends up looking like a clown.
Sure, I could rub the lipstick off her face, but the rage that would ensue just isn't worth it.
Unless we're going somewhere important, the lipstick is staying on.
Wearing Pajamas to School. My daughter has a closet full of pristine monogrammed, smocked, and brand name clothing. What does she want to wear to school? One of ten polyester Disney princess nightgowns that were purchased at Wal-Mart.
She won't take no for an answer. If I try to put something else on her, she arches her back, scorpion-style, and it takes twice as long to get out of the house in the morning.
So, as long as they are clean, she can rock her pajamas at school.
This is daycare, not Harvard.
6:00 a.m. Manicures. My daughter occasionally arises at the crack of dawn and wants a manicure. Her preference is "rainbow" style, which means a different color on each fingernail.
As there will come a time when she is a teenager and wants nothing to do with me, as long as I'm already awake, I will happily oblige.
Again, not worth the battle. (And so worth the memories!)
Cookies for Breakfast. Despite having a plate full of organic eggs and farm-fresh fruit in front of her, my daughter can become fixated on the cookie in the pantry.
As long as she eats the eggs and fruit first, I'm cool with the cookie because I know the cookie is a means to an end.
And I try to buy healthier cookies for this very reason.
Nighttime Snuggling. People have strong opinions about co-sleeping, but it doesn't phase me.
When it's 3:00 a.m. on a Thursday, my husband and I have to work the next day, and our daughter crawls into our bed asking "can I snuggle wiff you?" telling her to get back into her own bed isn't an option.
Definitely not worth the battle.
Reading the Same Book or Watching the Same Movie a Hundred Times. My daughter can become obsessed with books and movies.
As in, she wants to read or watch them over and over and over again.
When it's late at night and we are trying to wind her down in preparation for bed time, we don't care if we read Pinkalicious or watched Shrek every day for the last month. We are going to comply because the battle isn't worth it.
Tooth Brushing. Ordinarily, this is part of my daughter's nighttime and morning routines. There are, however, occasions where she will fall asleep in the car and we have to transport her into the house and attempt to get her into bed without waking her up.
We are not going to risk an explosive event occurring in our home by waking her up to brush her teeth.
As long as skipping it occurs infrequently, tooth brushing can wait until the morning.
Absolutely not worth the battle.
Cheers to choosing parenting battles wisely!

Jennifer Burby is a humorist and lifestyle blogger at The Champagne Supernova. For more laughs and parenting truths, connect with her on Facebook and Instagram.