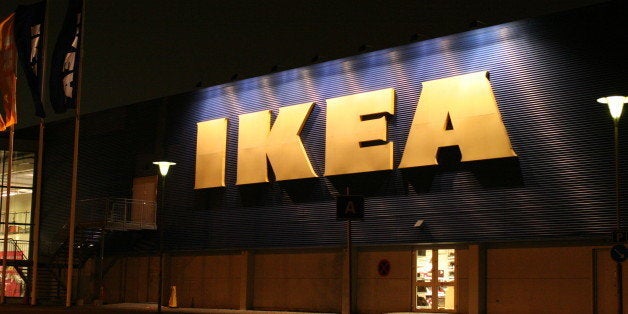 IKEA North America teamed up with the U.S. Consumer Product Safety Commission earlier this week to launch a program that distributes free wall anchoring kits for several of their chests and dressers. The initiative is not a recall -- the product "repair" safety kits are actually already included with most chests of drawers sold at the Swedish superstore -- but in the wake of reports that two children died after IKEA dressers tipped over and fell on them, every single parent who has a child that wears clothes (and therefore requires a drawered receptacle to keep those clothes in) needs a reminder that an accident like this could happen to their kid.
I know, because it happened to mine.
When we converted our daughter's crib into a toddler bed, she didn't handle the change well and would spend hours tearing her room apart at night. "No Sleep 'Til Brooklyn"? Try Sao Paulo. Or Tokyo. Or Perth.
We did the best (we thought) we could do, and removed every possible distraction from her room -- the bookshelves, the toys, the rocking chair -- everything except her bed. And the dresser, which seemed safe, because what toddler is strong enough to pull a dresser over, except maaaybeee baby Joe Manganiello ?
I knew better. I'd seen every Oprah show about how accidents like these are just waiting in homes just like mine to happen to families just. like. mine. But I told myself otherwise. In fact, I had a systematic set of excuses that went down something like this:
8. "My husband made his way through all 152 steps of putting this dresser together and only swore at it 515 times. I want to reward his hard work by forgetting about that pesky "optional" step #153."
7. "Besides, even if we wanted to secure, what does that even mean? Ugh. Like, anchors? Studs? What's a stud? We don't even have a drill..."
6. "...And if we did own a drill, I wouldn't use it to mess up the walls. We rent this apartment, and I don't want to lose the security deposit."
5. "I mean, we're moving into our own house in just a few months before the new baby comes -- we'll do it in the next place. Our forever place! We'll staple gun and toggle bolt up the whole dang place once it's ours!"
4. "It's fine to wait until then, right? She's only two. She's not strong enough."
3. "And the dresser doesn't even feel wobbly."
2. "And we don't live in an an earthquake-y area."
1. "And it won't happen to us."
She was supposed to be taking her afternoon nap when I heard the scream. Not her super-fake "I'm out of chocolate milk" scream. Genuine pain and terror. I ran into her room to find my little girl trapped underneath the pretty white Hemnes chest with the cute yellow striped lining we'd so lovingly assembled before she was born.
She must have been trying to climb it. I don't know; I didn't really look around the room. I was too busy making sure her head was okay. And that she was alive.
As I rushed her to the children's hospital E.R., I knew from her chit-chatting in the back that she was okay. Her exam proved it, and she came home a few hours later with only a couple of scratches and bruises.
That night, we moved the dresser into our room, where it stayed out of her reach for five months until we moved into our own house. I hired a professional babyproofing company to attach it to her newly-painted Creamsicle-orange walls.
When she gets older and wants to re-arrange her room, it'll be a pain. But I could care less about the inconvenience.