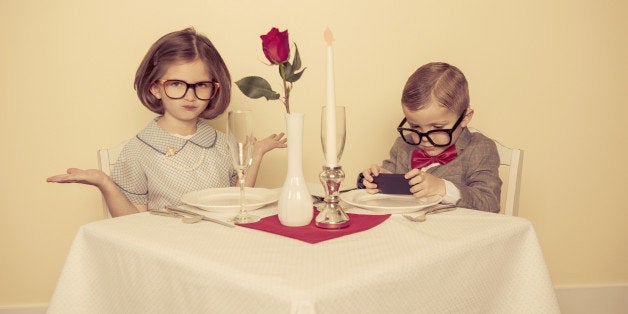 I've made it no secret that I dislike dating. As an introvert, I cringe at the thought of making small talk with a stranger about where I grew up, whether I like my job, and what my favorite foods are (sushi and pizza, for the record). If I could just skip to the part where we order take out and watch Netflix on the couch, that would be great. Twenty-nine seems a bit too young to give up on love, though, so I am venturing back out into the dreaded dating world. Over a year after my divorce, and nearly two since the separation, there have been three characters to enter the single mom dating saga.
The first guy I dated was an all-around good person. Our families had known each other for decades and decided to set us up. We spent the summer after my divorce getting to know each other and enjoying each other's company. We were raised similarly and were both single parents, so it was nice to have someone with whom I related. After a couple of months of dating, we called it quits, but I still have the utmost respect for him and his family.
The second guy I dated was probably the best suited for me. A few years older than me, a fellow educator, and wildly attractive, it seemed like a perfect match. During the couple of months we dated, he was thoughtful and attentive to both me and my kids. The timing was off, though, and we both recognize that now. While the relationship did not necessarily end on good terms, we have renewed our friendship, and I still care very deeply for him.
The third guy. Whew. The third guy. He gave me all the feelings. And I mean all of them--joy, affection, attraction, disappointment, hurt, and anger. Things either ran hot or cold with him. We were either up talking until 5 in the morning or I didn't hear from him for three days. After four months of sporadically dating, things ended in somewhat of an explosive fashion. At one point while I was dating guy #3, my friend, Steve, asked me, "How many red flags are you going to let this guy throw up before you end it?" It is in light of this question that I have composed a list of post-divorce dating red flags:
(I will be using the pronoun "he" but acknowledge that both genders are equally capable of these offenses.)
lying--at any point, for any reason, about anything
he asks about your children but is never willing to meet them
everything is always on his time--calls, texts, dates, etc.
he always comes to you (you never see where he lives)
he constantly cancels or reschedules dates
a refusal to call you his girlfriend or deem it a relationship
he calls or texts daily but waits weeks in between actual dates
you don't meet his friends/family, and he doesn't meet yours
Looking over this list now, I can only shake my head and chuckle. Any one of these red flags should have been enough for me to say, "Thanks, but no thanks." I really am a sensible person, most of the time, I promise. In the name of chemistry and attraction, though, I found myself lowering my expectations. Justin Long's character in He's Just Not That Into You had it right, though: "If a guy wants to be with a girl, he will make it happen, no matter what." So, even if this list doesn't help you, I am hoping that it serves as a reminder to myself as I continue this dating adventure that just because I'm divorced doesn't mean I'm broken, and just because I've made mistakes before doesn't mean I have to settle now.
Support HuffPost
A No-B.S. Guide To Life
Related
Popular in the Community