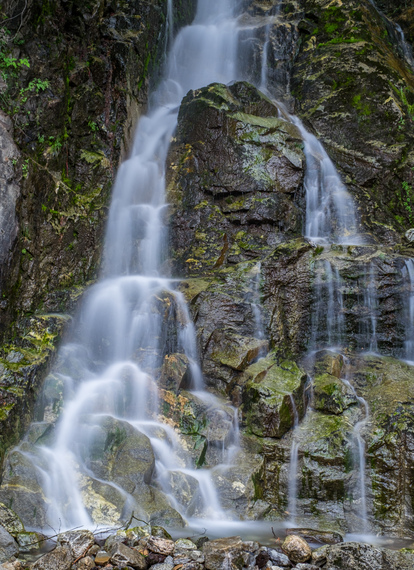 Just one of what seems like a million waterfalls that can be found in and around North Cascades National Park. Photo credit: Jonathan Irish
North Cascades National Park is a confluence of many of our favorite naturally occurring exquisite things--brilliantly colored alpine lakes, evergreen expanses, rocky mountainous peaks, and waterfalls cascading in every direction. Our visit there this year was not our first, and it will not be our last, as we have strong roots in what is called The Evergreen State--it's where this adventure really began, when we met there 11 year ago. We're keeping this one simple, as this area is nothing short of simple in its pure beauty, and offering up eight of our favorite things about one of the least visited parks in the entire system, North Cascades in northern Washington.
1. Waterfalls: The waterfalls that breath life into the North Cascades are too numerous to count. Whether they are cascading forcefully from the mountain high or peaking out of the vegetation as you drive along scenic mountain roads, you won't explore far without seeing runoff from the Cascade Mountain Range. Ladder Creek Falls are the most popular and the most traveled as they are easily accessible, but there are plenty of flows to marvel at and to photograph throughout the park.
2. World class hiking: There are 400 miles of hiking trails in North Cascades National Park providing more routes of pure hiking bliss than any one person could ever experience in a lifetime. A forest of wilderness like that which you'll find in the North Cascades is remarkable in so many ways--it's like an incubator, everything informs the growth of another. The forest floor is thickly covered with leaves, pine needles and cones that, always at least a little bit wet in this marine environment, mash together and swallow the sound of any foot that stomps through it. And there is no horizon--just the tree line and mountain peaks hiding behind skyward evergreens. When you are hiking in this region, you aren't on a landscape, you are in it--enfolded in some of the most outstanding forestry in the United States. This place is paradise for those wishing to hoof through an immaculate woodland wilderness.
3. Backpacking: Hikes are more fun when at the end of them you can pitch your tent and relax for an evening (or more) in a backcountry setting. Many backpacking routes in the North Cascades bring you to pristine alpine lakes that the area is known for, including Ross Lake, and Thornton and Monogram Lakes. Hikes tend to be difficult in this region because of the steep terrain, and even more so with the added weight of an overnight pack, so plan on putting your game face on before setting out on a backpacking adventure in the area.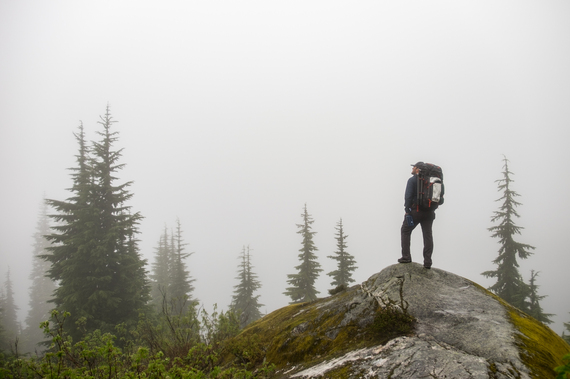 Jonathan Irish makes way on a misty morning out of the Thornton Lakes backcountry camping spot. Photo credit: Stefanie Payne
4. Paddling in glacier lakes: The intensely green alpine lakes that are situated in the Cascade Range provide still waters upon where your self-propelled watercraft can softly glide beneath captivating views in every direction. In most cases, you will need to provide your own boat and launch from one of the designated areas found throughout the park. Diablo and Ross Lakes are two popular areas within the National Park Complex where you can set out on backcountry and day-paddles. Rentals are available at the Ross Lake Resort.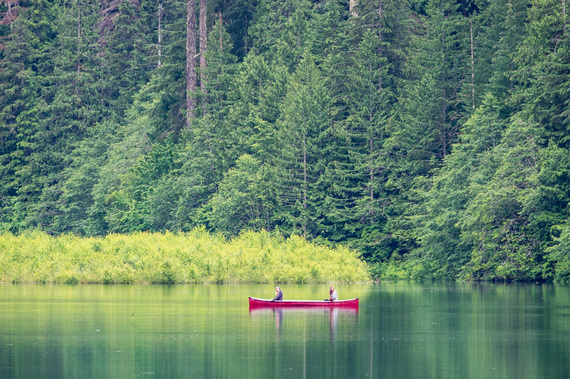 A perfect place to pick up a paddle and go for a float! Photo credit: Jonathan Irish
5. Color: There are seemingly more shades of green in this area than in any other place. They don't call it The Evergreen State for nothing! Walls of sky-high evergreen trees, mosses, lichens, vegetation, leafy trees, seafoam-colored mountain lakes... abstractly, its vibrant hues are a major feature of the area. The moist climate and rich soil allow greenery to flourish here; in the North Cascades, there are more recorded plant species than in any other national park. If you love the color green and breathing in the clean air that such plant life provides, this is your place.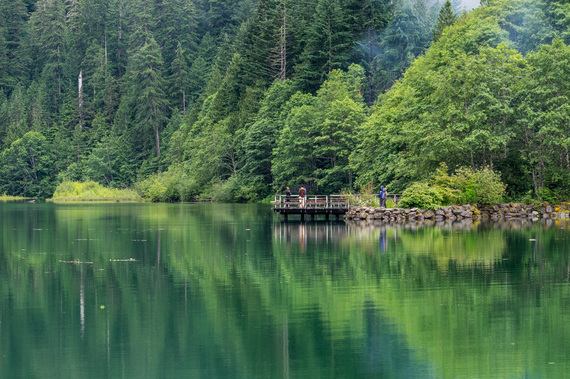 Every shade of immaculate green can be found in the North Cascades--it's a never ending deep breath of the cleanest, greenest air! Photo credit: Jonathan Irish

6. Incredible photo ops: With dramatic snowcapped mountain peaks, rocky ridge lines, glaciers by the hundreds, waterfalls, vistas, and lakes, there are endless ways to capture a landscape so photogenic, that it inspired literary great Jack Kerouac to perch himself atop Desolation Peak for 63 days in the summer of 1956 (he would later write about the experience in his acclaimed novels The Dharma Bums and Desolation Angels.) Our top pick for picturesque views of the North Cascades is at Mount Shuksan, one of the highest non-volcanic peaks in the Pacific Northwest. At 9,127 feet, this sunrise beauty is a great place for photographers to bag their mountain shots with puffy clouds that roll over still mountain waters.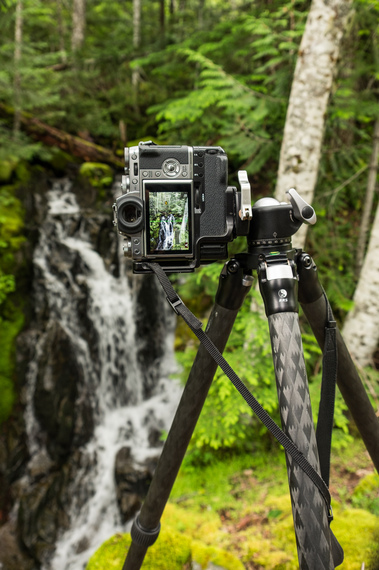 Getting the shot with the Fujifilm XT-1. Photo credit: Jonathan Irish
7. Farm fresh food: Washington is known for incredible farming and fresh local ingredients--it is one of the elements that makes Washington one of the great foodie states in this country. We made a stop at Cascadian Farms in the foothills of the park to pick up what was freshest at the time we were there: raspberries and blueberries--perfect for snacking in the car and on the trail.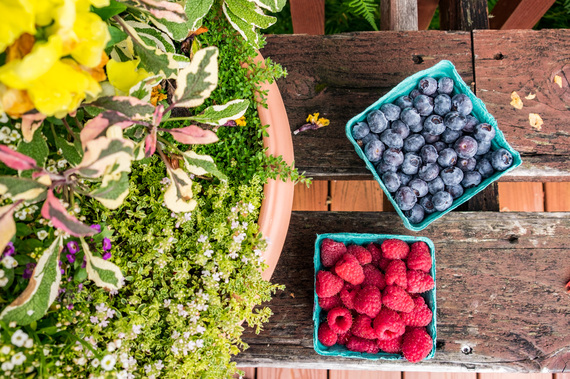 Farm fresh fruit found at Cascadian Farms...Washington State prides itself on incredible local foods, as it should, making it one of the great foodie states in America. Photo credit: Stefanie Payne

8. Seclusion near a (super cool) major city: North Cascades one of the least visited parks in the country and it is located just 2.5-hours driving from Seattle. In just one day, you can fly into SeaTac, hop in a car and drive 130 miles to the park and on up State Route 20 for immaculate views like the one below.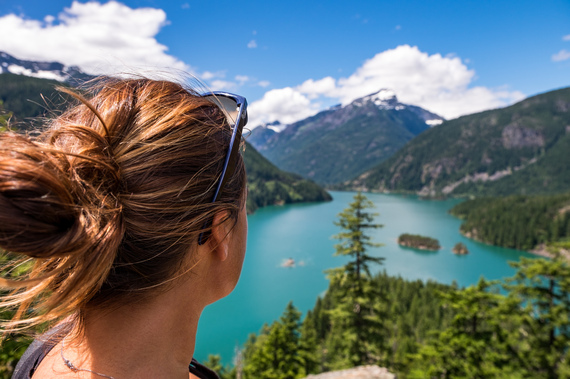 Just a few hours from downtown Seattle, Stefanie Payne finds her "ahh" in her spectacularly beautiful home state. Photo credit: Jonathan Irish