There is no symbol more emblematic of the American southwest than the saguaro tree -- standing tall with two arms reaching out from it toward the sky. If you've ever purchased El Paso brand Tex-Mex products at the grocery store, you've seen at least some version of this tree. (It's worth noting here that saguaro trees don't actually grow in El Paso.) With countless brands using artful renditions of this cactus to visually describe the southwest, it makes seeing the real thing up close very surreal. This park takes the cake in terms of sense of place.
Instead of looping our experience into one long narrative, we're going to switch it up for this article and neck down on our very favorite aspects of this park. These are listed in no particular order, and a couple of them don't even live inside the park -- but they did enhance our Saguaro National Park experience, so we're including them. Without further ado, here it goes: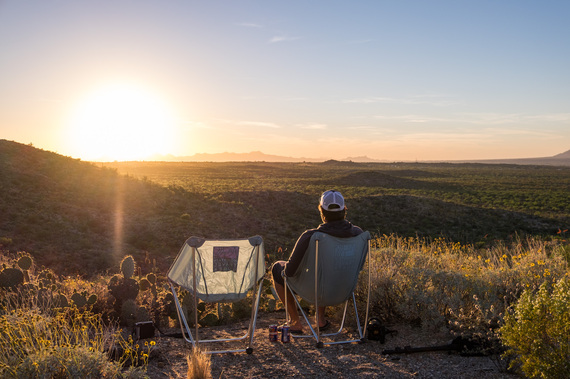 All set up just in time for sunset... Catching a minute to look just with our eyes on Cactus Loop Drive in the Rincon Mountain District, Saguaro East. Photo credit: Stefanie Payne

1. Two parks in one. Saguaro National Park is split into two sections -- the Tucson Mountain District sits west; the Rincon Mountain District sits east; and the city of Tucson and its 1-million residents sits in between the two. While the two sides of the park bare the same name and share likeness in desert landscape, they are quite different in terms of nuance. Saguaro West is home to the dense saguaro forests that rise from the hillside. Here you will find low-desert grasslands, shrubs, and densely populated saguaro forests. Saguaro East is the area of parkland originally preserved by Herbert Hoover when he dedicated it as a monument in 1933. It is the jumping off point to backcountry and the habitat of elusive wildlife such as the rare Gila monster and the Caoti. Here you will find high-elevation conifer forests, in addition to saguaros and desert mainstays such as cactus and wildflowers. In a general sense, Saguaro West is more manicured; Saguaro East is wilder.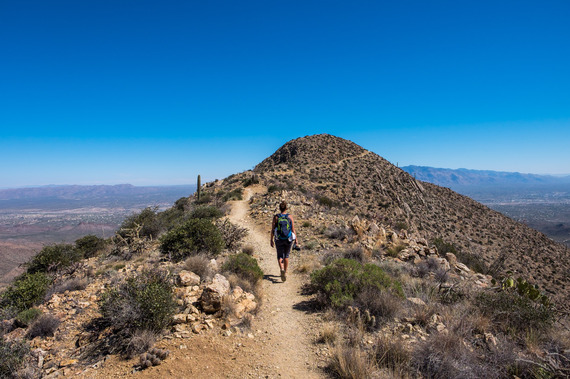 Stefanie Payne pushing to the top of Tucson, Wasson Peak at 4,687 feet, along the Kings Canyon Trail, Saguaro West.
2. Big hikes. In Saguaro West, we found our big adventure along the Kings Canyon Trail. The beauty of this hike is that it connects to several trails throughout, allowing you to choose your own adventure. We chose to push past the 7-mile roundtrip loop and blaze in another direction, extending the whole of our experience to 11 miles. This was kind of an accident--a happy accident though, as it led us to the highest point in Saguaro West: Wasson Peak standing at 4,687 feet and towering above Tucson. (Friends in Tucson, you know who you are, we waved and said "hello" from above!)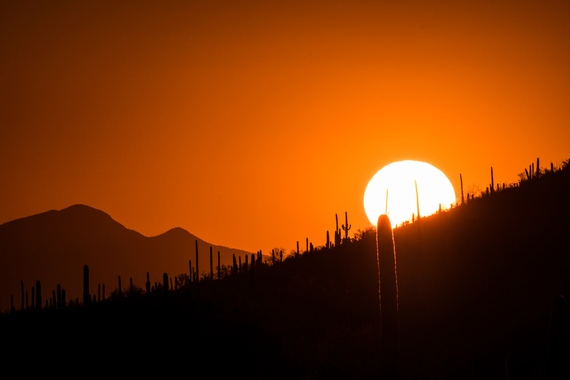 When you think of the American southwest, you are most likely envisioning Saguaro National Park. Photo credit: Jonathan Irish
3. Iconic scenes to photograph. We figured that we could capture an iconic shot of the lone saguaro tree in the forested west so we started there. However, the denseness of the trees made getting a shot of an isolated saguaro a difficult (but not impossible) challenge. Ultimately, we found our favorite saguaros to photograph on the east side. Either is great though, especially against a backdrop of gradient pink and blue desert skies. Photography here is all about capturing desert silhouettes, and those exist everywhere you look.
4. Scenic drives. The Cactus Forest Loop in Saguaro East is a paved, one-way, 8-mile road with pull offs that overlook the valley -- an easy way to pick and find easy trails into the wilderness. When we found our sunset stop, bikers blazed passed us hollering "hey, nice spot!" and the like as we set up camp chairs perched above the valley. Connecting with people who are enjoying the park too is by far one of the greatest aspects of this journey.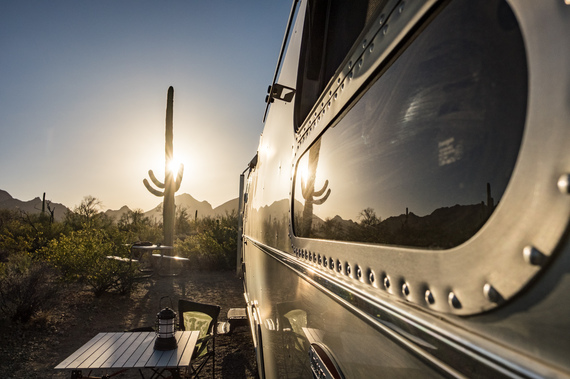 Wally the Airstream dazzles at the Gilbert Ray Campsite in Saguaro West. Photo credit: Jonathan Irish
5. Rock-star campgrounds. For a full-time RV-er, it says a lot about a campsite if it doesn't have wifi or electricity and you still prefer to stay there more than any other place. The Gilbert Ray Campground was perfect -- inside the park and nestled inside saguaro trees and desert shrubs with the mountains in the background cradling the moon. In point #3, we talked about finding the best sunset spots in the park and this was without a doubt one of them. We were able to take in all of the desert beauty without leaving Wally the Airstream's doorstep.
6. Close proximity to great Tex-Mex food. We don't want to be mean, but Tex-Mex in DC sucks. Sorry to all who disagree, that is our opinion after 8 years of living there. Tucson on the other hand has one restaurant that made some of the best Tex-Mex either of us had ever had. I don't know if that's just because absence makes the heart grow fonder or what but... The authentic mariachi, perfect house made tortillas, margaritas made from real margaritas -- no joke: best ever Tex-Mex food.
7. World-class wild habitats. There is boundless wildlife living inside of the national park, and as wildlife is generally elusive, could be hard to spot during the daytime when they tend to hide from heat and visitor traffic. A worthwhile remedy for all of those wildlife lovers out there is a visit to one of the most popular and most visited museums in the United States, just steps from Saguaro National Park in Tucson. The Arizona-Sonora Desert Museum gave us one of the most awesome experiences we've had yet this year, and we've seen and done a lot already... Read more about our visit to the Desert Museum in our "Stops Along the Road" section.
8. The comical saguaro tree! The saguaro tree is the largest cactus in North America. They may look like loving characters from a child's storybook, but these are some serious trees. They can weigh up to nearly 5,000 pounds and live up to 200 years old. We spent a lot of time looking for "the perfect tree" and determined that there is a tree for everybody. Maybe you like the perfect-looking two-armed saguaro, maybe you like the saguaro with many wrangled arms reaching out in all directions. Their differences make them fun to photograph, characterize, and admire.
We don't know what you do for a living, but we do know you likely need a break. And, nearly halfway through the year, we're challenging you (yes — busy, overworked, financially stretched you) to #TakeABreak. During the month of June, we'll help you nail down how many vacation days you have at your disposal, figure out where to go, and plan a trip you can actually afford. For 30 days of travel tips, cheap flight hacks, vacation ideas and wanderlust galore, sign up for our Take A Break action plan here!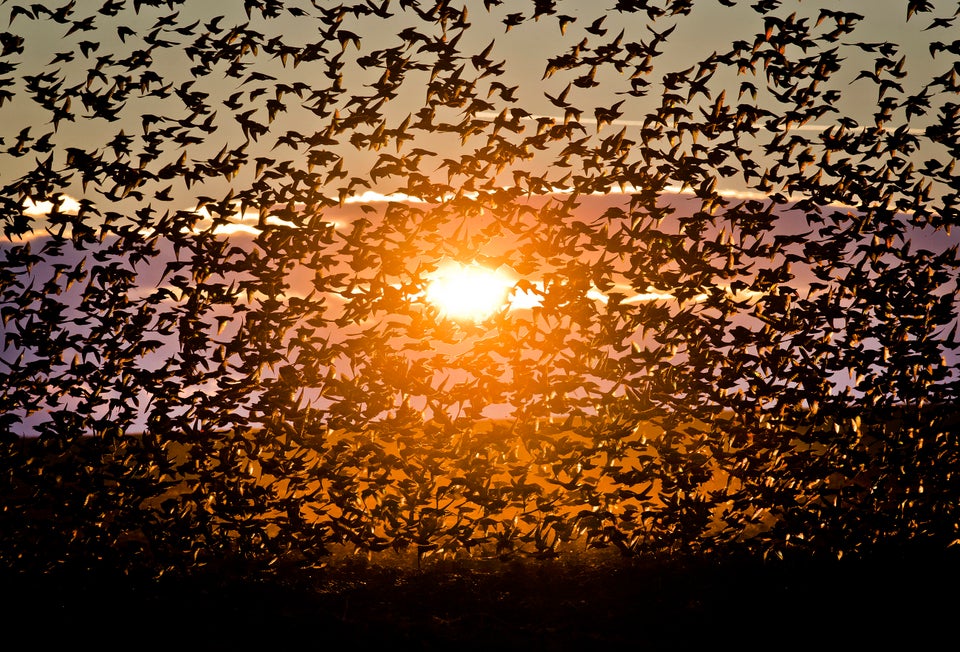 Stunning Images From Around The World