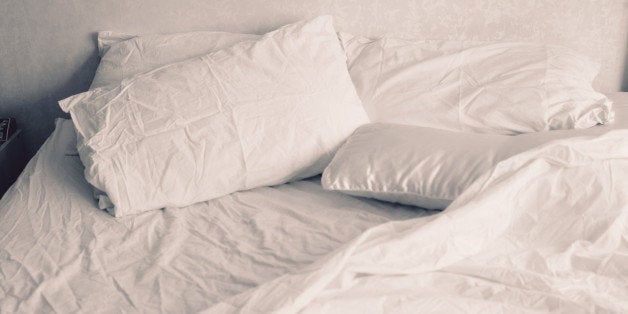 Every June, we transform our family home into a "vacation retreat" that makes our guests feel like they are the first travelers ever to lay upon our pressed white sheets.
While strangers are romping in our bed -- and every other nook and cranny of our house for all I know -- my husband and I are nowhere near the action. We are off having our own adventure with our children in crystalline seas somewhere below the equator.
An adventure that is fully funded by pimping our house in Santa Barbara as a summer vacation rental on VRBO.com.
We live in a 4 bedroom, 2 bath "rustic mid-century modern" home. Our house is lovely and charming, but undeniably un-fancy. However, our un-fancy home commands a fancy nightly rate because we happen to live in a top tourist destination. But Santa Barbara is not the only town that draws summer tourists and families who want more out of their accommodations than a mini fridge and two queen beds. In fact, 60 million travelers visit the just the HomeAway websites every month to find beds that are not in a hotel.
Many of these travelers would prefer to sleep in your bed.
It is a hassle to pack up everything and everyone in our house for the summer. Our "vacation retreat" is also our primary residence and home to our three boisterous children. It takes weeks of hard work to make our house look like we don't exist.
Plus, I am a germaphobe and not naturally disposed to letting others frolic in my bed. To ease my anxiety, I cover my organic mattress -- that cost as much as a small car -- with an industrial-strength mattress pad, but there is nothing I can do to prevent guests from sleeping in my children's beds, or soaking in my bathtub or scratching my stainless cookware in the kitchen.
So I try not to think about it for the rest of the summer.
Despite the ick and the ack, here are the top reasons why it's still worth it to rent your house and let strangers on vacation do, what strangers on vacation do...
1. The Money, Honey: Renting our home for just 6 weeks during the summer pays our mortgage for 6 full months. That's right, 6 months mortgage-free.
2. Getting Paid to Stage: Mermaid-print patio cushions, high thread-count pima cotton sheets and designer melamine trays -- suddenly these splurges count as genuine investments.
3. Everyone is Doing It: Everyone from our dentist, to our tech-millionaire friends, to our realtor who wears Prada heels all rent their houses and aren't ashamed to "leverage their assets."
4. Forced Decluttering and Deep-Cleaning: Instead of feeling exhausted after purging my children's junk while they sleep and literally scrubbing floors on my hands and knees, I feel elated. With the help of a deadline, clearing away knickknacks can feel like a spiritual practice.
5. Summer Travel: We have to go somewhere and are fortunate to have flexible work that only requires a reliable internet connection. We aim for inexpensive, yet cultural experiences and alternate between my in-laws' cabin on the east coast and vacation homes in countries with favorable exchange rates.
6. Sharing the Love: We love our home and shouldn't be surprised that our renters adore it too. But reading their enthusiastic emails and text messages all summer long is an unexpected, yet thoroughly enjoyable aspect of renting our house.
7. Killing the Honey-Do List: With a burst of super-sonic energy, many late nights and many cups of coffee and we check off every single nagging house project and repair in one manic month.
8. Coming Home: We return home and wander around our strangely uncluttered house, appreciating the light and how the garden has grown. And that first night back, after I rip off the mattress pad and change my sheets, I luxuriate in the fact that my husband and I will be the only occupants sleeping (or not sleeping) in our bed.
At least until next summer, that is.