In the digital marketing world there are two major players when it comes to attracting website traffic: SEO and pay-per-click (PPC) advertising. There are several pros and cons of SEO and PPC, and in a perfect world your business should incorporate both into your online marketing strategy.
The search engine optimization process can be a long one and with algorithm updates combined with high competition, it is leading more businesses to allocate more of their online marketing budget for pay-per-click advertising. PPC is so attractive because it can quickly drive highly targeted traffic to a website. The drawback is that it requires a lot of knowledge and experience to do it correctly.
Many business owners will create a Google AdWords campaign and quickly blow through the budget and have nothing to show for it. It takes a great deal of experience and understanding of how PPC works in order to properly set up and manage a campaign.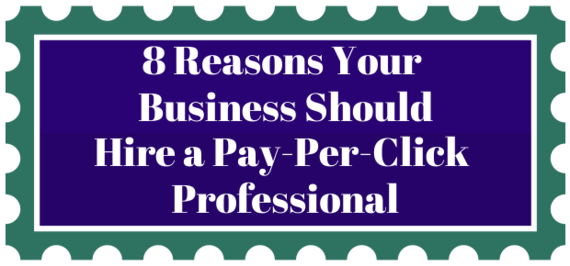 There is a reason marketing agencies charge a fee to handle the pay-per-click advertising. The following are reasons why your business should hire a professional to handle your PPC advertising:
1. You don't have the time required to monitor and optimize your PPC campaign.
As a business owner you already wear several hats and are probably already spread thin. Running a successful pay-per-click campaign requires constant analyzing and optimizing in order to improve the performance and ultimately the ROI. You are paying for every single click, so you need to make sure that the entire campaign is run perfectly in order to take advantage of and convert as much of that traffic as possible.
It is no secret that PPC is increasing in popularity and PPC costs are increasing as a result. So, unless you have several hours daily to dedicate to running your PPC campaign then it would be a wise move to have a professional PPC agency handle it for you, allowing you to focus on running your business and handling the day-to-day operations.
2. AdWords settings can be quite complex.
Diving right into an AdWords account can be intimidating because there are so many settings to utilize in order to get the most out of the PPC campaign. Something as simple as setting up your geo targeting wrong can result in a budget being spent in a matter of minutes.
Imagine setting up your account, adding your payment source, creating your ads and then setting the campaign live to learn that you blew through $1,000 worth of clicks in five minutes and you just received traffic from a different country to your local Pizza shop. It happens more often then you might imagine. Now, the geo targeting is just a simple setting that we used as an example. There are several settings that need to be correctly configured in order to have a successful PPC campaign. Let the professionals handle it so you don't need to worry about oversights that can lead to a poorly performing campaign.
3. Selecting the correct keywords to target isn't as easy as firing up software.
There are several monthly subscription based keyword research programs available that can give you some keyword ideas, as well as Google's Keyword Planner tool, but these are just that: TOOLS. They are simply there to assist and do not provide you with a concrete list of keywords that are guaranteed to perform well for your campaign.
Every PPC campaign is different, requiring a different keyword strategy as well. Selecting the keywords can result in a lot of traffic but no conversions or quickly depleting the budget without a return. Keyword research is an ongoing process as well. Poorly performing terms will need to be eliminated and uncovering profitable new keywords can help to really shoot the ROI through the roof.
4. The wrong ad copy can ruin a campaign before it even begins.
Writing strong ad copy is one of the most crucial parts of a PPC campaign. You could have the perfect keywords to target and a great landing page ready to convert visitors, but if your ads don't attract any clicks your campaign is dead in the water before it even begins.
More clicks will ultimately result in a higher conversion rate, so make sure that your ad copy is professionally written to attract your audience. The wrong ad copy can prevent consumers from clicking on your ads, and even worse it can result in clicks but no conversions because the consumer is interpreting the ad wrong before they click on it. PPC professionals study your audience, industry, competition, and goals in order to create ad copy that produces conversions.
5. Experience across multiple clients and campaigns can't be beat.
An agency that offers professional PPC management service works in multiple campaigns daily and is able to analyze all of their data and identify strategies and trends that can be implemented in your campaign as well.
You benefit greatly by having someone handle your PPC that has years of real experience. It can be very costly to start out if you are not experienced. Take advantage of utilizing a professional and you will see a ROI much sooner.
6. Constant tracking, analyzing, and optimization is required for success.
When you set up a PPC campaign correctly you are able to track everything and learn where every single conversion or sale originates from and then scale the campaign to really see a huge ROI. This takes constant tracking, analyzing, and optimization. It doesn't happen overnight and this goes back to the very first point, which is the time required to correctly monitor a PPC campaign.
A professionally managed campaign offers so much reporting and analyzing that can be used to improve the performance over time. For example, all of the pay-per-click campaigns that we handle includes full call tracking as well as full analytic and conversion tracking on the clients website. So, regardless of how the prospect contacts the business or performs an action, either via phone or through the website, we know where that originated from. This data is constantly evaluated and reviewed and the campaign is constantly optimized. Our goal is to constantly increase the campaign ROI.
7. PPC is constantly changing.
The online marketing industry is always changing and a marketing agency is always keeping up with the newest trends and changes. It is important to always be up to date with the latest technologies, tools, and strategies to keep PPC campaigns performing well. It is such a competitive space that you benefit greatly by having a professional handle your PPC.
8. Professionals can immediately point out problems with your landing page.
The page or pages that you are driving your PPC traffic to are a very large piece of the campaign puzzle. If the content on your landing page isn't properly optimized it will hurt your quality score, resulting in lower ad positions and higher CPCs. If your landing page is poorly designed it will result in low conversion rates. There are so many factors that need to be considered when creating your landing pages.
These are all things that a PPC advertising agency can help you with. As mentioned above, it requires constant testing and optimizing to get the campaign performing at a high level, and this includes split testing multiple landing page variations.
As you can see, PPC advertising requires a tremendous amount of time and know-how in order to be successful. Hiring a professional PPC firm to handle your campaign allows you to focus on running your business while the pay-per-click professionals focus 100% on your campaign and delivering your business a solid ROI.
Want more free online marketing tips? Make sure to sign up for the Market Domination Media weekly newsletter to receive free marketing tips in your inbox every week.
Related