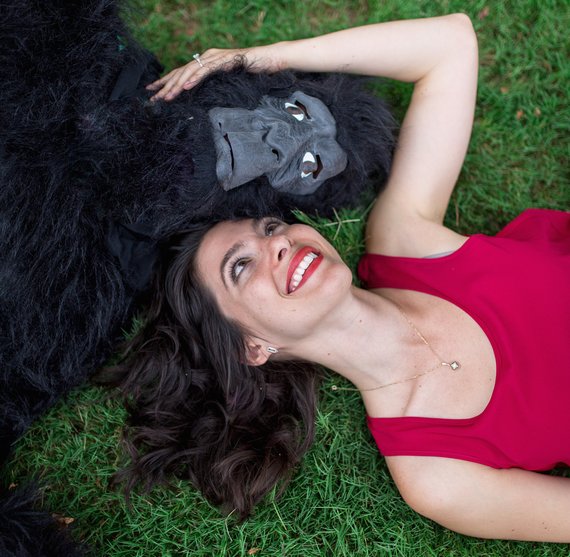 Photo Credit: Meera V Photography
For those of us who think that sending a pre-invitation before the actual wedding invitation is kind of ridiculous -- but we're doing it anyway.
1. You don't have to do this. Save the dates are an optional, informal engagement announcement and invite, sent to keep your guests from making their own fun plans on a date that you've selected as your "special day." Save the dates are also an unnecessary expense and a major time suck. If you're already dreading the whole process, know that save the dates are not required and a wedding invitation closer to the date will do the job.
2. Oh, you're still reading -- so you're doing it? OK, remember, the save the date is an informal invite. Don't worry about making your save the dates pretty. Sending a small card (or magnet if you wanna get fancy) with some words on it is enough -- your guests will figure it out. Just include the important info: your name, your partner's name, the date, location, and a wedding website (if you have one) where people can learn more about the event. Save the dates are also your chance to have some fun, so if you've got jokes, now's the time to tell 'em. Funny pictures of you and your partner are totally fine, or some humorous copy. Order on the cheap: Vistaprint Wedding Paper Divas PaperlessPost (if you want to try the e-vite route)
3. Order extra envelopes. You aren't hiring a calligrapher to carefully handwrite your invites (unless you are, then OK GIRL, GOOD FOR YOU), you're doing it yourself. So order at least 15-20 extra envelopes for when you end up spelling your grandma's name wrong or writing the wrong state code.
4. Labels are totally OK. If you don't feel like handwriting hundreds of invites, get address labels printed for the envelopes. Ignore what all the other brides are saying online about labels not being "personal" enough for save the dates because personally, I'm pretty sure you don't want your hands bleeding all over the envelopes. Embrace Avery labels and their awesome online address label formatting tool, hit print, and stick 'em on. Bye.
5. You don't have your own return address labels? THENGETSOMEWHATISWRONGWITHYOU. I made the mistake of not ordering return address labels and having to write our address 150 times in the top lefthand corner of every...single...invite. Don't do this, especially if you're planning a larger wedding. Address labels are a good investment anyway, so evade carpal tunnel for a few more years and place an order.
6. Weigh and measure your invite before sending. The amount of postage to include on your save the dates depends on the weight and size of the invite. Larger, heavier invites = more expensive to send/extra postage. Smaller, standard sized cards will usually cost $.49 (1 stamp). I mentioned to a postal worker that I was sending small, flat magnets and he said mailing magnets is supposed to cost $2.20 per invite, but I could get away with using a $.49 stamp. This is all good to know and it's totally worth a trip to the post office to save time, money, and a possible mountain of returned save the dates.
7. Once you send out, double-check the mailbox. After I dumped my save the dates in the large metal mailbox at the post office, I noticed a lot of them were sticking to the metal flap and not making it to the mail pile (hey, magnets). Double-check that none of your invites are stuck to the sides of the mailbox or trapped in the feeder flap. That's money, girl.
8. Don't assemble the invites alone. Ask your friends or partner do this with you. Create a sign, stuff, stamp, and seal assembly line and finish the thing. You'll save hours and probably have a little fun. It is your wedding, after all.
Want more great advice? Head over to Avelist. Learn from others. Adult together.