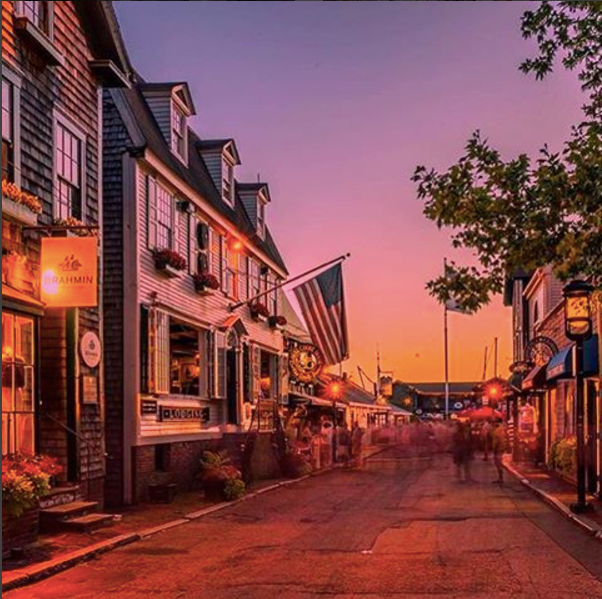 Newport, Rhode Island is one of those destinations that's oozing with historical significance. You can't walk down a street without seeing a pub from the 1600's, a fort from the 18th century, or a mansion from the Gilded Age. That, along with the stunning shoreline, is one of the reasons people have been visiting the coastal town for years. Heck, John F. Kennedy and Jacqueline Bouvier even got married in the quaint town in 1953.
So, as a bit of a history nut, it only made sense that I would add Newport to my list of places to visit. Fortunately, I made that wish come true recently and was in awe of the charming downtown, grandeur of Breakers Mansion and beauty of the famous Cliff Walk. But, it was all of the little tidbits not advertised that I fell in love with the most.
Here are 8 secrets you should know about Newport, Rhode Island.
1. You Can Play Tennis On The Historic Grass Courts
You can literally follow in the footsteps of some of sport's greats. Visitors are allowed to participate in their own matches on the grass courts at the International Tennis Hall of Fame. It is home of the first U.S. National Lawn Tennis Championship in 1881, which is now known as the U.S. Open. Just make sure to bring your tennis whites as proper dress is still required.
2. It's Home to Rare And Endangered Livestock
Once a year, the SVF Foundation, dedicated to the preservation of rare and endangered livestock, hosts an open house on its 35-acre historic farm property off Ocean Drive. Visitors can take tours and visit with endangered animals and cryogenics demonstrations. The meticulously manicured "Swiss village" style property was once the home of millionaire magnate Arthur Curtiss James and the farm dates back to 1914.
3. There's A Bar In The Field Of One Of The Oldest Ballparks
Historic Cardines Field is a great ballpark, functionally a mini-Fenway. But, in the summer, the best place to catch the games might be at neighboring Mudville Pub. The bar has a caged-in back patio that parallels the right field foul line on the field. Bonus: You can also enjoy a local brew there, unlike the ballpark.
4. A Bathroom Might Have The Best View in Newport
The bi-level Turret Suite at Castle Hill Inn is considered one of Newport's most unique. The custom wood spiral staircase leads to the second level where you'll find a marble bath chamber with 320 degree views of Narragansett Bay and the Atlantic Ocean. With the supplied binoculars, you can spot many area lighthouses.
5. It's An Awesome Surf Spot
When you think of big wave surf spots, Hawaii or California typically come to mind. But, amazingly during my trip I noticed a ton of surfers hanging 10 on some pretty insane waves and learned it's actually an awesome surf spot. Just behind some of the massive mansions is Ruggles, a hub for skilled surfers because of the exposed reef and waves that break far out over some gnarly rocks. The challenge is enticing due to the consistent right-to-left breaking wave and barrels you can ride through.
6. Rosecliff Has A Hidden Third Floor
When looking at this incredible estate it appears to only have two floors. Even inside it seems the grand staircase from the bottom floor leads to a second floor and that's where the tour ends. But, upon listening to the audio commentary I discovered there is actually a third storey. A balustraded roofline conceals the set-back third floor, which is where the servants' rooms and laundry room were.
7. You Can Sleep In Jail House
In Newport, there is no shortage of accommodation options. Whether you wanted a colorful boutique hotel like Gilded or five-star ocean view manor like The Chanler at Cliff Walk, there's something for everyone. Fancy staying in a jail? Yup, I found out that exists too. The Jailhouse Inn is a hotel set in a 1772 former jailhouse and police station. While the building has clearly been redone, there are still elements like a door that reads "Detective Division" and bars at the check in counter to remind you of its past.
8. Grace Kelly Would Hideout Here
To get out of the limelight, actress (and later princess) Grace Kelly would head to her Harbor House at Castle Hill. She would sneak down a rocky path to sunbathe on the rocks and take a dip in the water. The area was secluded allowing her to stay out of the public eye, but it was difficult to get up and down. The staff soon built a staircase that still exists to this day and you can rent the Cliffside home the beauty stayed in for your own private getaway.