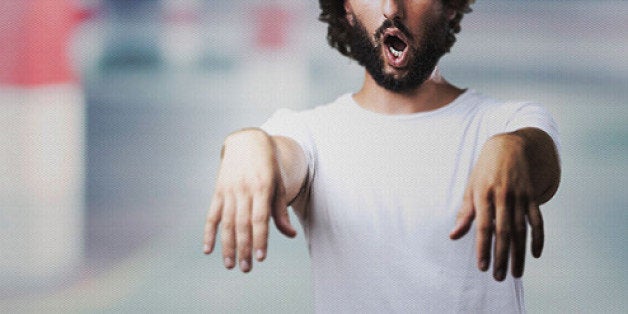 I am in no way saying that having a newborn baby is as awful as a zombie apocalypse (though I've never experienced the latter). These similarities are meant to be a humorous look at the ways in which the two experiences may be alike.
The idea for this post came to me as I was in a particularly intense parent-of-a-newborn brain fog, where I felt like a zombie. Then I sat down and came up with these 8 ways that having a newborn baby can be compared to a zombie apocalypse.
1. Your life is dictated by a being with a less-developed brain, who just wants to feed.
Zombie Apocalypse: With zombies wandering everywhere, looking to feed on you, you have to change the way you live your life.
Newborn Baby: With a baby needing to be fed (at least at first) every 2.5-3 hours, you also have to make some adjustments to your routine.
2. You must band together with friends and family in order to ensure survival.
Zombie Apocalypse: Without the support of loved ones, you won't stand a chance against the hordes of flesh-eating zombies.
Newborn Baby: It's equally imperative that you receive help from those who care about you. Otherwise, you're bound to get overwhelmed.
3. The world outside ceases to exist.
Zombie Apocalypse: Forget about the world outside the safety cocoon you've built for yourself, because you're better off staying where you are.
Newborn Baby: You may want to walk through those doors and explore the world you once knew, but most times you decide it's better to stay where it's safe.
4. You get far less sleep, due to impending feedings.
Zombie Apocalypse: It's not easy to sleep when you're dreading the appearance of a zombie looking to dine on you.
Newborn Baby: Having a baby eat every 2.5 to 3 hours makes it hard to relax and drift away. Even though you're oh-so-tired!
5. You start to appreciate how easy things used to be.
Zombie Apocalypse: There's not a whole lot of relaxation and enjoyment that takes place when zombies run amok.
Newborn Baby: You may have thought that having dogs was a lot of responsibility, for example. It really wasn't.
6. You eventually lose friends to these feeding beings.
Zombie Apocalypse: Odds are that the zombies will get to some of your friends, who won't be seen for a while, if ever again.
Newborn Baby: Your friends will begin to have babies, meaning that (at least for a while), you probably won't see them.
7. You can't prepare by reading a handbook or guide.
Zombie Apocalypse: You think you're ready to live in a world overrun by zombies, simply because you read What to Expect When You're in the Throes of a Zombie Takeover? Real-world experience may indicate otherwise.
Newborn Baby: It's great to read books before baby's arrival, so you have an idea of what to expect. A lot of that will go right out the window once you're thrown into it, meaning you'll forget or disregard a lot of what you read.
8. Eventually your brain functions decrease, and you walk around slowly and disoriented.
Zombie Apocalypse: Chances are you, too, will succumb to the overwhelming zombie force, thus becoming one of them.
Newborn Baby: Due to sleep deprivation and huge life changes, you will likely become indistinguishable from a zombie, yourself.