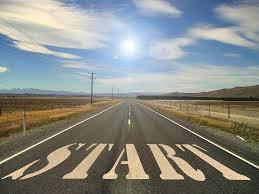 According to Business Insider's Infographic, The State of U.S. Small Businesses, there are 28 million small businesses in the United States. This accounts for over 22 million self-employed individuals. If you have been considering becoming a part of this growing number, here are a few easy steps to get started in the New Year.
Step 1 - The Write Move
The next time that you have that million-dollar aha moment, don't brush it off. Write your idea down on paper. Consider the name of your business. Envision your logo, and the colors you'd like to use. Who will your audience include? Think about your potential customer and the need that your business will meet. It only takes a pen and a pad to start the process.
Step 2 - Make it Official
Register your business with your local secretary of state office. Registration fees can range between $40 and $500. This varies based on your location. You'll need to decide on a business entity type and a name. You can register a business as a limited liability corporation, a partnership, a non-profit organization or a corporation. Many business owners consult with an attorney to help them make the best decision. Also, there are numerous online resources available with just a few clicks. Do your research, prepare your articles and make it official.
Step 3 - Take a Number
The next thing you'll need to do is visit IRS.gov. The site outlines an easy application process to apply for an Employer Identification Number (EIN). Upon completion, you'll be able to download a copy immediately to print or save for your records. This number is issued for tax administration and allows you to start building business credit. You'll also need it to move on to the next step.
Step 4 - Open Up
Now you are ready to get a bank account. If you are really serious about starting your new business you'll want to establish a method of accepting payments from your customers. Business banking will allow you to separate your personal and business expenses. Most major banks require a copy of your business registration and EIN documentation. Take some time to research requirements, and find a bank that fits your long-term goals. Within 7-10 business days you'll receive a business card in the mail displaying your company's name. You'll be one step closer to materializing your vision.
Step 5 - Brand Your Brand
Now that you've laid down the foundation it is time to get your name out there. Register your domain name with a web hosting site like Godaddy.com, get a website and set up your social media accounts. You can also start a blog for free through Wordpress or Tumblr. You can select a themed template and easily input content about your product or service.
Wix.com and Weebly.com are also popular sites that help business owners design free websites for promotion. Vistaprint.com offers cost-efficient business cards and marketing materials. But if you have access to substantial startup funding, a graphic designer can design a custom website, logo and business cards to your liking.
Step 6 - Extra Credit
A DUNS number is another essential tool offered by Dun & Bradstreet, which is often referred to as D&B. This number allows you to establish a credit file for your business. The file itself can be compared to a personal credit file with Transunion, Experian, or Equifax. But in this case it relates to your business' credit. It is free to apply for this number, but there is a fee to formally establish your file and begin reporting credit activity.
Step 7 - Be Advised
When in doubt there are local resources available who focus on helping people become successful small business owners. SCORE offers free small business advice and mentorship. With over 320 local chapters, they host vital workshops that discuss business related topics like growing your business with social media and small business financing. Likewise, the U.S. Small Business Administration has local chapters and similar workshops. They offer training, information on qualifying for contracts and business planning resources.
Step 8 - Go the Extra Mile
In some cases you may need a permit or license to do business. This all depends on the type of product or service that you'll be offering. Eventually you'll also need to trademark your logo and create formal plans. You'll need a business plan and a marketing plan, especially if you wish to pursue investors. With the growing popularity of crowd funding sites like Kickstarter and Fundly, finding financial backing might be a little easier than landing a spot on ABC's Shark Tank. With perseverance and determination, you CAN start your business in 2015.
Related