SPECIAL FROM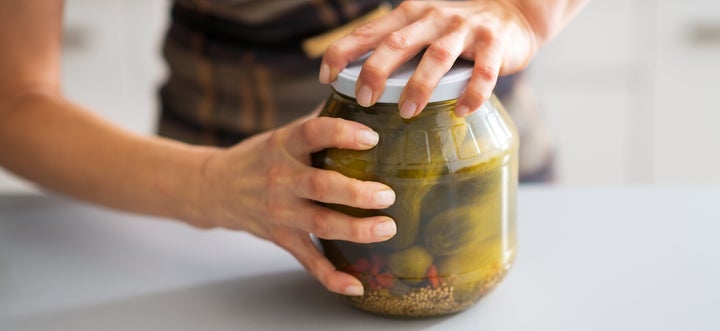 Who hasn't tried to open a jar lid only to have it stay frustratingly stuck, or reach for a high item on a shelf to no avail. Little problems like these can be annoying. That's why we've asked Dr. Leonard's, the company famous for their catalog of household and health problem-solvers, for their best solutions.
If you've ever tried to reach for an item on a high shelf or on the floor, and haven't been able to get to it, the long reach grabber is for you. The grabber extends your reach nearly 3 feet so you can avoid bending, climbing or straining. And best of all, the claw is designed to pick up an item as small as a paper clip or heavy as a can of vegetables.
Price: $7.99
Buy It Now!
2. Swivel Seat Cushion
Getting in and out of the car be a hassle sometimes—all that twisting and turning. The swivel seat spins in either direction so you don't have to twist and strain to get out of the car.  It's lightweight, is made of memory foam padding for real comfort, and supports up to 350 pounds. 
Price: $12.99
Buy It Now!
3. Easy Grip Jar and Bottle Opener
If un-budgeable lids drive you crazy or pain in your hands make it difficult to open jar lids, this is the answer to your problem. Theeasy grip opener can twist off lids in seconds, pain-free. So smart, so easy! 
Price: $6.99
Buy It Now! 
4. Sure Grip Bath Handle
Getting in and out of the shower can be daunting. You don't want to slip and fall. This bath handlehas flip-down levers that secure suction cups onto flat surfaces, that way you have something sturdy to grab onto. No tools are necessary for installation, and you can easily move the handle depending on where you need it. Helpful color indicators also show whether or not the handle is properly attached. 
Price: $12.99
Buy It Now! 
5. Toilet Seat Lifter
If bending and stooping is painful, then this easy-to-install toilet seat lifter can help. A simple step on the pedal lifts or lowers the toilet seat, hands-free.  It's also handicap adjustable. 
Price: $12.99
Buy It Now! 
6. Slip Resistant Tub Mat
These mats have hundreds of cushiony bubble cups to ensure your safety as you get in and out of the shower or tub. The mat comes in five different colors and won't mold, mildew, or fade. And when you think it needs a cleaning, just toss it in the washing machine. 
Price: $9.99
Buy It Now! 
7. Drain Stoppers
Nothing is more annoying than filling the bathroom or kitchen sink, and immediately having the water drain out. These durabledrain stoppers quickly and easily put an end to the problem. They work with most drains and are great for the kitchen, bathroom, or laundry room.
Price: Set of 2 for $3.99
Buy It Now! 
8. Bulb Changer
Calling all HuffPost superfans!
Sign up for membership to become a founding member and help shape HuffPost's next chapter
BEFORE YOU GO
PHOTO GALLERY
9 Dirty Things In Your Home You Probably Haven't Been Cleaning