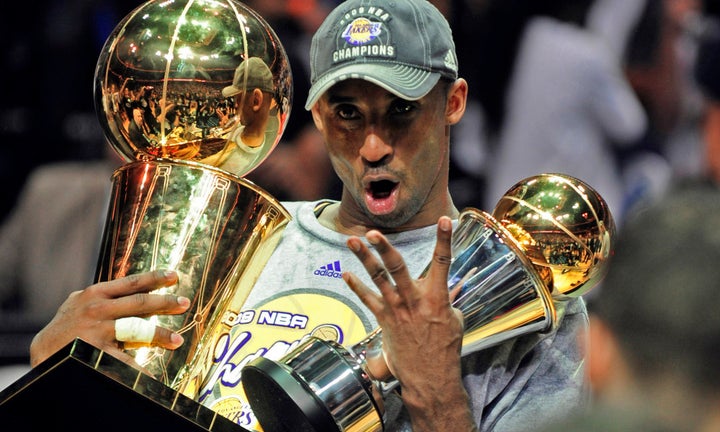 Professional athletes make a considerable amount of money doing what they love. However, there comes a point when their bodies tell them it's time to leave the field or court. In the past, many sports celebrities didn't know what to do with all their free time after retiring at an early age. However, in the present era of entrepreneurship, a number of sports celebrities have carved out a second career that leverages their skills. Many are generating even more money than when they were in sports.
Here are 8 sports celebrities turned entrepreneurs who are making an extraordinary difference for up-and-coming athletes.
1. Kobe Bryant
With a long, successful career with the Los Angeles Lakers and numerous basketball championships under his belt, Bryant was ready to retire from sports and head in a different direction. In 2013, he formed Kobe, Inc. This multimedia content-creation company was intended to help young athletes learn how to maximize their potential. Since then, the company has completed numerous film projects. Additionally, he started an investment platform with Bryant Stibel. This $100 million venture capital fund provides strategic, financial and operational support for startups.
Kobe Bryant's entrepreneurship also extends to philanthropy. This includes the Kobe and Vanessa Bryant Family Foundation, which is focused on helping young people through access to sports and mentorship, and his partnership with the Soong Ching Ling Foundation, which led to the launch of the Kobe China Fund to provide educational opportunities for youth in China.
2. C. J. Anderson
As a member of the Denver Broncos football team, C. J. Anderson continues to dominate on the playing field while also branching out into entrepreneurship. For example, he has invested in Tribe Fit, a platform for sports, fitness and nutrition influencers, who use it to create and run fitness and health challenges while engaging with their fans.
Anderson looks for opportunities where he can put his love of sports into bigger things that often intersect with cutting-edge technology. To fuel interest, Anderson is himself taking part in one of the fitness challenges, alongside NFL players Corey Liuget and Jahleel Addae of the Los Angeles Chargers.
3. LeBron James
A basketball player for the Cleveland Cavaliers who continues to dominate on the courts, LeBron James also runs a media company called SpringHill Entertainment. It has launched numerous TV shows and movies as part of a contract with Warner Bros. and other television and movie studios. In addition, James founded and runs a sports marketing company called LRMR.
4. Tony Hawk
Tony Hawk is proof that even skateboarding can become a lifelong career if you can transform your passion into a successful business. Hawk's entrepreneurship has taken him into retail revenue schemes such as clothing and video games. In fact, his skateboarding video game is one of the most widely bought video games ever. He also made a foray into acting that added to his earnings.
Hawk's entrepreneurship during his skateboarding career and after retiring from it has also had a philanthropic component. Both the Tony Hawk Foundation and Athletes for Hope have done considerable good for youth around the world.
5. Magic Johnson
Considered one of the best basketball players of all time, Magic Johnson may eventually top the list of athletes turned entrepreneurs. He has invested in the Los Angeles Lakers and the Los Angeles Dodgers baseball team. Magic Johnson Enterprises is his holding company for the numerous franchises he owns throughout the country. These franchise investments include 163 locations in 19 states, with well-known franchises like Starbucks, Burger King, 24 Hour Fitness and T.G.I. Friday's.
Many of the franchises are located in urban communities, where Johnson works tirelessly to build up job opportunities and revenue for neighborhoods that were previously underserved. Additionally, his company has invested in numerous startup organizations and group venture capital funds.
6. Shaun White
Besides being an extreme sports enthusiast and Olympian, Shaun White now heads up Shaun White Enterprises to pursue an extreme entrepreneurial spirit. With the same passion he brought to snowboarding, White has jumped into a variety of enterprises. These include clothing lines at Target and Macy's, as well as sponsorships with Burton, Oakley and Stride gum.
White also has a partnership with GoPro cameras and does sports commentary when requested for events like the Olympics. Furthermore, he had a band signed to Warner Brothers. He loves having many things to work on at one time and is always moving forward with new ideas and inspiration.
7. Shaquille O'Neal
Another NBA legend, Shaquille O'Neal got into the entrepreneur game early, especially to pursue his love of technology. He is a gadgets guy, and has invested heavily in tech startups and business ventures. His head is in business, and it shows with his portfolio of entrepreneurial pursuits. It includes being a pre-IPO investor in Google, along with ownership of fitness centers and Five Guys Burgers franchises.
O'Neal has also invested in Vitamin Water and Muscle Milk, and there are numerous product endorsements, real estate investments and more tech startup funding in his future.
8. Marques Harris
Retired from the NFL after playing for the San Diego Chargers and the San Francisco 49ers, Marques Harris recognized the importance of business and investment. He had seen too many of his athletic colleagues make bad choices with their football paychecks. As well as creating a youth foundation, Harris invested in insurance firms, a party bus, a tanning company and other burgeoning businesses.
He started a real estate investment fund and continues to grow his commercial cannabis business, District8, and his nonprofit foundation, Athletes For Care, which is dedicated to creating a community where athletes can find support, opportunity and purpose in life after a career in sports. Other pursuits involve helping to fund, raise awareness about and provide research on the impact of concussions on athletes.
Why Athletes Are Special Entrepreneurs
Athletes bring special skills and knowledge to entrepreneurship, and are often passionate about reinventing themselves. These athletes can define their purpose after sports if they can focus their energy and drive on new tasks. Furthermore, many want to give back and guide the next generation of athletes and entrepreneurs.