Last fall, Hillary Clinton was widely mocked for declaring, "Don't let anybody tell you that it's corporations and businesses that create jobs." Kicking off her presidential campaign in Iowa last week, Clinton sang a different tune, positioning herself as a champion for entrepreneurs and noting that her father, a textile wholesaler, had been a small business owner.
At her Norwalk, Iowa, roundtable, Clinton quoted a World Bank survey ranking the United States "Forty-sixth in the world in how hard it is to start a business." Clinton blamed "unnecessary regulation that has really put a damper" on entrepreneurship and said, "I want my campaign to figure out how we're going to jump-start small businesses."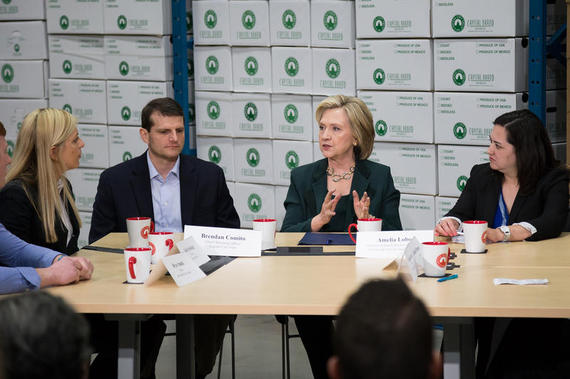 Hillary Clinton meets with small business owners in Norwalk, Iowa (photo courtesy Iowa Public Radio)
Many entrepreneurs can't help but groan when they hear politicians promise to help. As Austrian economist Peter Klein says in my new book An Entrepreneur's Manifesto (Templeton Press, fall 2015), "The best thing government can do for entrepreneurs is get out of their way."
Klein notes, however, that entrepreneurs do need "secure property rights, the rule of law, and sound money."
So, is there anything government can do to promote entrepreneurship?
After decades of academic neglect, entrepreneurs are finally being studied in an effort to answer that question. Reports like WEF's Global Entrepreneurship Monitor--the biggest comparative study of entrepreneurship across cultures and countries--are uncovering policy areas that must work in concert for entrepreneurs to flourish.
I surveyed this new research and interviewed many experts like Klein while writing An Entrepreneur's Manifesto. Based on my findings, here are eight steps I believe government can take to help small business:
Provide a fair legal system with strong property rights and contract law, and an orderly bankruptcy system that reassures lenders and enables failed entrepreneurs to get back on their feet.
Streamline business registration. The average time it takes to open a small business varies dramatically around the globe. New Zealand wins, with an average half-day and one official procedure to register a business. In Venezuela, it takes 114 days and seventeen procedures--seventeen opportunities for delay and corruption. The U.S. ranks twentieth, averaging five days and six procedures.
Encourage a diverse funding universe. Entrepreneurship experts say it's more important to have multiple money streams than one giant pipeline. Government can encourage development of new capital sources--such as equity crowdfunding and peer-to-peer lending. The 2012 JOBS Act, for example, provided new exemptions that enabled small businesses to use crowdfunding to raise money.
Enforce strong intellectual property laws. Microsoft might never have succeeded if IBM hadn't licensed the fledgling company's operating system--a deal made possible by intellectual property law.
Destigmatize business failure. Countries that do so experience higher rates of business formation. The European Commission Competitiveness Council reports: "Failed entrepreneurs are a precious resource. Due to experience, failure rates of second start-ups are lower. We should support entrepreneurs and give them a second chance."
Invest in education. Development experts agree that government investment gets the biggest bang for the buck in education. Over a third of America's universities are now partnering with small-business incubators to generate new businesses. In addition, we should provide entrepreneurship education to our high-school students.
Reform immigration and open borders. Immigrants account for nearly a third of all new businesses in the U.S., more than twice the amount created by the overall population.
Simplify tax laws. The 2013 Ernst & Young G20 Entrepreneurship Barometer notes: "Countries that offer favorable tax rates, simplify procedures, and provide entrepreneurial support will enjoy high numbers of start-ups."
The U.S. ranked thirteenth out of twenty in Ernst & Young's tax and regulation survey, trailing Saudi Arabia, Japan, and Russia. The U.S. was dead last in "coordinated support" that a country's government and economy offer to entrepreneurs.
Clearly, we can do more to encourage our entrepreneurs; including promoting the idea that failing is part of every success. It took Thomas Edison years to get the light bulb right. Asked what it felt like to "fail' many times, Edison famously retorted, "I have not failed 999 times. I simply found 999 ways not to make a light bulb."
Related
Popular in the Community