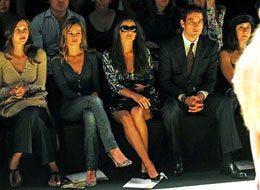 1. Well, let's see, no sooner had I written a piece entitled "The Death of the Designer Handbag," than I see the Wall Street Journal has written almost exactly the same article in last weekend's paper. I predicted it, the WSJ blessed it, so, I think it's fair to say that as you're sitting front row (or in any row for that matter) at the shows here next week, it's not about making a fashion statement with your new tricked out handbag. It's all about the non-descript handbags today. Want to be cool sitting along the catwalk? Don't flash a logo.
2. So if it's not about the bag, what does stand out? The watch. Now, here, it's ALL ABOUT logo, my friends. I am personally feeling a larger face, preferably round; silver or gold, diamonds or no diamonds. There are no set rules here, almost anything goes. This is a category worth spending on. A great watch can make the most basic outfit look totally chic.

3. Fashion shows are dramatic--they are theater--so dress a bit the part yourself. Add a special something to your look. You'll know you've hit it when you're just a little hesitant to step out your door, but excited with what you've pulled together....that's when you know you're on to something. Take a bit of a risk, and have fun doing it.
4. Sunglasses. 'Nuff said.
5. If you're deathly shy, bring your blackberry. You can keep your face in it until the show gets started and look very popular and very busy in the process.

6. If you're definitely NOT shy, bring your lapdog.
7. Wear the designer's clothes to the show, particularly if you are planning to duck backstage after the show to lay a congratulatory peck on the cheek. There is no greater flattery.
8. Lastly, if you really are sitting front row, you probably don't need this piece of advice but I'll dispense it just in case. Pay attention to the condition of your shoes. I can't tell you how many runway pictures I've scanned where front row attendees invariably have their legs crossed and one foot is front and center...a ratty looking shoe, center stage in someone's shot of the $10,000 gown. Ugh.
In my next blog I'll send up photos of what goes on behind the scenes at a fashion house: the fun, the stress, the insanity leading up to the fashion show. Stay tuned and as always...stay well-dressed.